Nyc shadow riders
---
Hope all the new friends i made here have been able to survive the storm andbthe ensuing craziness...stay safe, stay strong and have hope....it will only get better...
Racer
Washington heights here. Put my shadow in a four - story parking garage. Totally eased my mind even though we got off pretty much unscathed.
Sent from my SCH-R720 using Motorcycle.com Free App
---
2003 Honda Shadow A.C.E.
Member
Join Date: Jun 2011
Location: Kings Park N.Y.
Posts: 666
Finally got cell service so i now have some internet. No power heat or hot water but still Alice so everything is good here. Bike is in my neighbors garage so it is Nice and safe and has the company of his ace.
---
2001 spirit 1100 , vance and hines long shots, , a few other small mods. Now also with a mustang seat
Just got power back. We lost some siding on the house, a section of roof off the barn and some water damage to a bedroom ceiling. However, I feel lucky compared to what others are dealing with. Bike is still covered and will come out again as soon as this Noreaster blows thru.
Member
Join Date: Sep 2012
Posts: 240
All the fluids changed, contacts cleaned, parts oiled - runs as good as new. Helpful angels: wd40, alcohol, baking soda, old toothbrush, turtle chrome polish and a that honda tool set + the amount of "screwing around" that I hoped to do in years to come, all compressed in a week's time (most "disabled" week in my memory...) And this forum here - so, so helpful! Luckily, the bike was not flooded high enough to reach vital components, did not sit in water for too long, I acted fast enough with all the cleaning & preventive maintenance but so many things could have gone wrong, it's not funny... You see cars bunt to ash, as someone tried to start them after the flood. Different luck of the draw for some...
Quote:
How'd the boats do?
Not good! This is our marina. All these boat were hauled and blocked up. The tidal surge just piled them up like a bunch of twigs.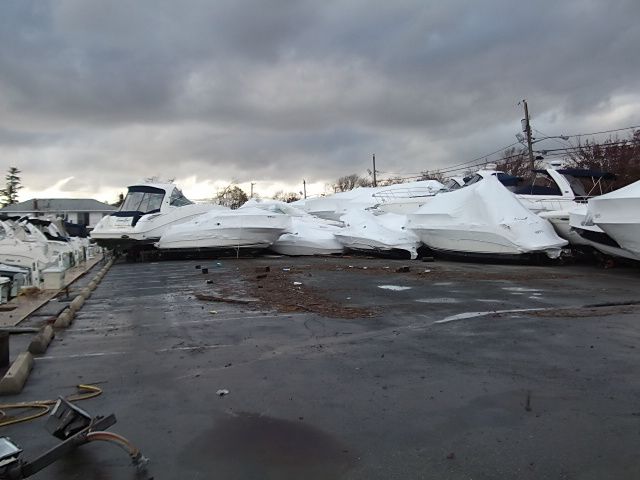 Our fuel dock, completely destroyed.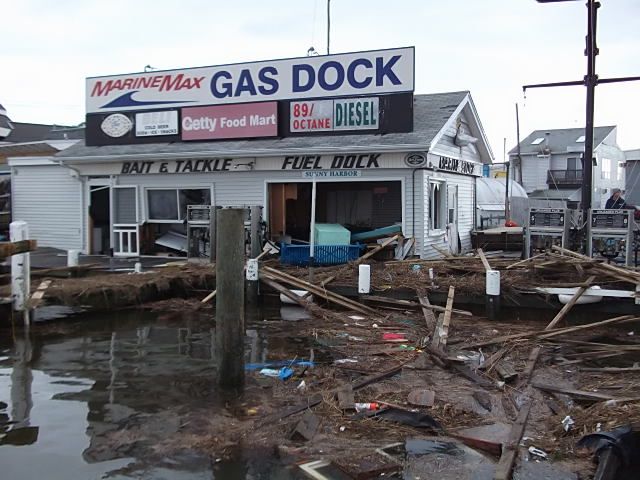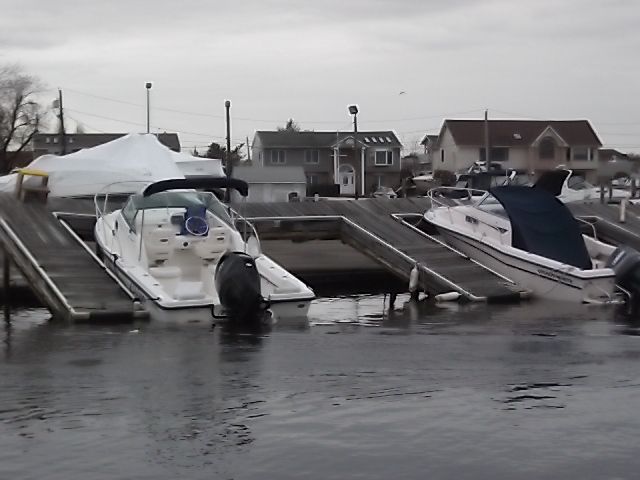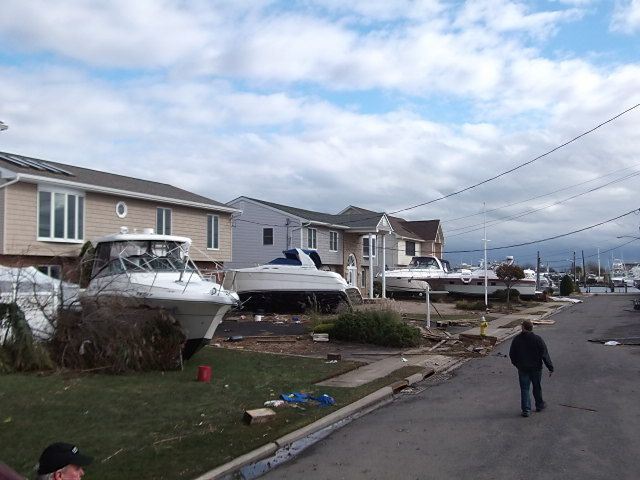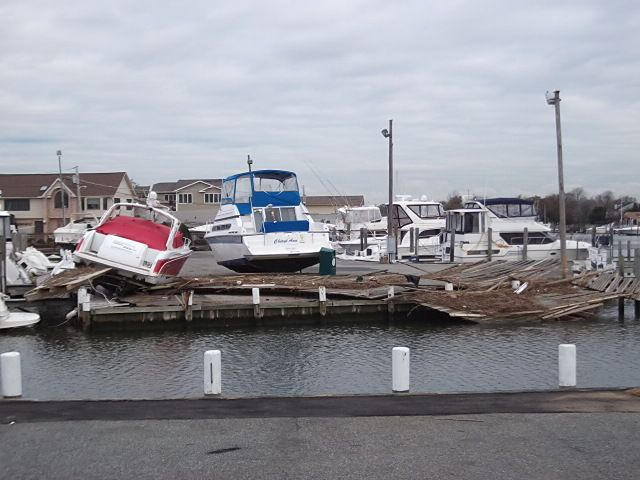 This was a new boat that had been hauled and winterized for the season. It ended up resting upside down in the water with just the bow eye visible. We lifted out with a crane. I was shocked that the bow eye held all the weight.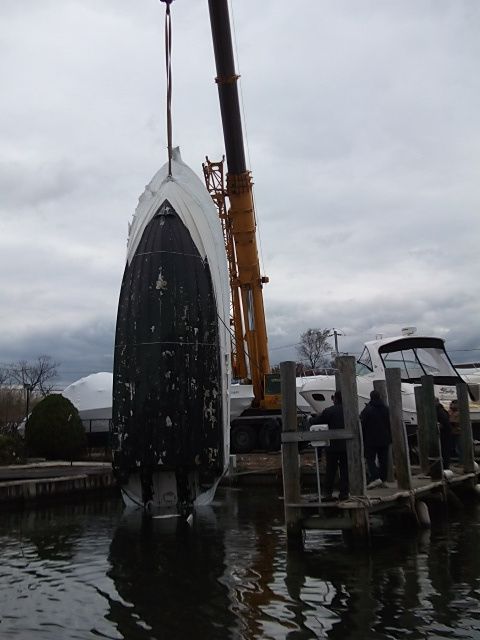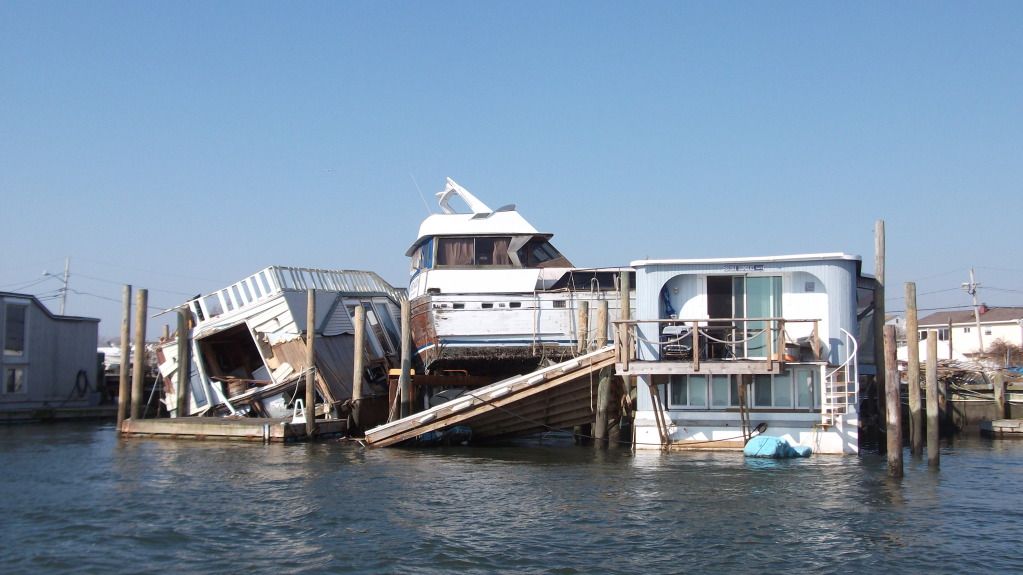 Wow, those pictures are unbelievable. I've been volunteering at the NJ Shore since Sandy. Those pictures are worse than any marinas I saw at the Jersey Shore.
Currently I keep my boat on the Delaware River near Philadelphia. Our new marina for next season is in Longport, NJ. Neither marina sustained any damage. I've been trying to sell my boat for a year now to upgrade. It was in dry dock during the storm. I hoped it might fall off it's stands. At this point I'm thinking I would have gotten a better insurance settlement than sale price!
---
Mike Astringer
Harley Davidson Road King
mike@mikeastringer.com
www.facebook.com/mikeastringer
Seatracks

Damn. I was hoping you fared better. Is the gas dock just the building? I can't even begin to imagine the headaches with the DEC if you had any tank issues.
Quote:
Seatracks

Damn. I was hoping you fared better. Is the gas dock just the building? I can't even begin to imagine the headaches with the DEC if you had any tank issues.
The fuel dock building is a total loss. The docks , pumps, a few pilings and some floating docks were also lost. DEC and EPA were already on site. Our diesel tank is above ground surrounded by a concrete wall or dam. It is fine. The vents are 20' up and all valves were closed. Our inground gas tank is fairly new and did not leak any fuel but water did get past the fill seal which is below grade. It was not a lot of water but none the less water was introduced. So the tank was pumped dry, cleaned and is ready for spring provided the fuel pumps, docks and piling repairs are completed.
It's going to be a long road to recovery.
Posting Rules

You may not post new threads

You may not post replies

You may not post attachments

You may not edit your posts

---

HTML code is Off

---