Member
Join Date: May 2008
Location: Becket, MA
Posts: 154
Anyone get to ride this weekend
---
Did anyone get to ride this weekend. The weather here in Becket was 40 been in the 40s. I live on a nice icy dirt road road and can not get the bike out. Can not wait for Spring to start riding again.
Frank
---
Junior Member
Join Date: Aug 2007
Location: Melrose
Posts: 12
Yeah, went out yesterday. Located about a half hour north of Albany,NY. Nice to get out on the bike for a few miles. Put straight pipes and jet kit on my '85 Shadow so had to try em out. Going into the paint booth later this month so i wasn't worried about my salt/sand covered back road.
I made it 100 yards then realized I left my handlebars loose after putting on a rake kit.

It's snowing like mad now
I spent the morning finishing up my lightbar wiring, warmed up the bike, cleaned, lubed, and tensioned the chain, and went for a short ride - maybe 30 miles. It was a beautiful day, bit breezy maybe.
I did learn that it's still too early for fingerless gloves.
Looking forward to my next chance to get out.
---
Dave
2010 Fury (black)
2003 Shadow ACE 750
Member
Join Date: Jul 2006
Location: Bethel, CT
Posts: 105
Older thread, but I rode this weekend and did Marcus Dairy Super Sunday. Anyone else?
---
2002 Superglide T Sport
86 Shadow VT1100
82 KZ650CSR
98 Jeep TJ
USN 66-70 GMG3
I went riding Saturday. I was at the Dairy on Sunday, but drove in a truck. ( We were setting up the tent for the miracle ride booth ).
We got to the the Dairy @ 0700, and left @ 1100.
---
1996 VT1100c "Grape Ape"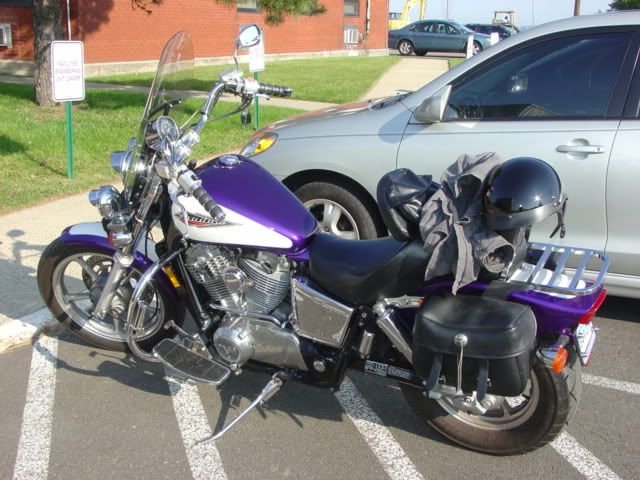 The car sits unused,
A summer breeze in my face,
I ride on two wheels...
Posting Rules

You may not post new threads

You may not post replies

You may not post attachments

You may not edit your posts

---

HTML code is Off

---