Junior Member
Join Date: Jan 2014
Posts: 69
Top 10 Signs Itís Time To Winterize Your Bike
---
Quote:
Iíve often felt that the real reason many motorcyclists donít winterize their
motorcycles
is that they keep holding off in hopes to squeeze in one more ride. Although the
MO Towers
are located in Southern California, many of us ventured from colder climes to the Great American West in an effort to enjoy year-Ďround riding. The journalism gig is just something we managed to weasel our way into as a means of supporting our habit.
In an effort to help dedicated riders in places that have real winter, the following list contains sure-fire signals that it is time to winterize your motorcycle rather than continue riding it or letting it sit unprepared developing the mechanical manifestations of Parked Motorcycle Syndrome.
Read more about the
Top 10 Signs Itís Time To Winterize Your Bike
at Motorcycle.com.
Senior Member
Join Date: Jun 2016
Location: Vineland, NJ
Posts: 1,115
Motion to rename article:
---
"Bottom 10 Jokes Author Could Think of About Riding While Cold."
---
Sometimes it seems like I'm arguing, that's just how I work out a solution:.. Other times I'm arguing.

'Grace' 03 Shadow Ace Deluxe VT750CDA
My Map
or
nuh-auni.tumblr.com
Senior Member
Join Date: Nov 2015
Location: Kingston, Ontario
Posts: 2,532
I must say, I'm one of the hold outs. Maybe this weekend I'll give in.
---
2006 Shadow Aero 750, "Audrey"
Mods/Ad-ons to date:
NC Switchblade
NC Chrome Deflectors
NC Hand Deflectors
Oxford Grip Heaterz
Power Trip Saddle bags
Willie & Max Handlebar bag
Highway pegs (eBay)
Gremlin Bell (gift from my son)
Mustang Seat!
Crash Bars
Vance and Hines Cruzers
Rear Signal relocation
Member
Join Date: Aug 2016
Posts: 44
Im in atlanta so im hoping i can hold out, hopefully at least until feb
Senior Member
Join Date: May 2013
Location: Draper Utah
Posts: 2,943
I dont winterize mine its ready all year.

RIDE ON !
---
02 1100 shadow spirit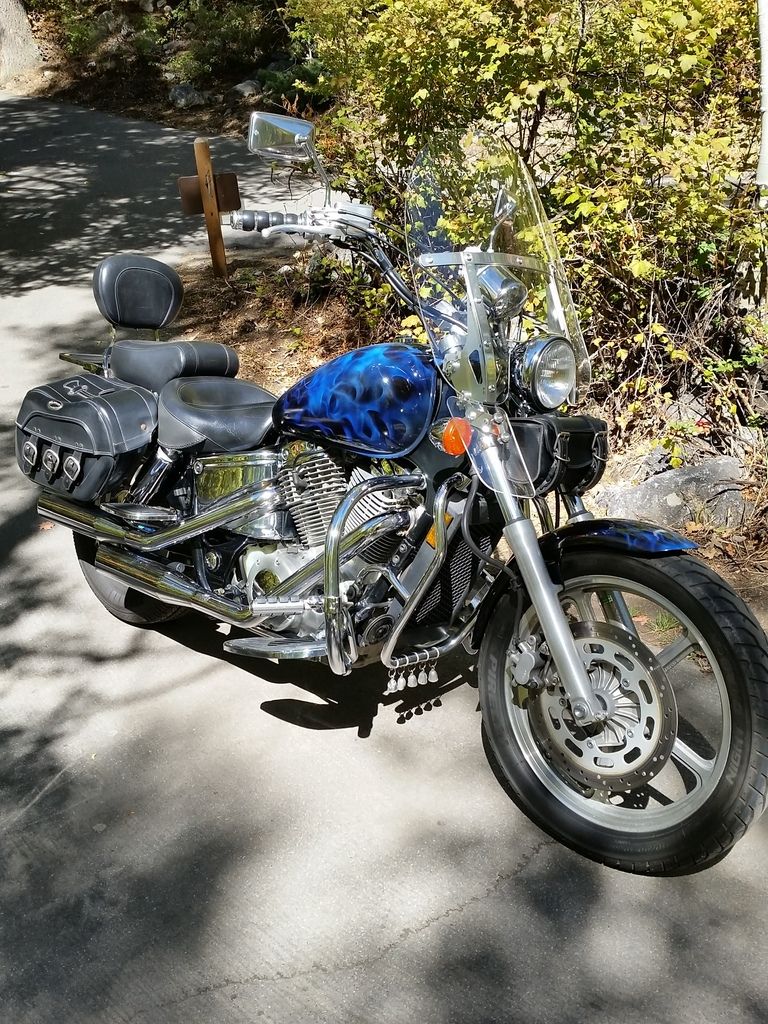 C'mon! Good riding weather just started in Florida!
---
Honda Shadow RS
Senior Member
Join Date: Oct 2014
Posts: 5,365
You guys be quiet with your nice year round weather. It's crappy cold rain here in the Seattle area.
But when I was young down in Southern California that was fine ridin'. And the pretty young blond beach bunnies.
Never mind !
---
Only a biker knows why a dog sticks his head out of a car window.
1983 750 Shadow
From the past
=
1951 Cushman scooter
1962 Honda 305 Dream
1965 Honda 305 Dream
1971 Honda 175 scrambler
Senior Member
Join Date: Feb 2016
Location: Jacksonville, Alabama
Posts: 2,206
Winterize???
Oh yeah,,,thats when we let the hot air out of the tires and put in cold,,,
Mine is always ready to go,,,
---
There is nothing like your knees in the breeze!!!
2013 Shadow Phantom
Previous Bikes
1995 Suzuki VS800GLS Intruder
1982 Suzuki GS450L
Ride Bell By Old Dad.
Ride Cross gifted from Captain D
Member
Join Date: Aug 2016
Location: Beamsville, ON
Posts: 81
I wish our winter only lasted 2 months
. Put her away tonight (haven't rode since last weekend though) and won't get her out again until late April.... IF I'm lucky
---
Andrew
2006 Shadow Spirit 750
Posting Rules

You may not post new threads

You may post replies

You may not post attachments

You may not edit your posts

---

HTML code is Off

---