Junior Member
Join Date: Feb 2012
Posts: 13
2008 Honda Shadow 750 or crotch rocket
---
What's up people? Got approved to buy a 2008 Shadow Spirit 750 that has 1300 miles on it. I have a few questions, and would greatly appreciate your help with any answers.
First off I have never ridden a cruiser other than during a week long safety course. I used to ride a CBR600, and was wondering if this a good bike to make the switch on?
Secondly is paying $4600 for the bike a good price again 1300 miles, total comes out to $5000 with all the dealer TTL stuff.
Last but not least what are the biggest mistakes I can make when riding a cruiser compared to a crotchrock?
Thanks in advance,
and Semper Fi to those of you who rate it.
Rob
Senior Member
Join Date: Jan 2011
Location: Taylors,SC
Posts: 2,404
Cruisers arent Fast and take time to stop compared to a Crotch Rocket
---
03 VT750DC Spirit
00 XR650R (Sold 5/3/13)
Junior Member
Join Date: Feb 2012
Posts: 13
Thank you I will definitely keep that in mind.
if your happy with what you paid for the bike, its a good deal, theres always one cheaper, and one more expensive, cruiser vs crotch rocket, sit back and enjoy the ride on the cruiser,mellow out and enjoy life, crotch rocket go like a bat out of heck LOL
---
I can't imagine switching from sport to cruiser to tell ya the truth. Sport to sport touring, or standard, I can see.
---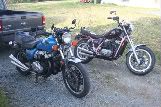 1981 cb750c with 900f forks, cams, oil cooler.
1983 vt500c
1979 cbx
Last summer i purchased a 2008 Shadow Aero for $4000.00 with 800 miles on it. A woman didnt like riding it. It is awesome as i have rode cycles for years. Good luck. The Casssions go rolling along. U. S. Army
Roger
Junior Member
Join Date: Feb 2012
Posts: 13
Thank you all for the advice and comments. I get that a lot (about switching) but I feel like I'm older more mature, and my body style doesn't seem to fit on a crotch...(have gained about 50 lbs since leaving the Marine Corps. Even my wife isn't a fan. But I wanna make the move I like how the Shadow feels on me.
Member
Join Date: Jul 2007
Location: Southeast Arkansas
Posts: 462
If you have ridden it and can enjoy riding with your "feet in front", then it should be good.

I am very uncomfortable when my feet are so far away from the rest of me!

Hondas rule.

Ride safely,
---
1983 Nighthawk 650
1989 VTR250
1985 Sabre 700 - - Sold
1983 Shadow 500 - - Sold
2006 Ninja 500- - - - Sold
Member
Join Date: Jun 2011
Location: Endicott NY
Posts: 106
you need to ride with your comfort level. if you like the way it feels then ride it, ya know?
Member
Join Date: Mar 2011
Location: Beautiful Vancouver Island
Posts: 301
For a dealer price, that doesn't seem too bad, but we don't know your area. Up here, that would be a steal from a dealer!
Did you check out the blue book value?
Motorcycles - Kelley Blue Book
---
bikeless !
2012 Kawa KLX250S (ret)
2006 Honda Shadow Sabre (ret)
2001 Kawa KX125 (ret)
1999 Suzuki SV650 (ret)
1987 Kawa GPZ 305 (ret)