Junior Member
Join Date: Nov 2012
Location: Maurice Louisiana. (South of Lafayette, west of Baton Rouge)
Posts: 3
New Member!!
---
Hey guys! I'm Tim from South Louisiana.
I'm 18 and fresh outta high school! and a freshman in college.
Unlike most guys my age i ride a cruiser and i absolutely love it!
I bought the my 2003 Honda shadow 750 in mid June with 11k miles on it and have since but around 7.5k miles on it, So i'm still relatively new to the biker world.
Unlike most kids my age my dream vehicle isn't some fancy sports car. no! my dream vehicle is a brand new Honda gold wing! My friends say "Dude, that's an old man's bike! get a crotch rocket!" however, i'd much prefer the nice comfy seat of a cruiser than practically laying on my jewels on my daily commutes!
I've been a lurker on these forums for a while and they have helped me through many projects from choosing a nice front tire, to changing my rear sprocket (which i absolutely love), to replacing my fuel pump and fuel petcock valve, and headlight bulb.
I find that i am more full of questions than answers and i have quite a few projects in mind so i decided i'd go ahead and make an account so i could ask questions directly rather than snooping through hours of posts!
Some soon-to-be projects:
4" extensions from scootmods
a nice plush mustang seat (with back rest. got a bad back from wrestling)
hyper charger
swap front forks for the beefier forks of the ACE
some new drag bars
Sorry for the long intro.
Welcome. Nice bike you got there. From the looks of it, you have quite a list of to-do's planned out. Good luck, and enjoy the ride. Ride safe!
---
1997 Shadow VT600c VLX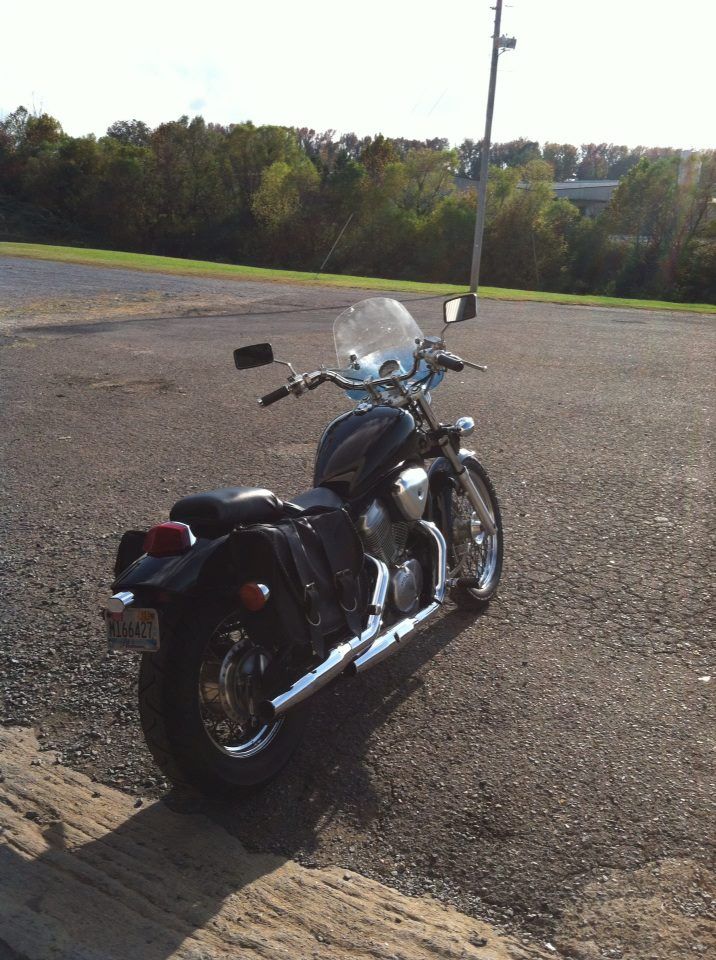 "Never let anyone stand in the way of your freedom. Live to Ride, Ride to Live"
Ride bell by Robert "Guardian" Woods.
Member
Join Date: Sep 2011
Location: quinlan,tx
Posts: 124
Good looking bike...welcome to the group...ride safe

current ride: 86 vt1100c previous rides: 93 vt1100c, 91 vulcan 750, cb400f super sport, kx250, xr500, yz 490, xr100
---
Current ride:86 Honda shadow VT1100c..
Previously owned: 93 vt1100, 91 vulkan 750, honda CB400F super sport. XR500, KX250, YZ490,
Junior Member
Join Date: Nov 2012
Location: Maurice Louisiana. (South of Lafayette, west of Baton Rouge)
Posts: 3
Senior Member
Join Date: Oct 2011
Posts: 2,288
Congratulations and Welcome from Minnesota! Nice looking bike. Can't go wrong with a Mustang seat either!!!
Senior Member
Join Date: Feb 2011
Location: Kitchener, Ontario
Posts: 7,216
Welcome to the Forum. Nice looking bike Tim.
---
2002 Honda Shadow VT750 ACE Custom.
***HondaShadow.Net Patch Order Info***
Welcome aboard Tim. Nice ride. Happy trails.
---
2000 Shadow Sabre VT1100 C2