Member
Join Date: Nov 2012
Posts: 85
New Member
---
So I'm a brand new motorcyclist and I settled for a 1984 shadow vt700c. I've had it for three days and so far loving it!
The bike runs, but I can tell it needs some clean-up and fine tuning (I'm an amateur mechanic at best)
The idle seems to be pretty inconsistent with the choke/rpm's. I am in Utah and I've started it in sunny, warm weather with the choke fully on - left it in this position for several minutes before taking off, and find myself very slowly inching the choke off only to find that the bike gets slower, slower, stutters and stalls while at a red light. It was only until I left work late at night and the temperature dropped dramatically did I get to take the choke completely off (is this normal?) The bike had been running for almost 30 minutes before I could take the choke completely off.
One last thing that I suspect I will open a separate thread for: I bought a mac 2 into 2 exhaust system for it, apparently I bought the last one available, and was really disappointed to find lack of instructions for install in the box. The pipes were super nice and shiny, and even as inexperienced at mechanics as I am, I was able to follow the repair manual well enough to remove the stock pipes and figure out how to install the new pipes based on it. It seemed like a fairly simple process, but I had a problem - the pipes didn't fit! it appeared that the only way to get the MAC gaskets to even sit on the cylinder far enough in on the studs to thread them was to install them without the O-ring. Does anyone have experience with a system like this? Are they designed to install without the little copper O-ring? if not, is my best bet to take the pipes to a machinist and grind a half-inch off the heads so they can fit over the studs? If anyone knows, that would be awesome.
Welcome, lots of good guys here with good information to help out.
---
IF YOU ARE BORN ONCE YOU WILL DIE TWICE
IF YOU ARE BORN TWICE YOU WILL DIE ONCE
Member
Join Date: Oct 2012
Location: Baltimore Maryland
Posts: 77
Welcome... I would think that you did not pick the old O-rings out before you tried to put the new
ones in...the old ones will be hard to see but its in there...since you did not mention
removing the old ones...that may be your problem...Good Luck
Senior Member
Join Date: Oct 2011
Posts: 2,288
Member
Join Date: May 2011
Location: Freeport, ILL
Posts: 543
Welcome
---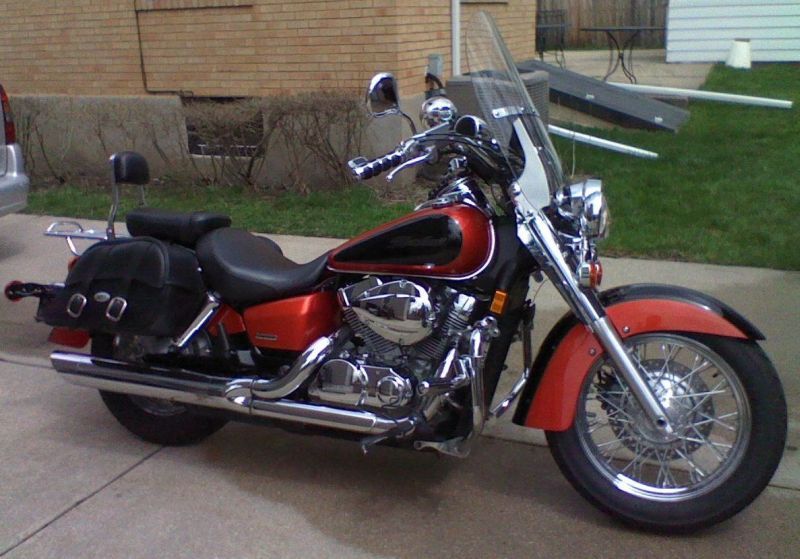 2006VT750CA With
Paladin Highway Bar,
MC luggage rack,
NationalCycle lightbar,2up switchblade,
NationalCycle lowers,
Show Chrome Dual Switch, Kuryakyn Switchblade Pegs,
Kuryakyn ISO Grips & Throttle Boss,Kuryakyn Offset Dually Hiway Pegs
Member
Join Date: Nov 2012
Posts: 85
Thanks guys!

finjoey, as far as I could tell the old O-ring was basically fused onto the end of the old headers. it is possible that I left it on, but when I wiped off the manifold opening I couldn't see any sign of the old O-ring left on it.

If I put the old headers on even without cleaning them out, I can fit them over another copper O-ring and have *plenty* of room to thread the nuts back on. but with the mac header...jeese, there is literally just barely, barely enough room to thread the nuts (don't think I could even tighten them at all). Tomorrow I have the day off so I will have another go at it - but honestly I'm considering trying to remove the studs at this point and just bolting the things on.

Anyways, appreciate the advice and I will give it another go and triple-check to make sure I didn't accidentally over-look the old O-rings sitting in the manifold covered by soot.
Member
Join Date: Oct 2012
Location: Southern Indiana
Posts: 54
I have the same bike as yours and a similar problem when I first got it. After a good carb cleaning, my idle issues went away. As you will hear many times here, clean carbs on these old shadows is extremely important. Good luck.
---
Current ride: 1984 VT700c
Previously: 1969 Triumph Bonny, 1972 Norton Commando Chopper, 1981 Yamaha XS 650, 1978 Naked Goldwing
Member
Join Date: Oct 2012
Location: Baltimore Maryland
Posts: 77
It is really hard to see the old gaskets...if you don't remember taking the old ones
out...than they may still be in there...I had to use a metal brush on my cordless drill
to clean it up before I could feel the old gasket was still in there and it took a little
work to get them out...Good Luck
Member
Join Date: Nov 2012
Posts: 85
My god, you were right on. I took a flathead screwdriver and gave it a light tap with a rubber mallet and dug right into the soft copper, even though I couldn't see it - dug it right out. was able to fit my pipes on, although the collar was still an awkward fit (threaded the bolts and tightened, no thread hanging out over the lower nut)
Anyways, cleaned them with some rubbing alcohol and a soft cotton cloth, fired it up and didn't see any leaks - although after letting it idle for 3-4 minutes, it seemed to smoke on the left side slightly. I turned the bike off and back on a few minutes later, same thing - started smoking after idling for a few minutes. I rode it up and down the street, after taking the choke completely off and letting it warm up, it wasn't smoking. I'll keep an eye on it, but holding my hand close to it there doesn't seem to be a leak.
also the pipes sound GREAT! little bit of backfiring while de-celerating, but from what I understand there's a simple trick to fix that.