Junior Member
Join Date: Nov 2012
Location: Pendleton, IN
Posts: 12
New to Forums
---
Hello ALL!
I am new to Honda Shadow.net. I am the third owner of a 1995 VT1000C that currently has a salvage title. Great bike, been going through it for last 6 weeks making all necessary tweeks. Have a manual. Looking forward to a few fixes the previous owner neglected, need to rejet the carbs for the after market pipes but very excite to get started. I joined this to get some advice on an overheating issue. I changed coolant and all oils but has still overheated. Now I'm not sure if it's overheating because of radiator issues/fan faulty switch, radiator cap pressure issues or if it's because the enigine is running lean because the dual carbs haven't been rejetted. I rode 250 miles the day I picked it up, but 3 days later it overheated on a 12 mile ride from work.
Thanks in advance!
Gina
Member
Join Date: Oct 2012
Location: Olympia, Wa
Posts: 87
Welcome from Washington State.
Sent from my DROIDX using Motorcycle.com Free App
---
Olympia, Wa
Senior Member
Join Date: Oct 2011
Posts: 2,288
Member
Join Date: May 2011
Location: Freeport, ILL
Posts: 543
Welcome
---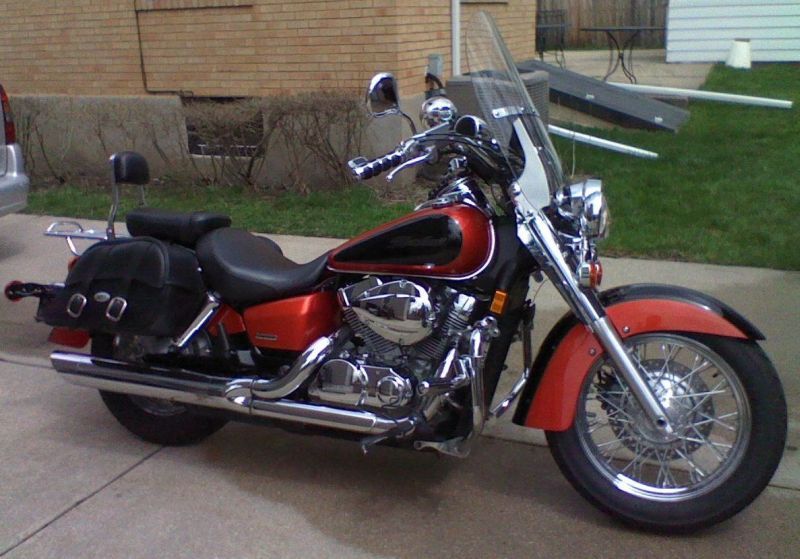 2006VT750CA With
Paladin Highway Bar,
MC luggage rack,
NationalCycle lightbar,2up switchblade,
NationalCycle lowers,
Show Chrome Dual Switch, Kuryakyn Switchblade Pegs,
Kuryakyn ISO Grips & Throttle Boss,Kuryakyn Offset Dually Hiway Pegs
Member
Join Date: Jun 2011
Location: Kings Park N.Y.
Posts: 666
Welcome. Nice looking scoot. I like the paint job
---
2001 spirit 1100 , vance and hines long shots, , a few other small mods. Now also with a mustang seat
Where'd you get the fender box & backrest combo? I'm looking to add something like that on mine.
Sent from my iPhone using
Motorcycle.com Free App
Senior Member
Join Date: Jan 2011
Location: Taylors,SC
Posts: 2,404
Welcome to the Madness.Looks like someone put alot of time into customizing your Ride
---
03 VT750DC Spirit
00 XR650R (Sold 5/3/13)
Nice looking bike, I would Guess you should fix the jets first since it needs it any way and see if the issue persists.

Dauntae
---
2001 Shadow Spirit 1100 Cobra highway bars Kury ISO grips w custom weighted bar ends ,a VTX headlight and Kury Large ISO pegs but the best addition, Riding bell from Kathy M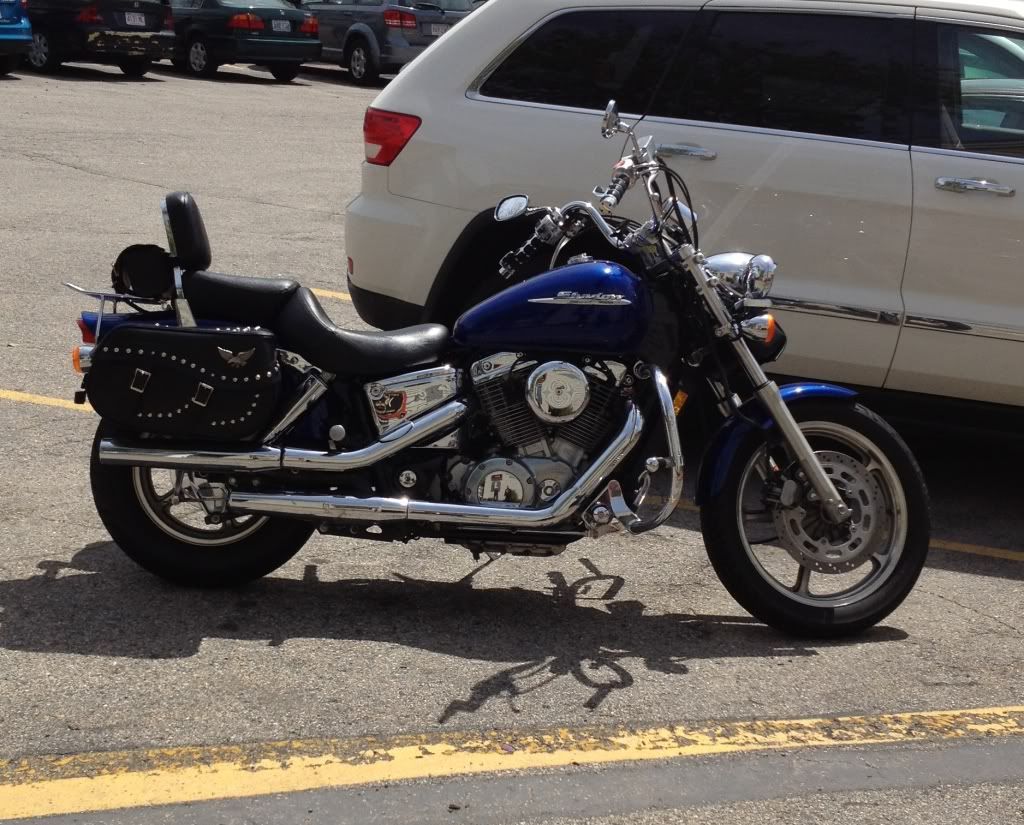 I laugh in the face of danger, then I hide until it goes away
The book of John Hopkins map
http://www.travellerspoint.com/membe.../tripid/365293
welcome to forum, hang on, and enjoy the ride
---
Junior Member
Join Date: Nov 2012
Location: Pendleton, IN
Posts: 12
Thanks!!
---
Thanks all for the encouragement!! I can tell many hours were put into this baby, but I'll keep everyone posted if I can isolate the issue and correct it.