Junior Member
Join Date: Nov 2012
Location: Georgia
Posts: 2
My first bike Excited
---
Well I been wanting a shadow for years now finally got me one today it's a 1999 Honda Shadow 750 Ace. It's a nice bike only has 11k on it. I was wondering I'm having trouble figuring out blinkers I push it the way it suppose to turn and then won't stop blinking any ideas? Also I have cobra pipes on it sounds pretty good but is there anyway to make it louder and or deeper rumble?
Member
Join Date: Oct 2012
Location: Jacksonville, FL
Posts: 125
Can't help much with the pipes, but turning the blinkers off is normally done by pushing the turn signal switch in, not to either side.
---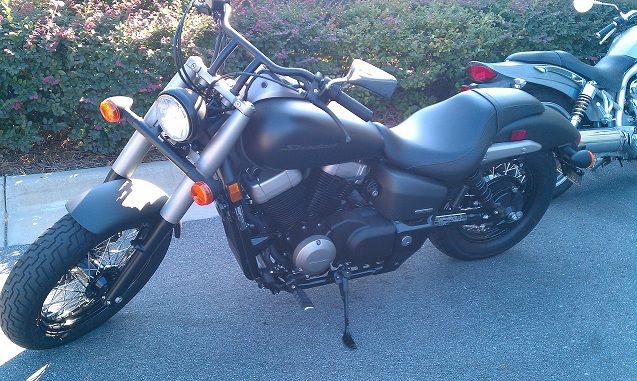 2012 Shadow Phantom 750
Senior Member
Join Date: Oct 2012
Location: Evansville, Indiana
Posts: 8,507
Look in the end of the pipes to see if there are any baffles in there. If so you can remove the bolt that secures them and pull out the baffles. This will make it louder. To optimize performance, rejetting the carbs may need to be done after removing baffles. Most of the time, you may not even notice a performance change. I ride to work with mine installed (as not to piss of the neighbors at 5:00 am) then jerk them out for the way home.


Sent from my iPhone using MO Free
Senior Member
Join Date: Nov 2010
Location: Columbus, GA
Posts: 2,286
Bryan's right. You have to push the switch in to turn off the turn signals.
---
1985 Honda Rebel 250(Destroyed by being a newb)
Black
1996 Honda Shadow VLX 600(Sold)
Red/Black
2001 Honda Shadow Sabre 1100
Blue/Blue
Member
Join Date: Nov 2012
Posts: 85
congrats on the new bike! I took a safety course this summer and was eyeballing a 2012 shadow phantom...but after a deal gone bad at the dealer (they tried to sucker me into paying 11k with the extra fees, PLUS tried to put the entire loan on my co-signer alone and not let me co-sign) I decided to find a way to purchase a shadow cash.

a few weeks of browsing craigslist and an 84 shadow caught my attention listed at 1100. Just bought her last week and have been loving my first ride. I am glad that I went with an older, cheaper bike so I do not have to worry so much about damaging it. I have to push in the switch on my bike as well to turn the blinker off, it's not automatic.
Junior Member
Join Date: Nov 2012
Posts: 4
same on my shadow, push in to turn off the turn signal. Congratulations on the bike!