Junior Member
Join Date: Nov 2012
Location: Pennsylvania
Posts: 2
New member
---
Previous bike a Gold Wing, but it was a bit much for my short legs. The Sabre is MUCH better. Looking forward to hearing from others who may or may not be new to the forum.
Member
Join Date: May 2011
Location: Freeport, ILL
Posts: 543
---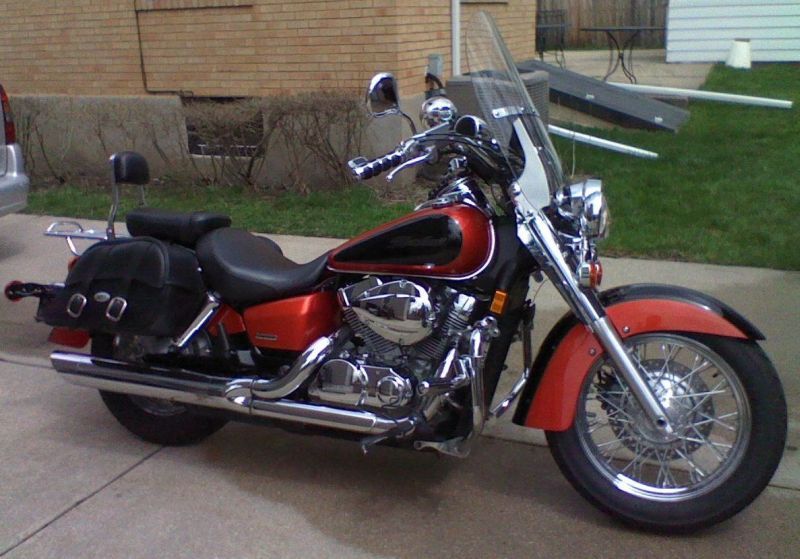 2006VT750CA With
Paladin Highway Bar,
MC luggage rack,
NationalCycle lightbar,2up switchblade,
NationalCycle lowers,
Show Chrome Dual Switch, Kuryakyn Switchblade Pegs,
Kuryakyn ISO Grips & Throttle Boss,Kuryakyn Offset Dually Hiway Pegs
Welcome from a former Gold Wing rider,
---
IF YOU ARE BORN ONCE YOU WILL DIE TWICE
IF YOU ARE BORN TWICE YOU WILL DIE ONCE
Member
Join Date: Oct 2012
Location: Southern Indiana
Posts: 54
Welcome.
---
Current ride: 1984 VT700c
Previously: 1969 Triumph Bonny, 1972 Norton Commando Chopper, 1981 Yamaha XS 650, 1978 Naked Goldwing
Senior Member
Join Date: Nov 2010
Location: Columbus, GA
Posts: 2,286
I hear the Sabre's an awesome machine. I doubt you'll regret your decision.
---
1985 Honda Rebel 250(Destroyed by being a newb)
Black
1996 Honda Shadow VLX 600(Sold)
Red/Black
2001 Honda Shadow Sabre 1100
Blue/Blue
Junior Member
Join Date: Nov 2012
Location: Charlotte, NC
Posts: 3
I'm a newbie as well, glad we both stepped up