Junior Member
Join Date: Nov 2012
Posts: 4
Good bye Pig Nose!
---
So..like I said, I've been playing around with my Shadow. Idecided to get rid of the pig nose and remove the rear turn signals as well. I got a curved license plate frame from cruisercustomizing and an integrated tailight/turn signal from clear alternatives with the smoked cover. check out the pix.
[IMG]
[/IMG]
[IMG]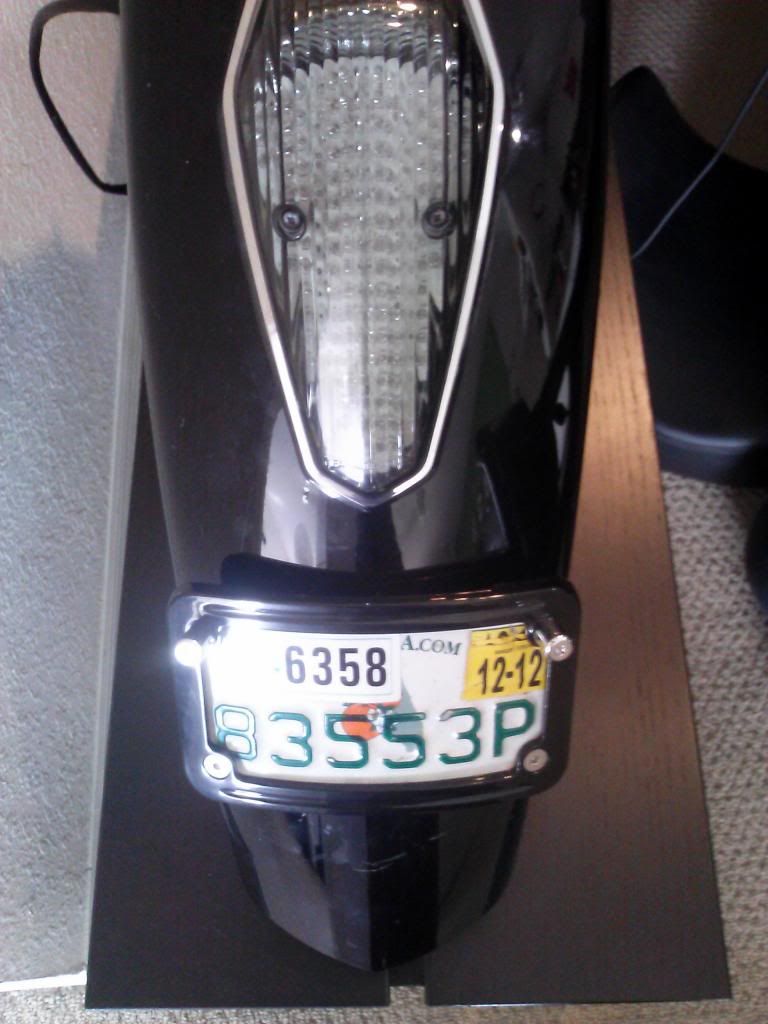 [/IMG]
Senior Member
Join Date: Oct 2012
Location: Evansville, Indiana
Posts: 8,674
I'm looking for a left rear turn signal for my bike. PO scraped it on something and damaged it. PM me if you would like to sell it. Just need the left rear.
The new light looks great btw!
Sent from my iPhone using MO Free
Member
Join Date: Jul 2011
Location: Ontario Canada
Posts: 317
Senior Member
Join Date: Feb 2011
Location: Kitchener, Ontario
Posts: 7,216
I kept my tail light assemble but got rid of the reflector piece. I think the tail light ass is a lot better than a lot of other bikes brands. Look good though.
---
2002 Honda Shadow VT750 ACE Custom.
***HondaShadow.Net Patch Order Info***
Quote:
I have toyed with doing an integrated tailight on mine but am worried that the signals wont be visible enough especially in daylight. How do you like it.... do you think its bright enough?
It's not. Trust me on this. I have been running same taillight for awhile and it washes out in the sunlight, mostly due to the angle that the leds sit at when installed.
I ended up installing Hyperlites in the stock rear turn signal location for augmentation.
Sent from my DROID RAZR using Motorcycle.com Free App
---
"You see, it's like I said...you get farther with a kind word and a 2x4 than just a kind word..."-Marcus Cole