Stock exhaust?
---
When planning on doing a decent amount of touring should you keep your stock exhaust? I am not sure if I want extremely loud pipes to listen to for hours on end. What's your opinion?
Sent from my SCH-I510 using Motorcycle.com Free App
I haven't done any "touring" pe se, but I do have about an hour and a half commute (one way) every day, and yea...the open Jardines will wear on ya a bit compared to the stockers. Even with ear plugs it gets monotonous.
My Triumph Bonneville has spoiled me in this department. As much as everybody complains about having to buy a "proper exhaust" for the Bonneville (because the stock set up is too quiet), I've come to enjoy riding in "stealth mode". It's great to be able to ride along with almost no discernable exhaust "note".
I rode through a local state park and people actually waved to me....
Not sure they'd be waving had I been on my Spirit, or if they would wave at a guy I work with who owns a Harley Nightrain that rattles window panes and sets off car alarms..........
I say keep 'em.
---
...
i like stock pipes on my vtx1300. i've did quite a few trips and i hate loud pipes. i hate ridin' behind people with loud pipes. it just gets annoying. did a 300 mile ride last saturday.. just a little single day trip and i would have been annoyed with loud pipes, even with that short of a ride. it's all about preference really.. got a buddy that loves loud pipes.. but he's pretty much deaf anyways.

personally.. i like the quite pipes on my ride and have no intention to change them, ever.
---
I started out with nothin'... and i still got most of it left.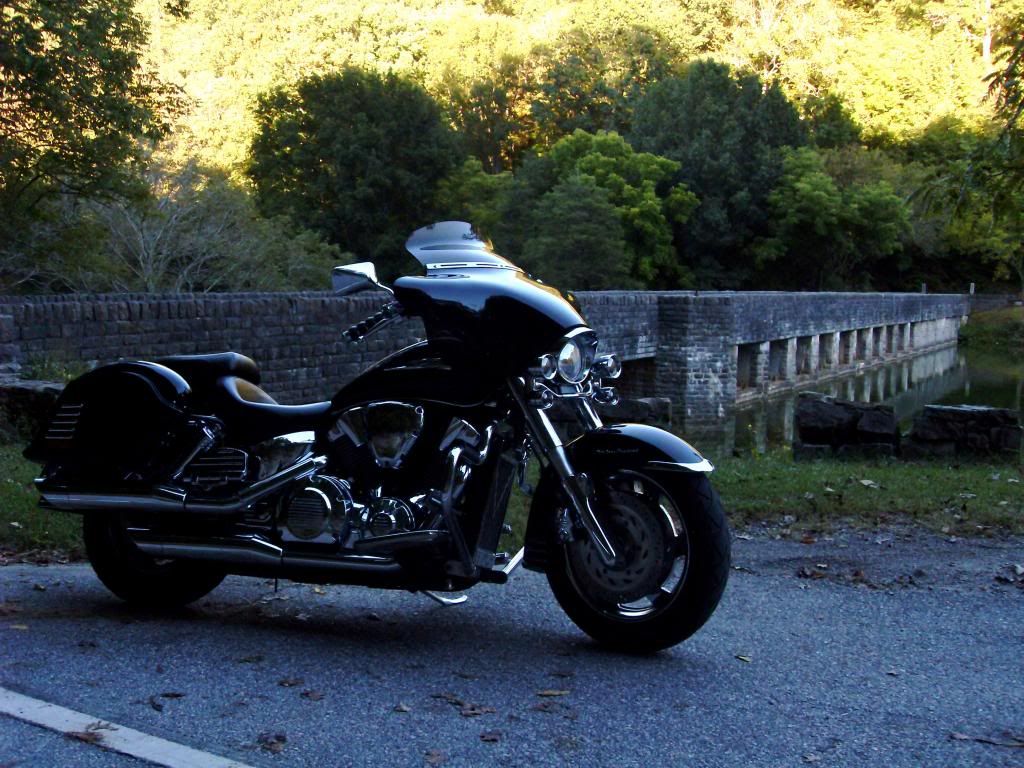 2006 Honda VTX-1300R
Memphis Shades Batwing, Stock "C" Model Pipes, Mustang Seat, Mustang Fender Bib, National Cycle Hard Bags,
Lindby Multibar, Küryakyn Sound System, Küry ISO Grips, Show Chrome Grille Cover, Küry L.E.D Light Kit, Küry Triple Whammy,
Küry Constellation Light Bar, TTO Tach, Metzeler Tires, Chromed Wheels and much, much more.
Member
Join Date: Nov 2011
Location: Lehigh Valley, PA
Posts: 902
Putting a set of V&H pipes on my Shadow is what helped me decide to trade it in. Don't get me wrong loved the sound up through the gears, but once at highway speeds around 65 or 70, not so much!! It also made me realize how much the engine was revving at those speeds. Keeping the stocker's on the new bike.
Member
Join Date: Jun 2012
Location: Richmond, VA 23226
Posts: 588
I love loud pipes....but I only do short rides mostly. When I've ridden a couple hours straight it is annoying. A lot of people that use their bike to commute end up switching back to stick pipes.....neighbors get a bit pissy waking up to loud pipes at 5am.
Sent from my iPhone using
Motorcycle.com Free App
Senior Member
Join Date: Apr 2008
Location: Palatine, IL
Posts: 9,984
Stock pipes are the best for any riding IMHO. I have been in every state except Alaska, Hawaii and North Dakota on a motorcycle, I know if I had loud pipes I never would have made it.
---
IF YOU ARE BORN ONCE YOU WILL DIE TWICE
IF YOU ARE BORN TWICE YOU WILL DIE ONCE
Member
Join Date: Nov 2012
Location: Florida but Alaska is home!
Posts: 243
When I was younger I liked loud pipes! Not so much anymore!
For me, stock pipes, and extra lights.