Junior Member
Join Date: Nov 2012
Posts: 7
New to Shadow net
---
Hi everyone! My name is Kevin and I am new to Shadow net. I have been on a few different motorcycle forums in the past and I have found that they always come in handy when you run into a problem or are just looking for someone to ride with. So why Shadow net? Well I just got my first Shadow a few months back and its the first one I have ever owned. I have owned many bikes over the years but never a Shadow till now. My Shadow is and 83 750 and its been hartailed, jetted, straight piped and she is one screaming mistress.
I live in MI in a sleepy little town called Owosso so if there is anyone in my area that would like to go riding sometime hit me up. I am fairly new to the area and dont really know anyone with bikes in the area, so I usually ride alone. I like the solidarity but sometimes the wolf just needs to run with its pack if that makes any sense. Thanks for the add and You will be seeing more of me soon.
Senior Member
Join Date: Feb 2011
Location: Kitchener, Ontario
Posts: 7,216
Welcome to the Forum Kevin. Nice looking Scoot!
---
2002 Honda Shadow VT750 ACE Custom.
***HondaShadow.Net Patch Order Info***
Junior Member
Join Date: Nov 2012
Posts: 7
Quote:
Welcome to the Forum Kevin. Nice looking Scoot!
Thank you. You have a beautiful ride as well. mine has had some minor changes since then I have since picked up some small ape hangers that dont look to bad however I am thinking about changing that again to a nice set of drag bars. I have also added a nice set of leather saddle bags they give it that bagger look I was also thinking about adding a batwing style ferring with low pro windshield at some point. Here is a pic with the handlebars mocked up.
Member
Join Date: Oct 2012
Location: Baltimore Maryland
Posts: 77
Member
Join Date: May 2012
Location: Arizona
Posts: 57
---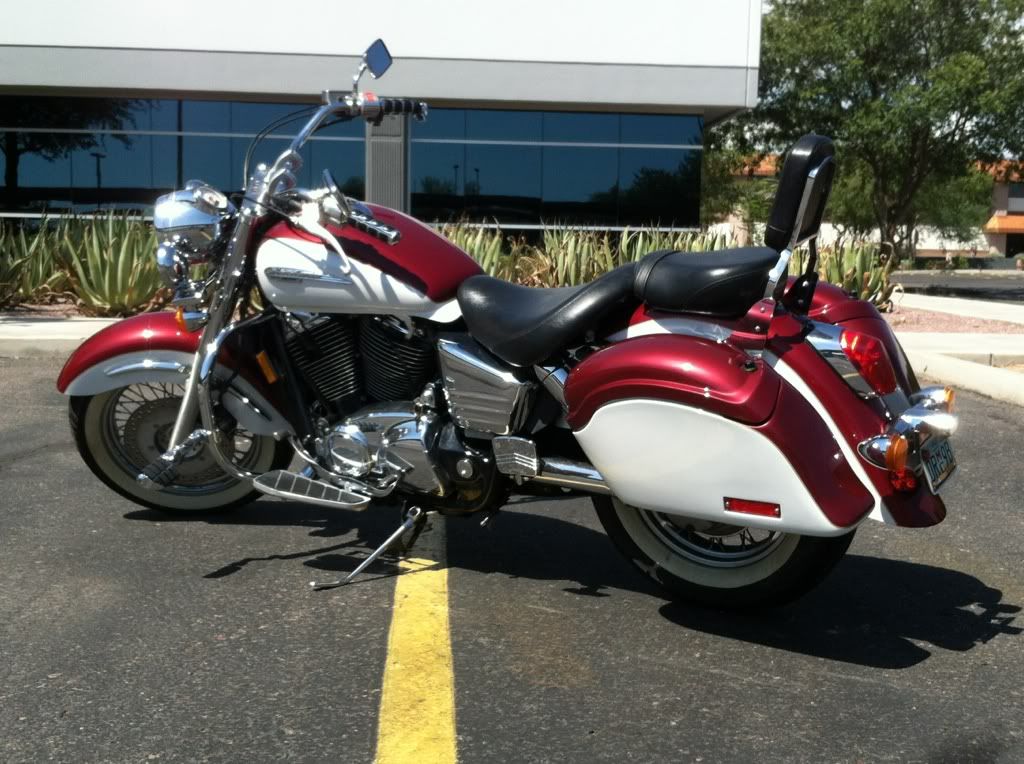 '98 VT1100C3, 17,000+ miles, Nat'l Cycle bags, Cobra highway bar, Küry offset highway pegs, Cobra driving lights, unknown exhaust, Küry ISO grips.