Junior Member
Join Date: Jul 2012
Posts: 9
My 83 VT750 won't start
---
I bought this bike at the beginning of summer and it got put on the back burner. So...I have been working on it...got seats recovered...new turn signal on right rear...everything works, however, it will not fire up. The guy I bought it from had to jump start it. A new battery is 60.00 bucks...carbs clogged...dunno what to do...I jumped it and I almost got it started but it went back to just cranking the starter ( don't want to burn it up). Thanks and I am glad to be with Shadow people...I look forward to being part of the forums.
Scotty
Junior Member
Join Date: Jul 2012
Posts: 9
Pulled plugs...cleaned and re-gapped...they were kinna oily. I need to check if the battery is correct for the bike. I will try to start as soon as it stops raining. Kill switch is on RUN, Fuel on, Kick stand up, IGN on...fresh fuel too...battery should be HYB16A-A (AB) will pull to check out what is installed now....lol...it was running when I bought it.
Junior Member
Join Date: Jul 2012
Posts: 9
Success! Battrey still an issue...
Junior Member
Join Date: Jul 2012
Posts: 9
Got it to idle for about 15 mins and it bled out some coolent from the overflow (overheat?)...battery is correct and on charger...hope it can hold charge
Senior Member
Join Date: Oct 2011
Posts: 2,288
How full was the coolant recovery tank before the bike was warmed up? If it was on the Full - Hot level when the engine was cold, the tank itself could have overflowed. Check the level when it's cold again. You could easily remove some coolant with something like an old turkey baster, anti-freeze tester, etc.
Junior Member
Join Date: Jul 2012
Posts: 9
---
Just checked the recovery tank and it is empty (hence about a cup or so of coolent on floor)...inspected hose conection to radiator and they seemed ok...looks like it came from the overflow tube from tank...will start it up tomorrow. I was so stoked when it started up... see my custom black and purple custom diamond pattern King and Queen leather seats for this bike. The old ones were electrical tape specials...lol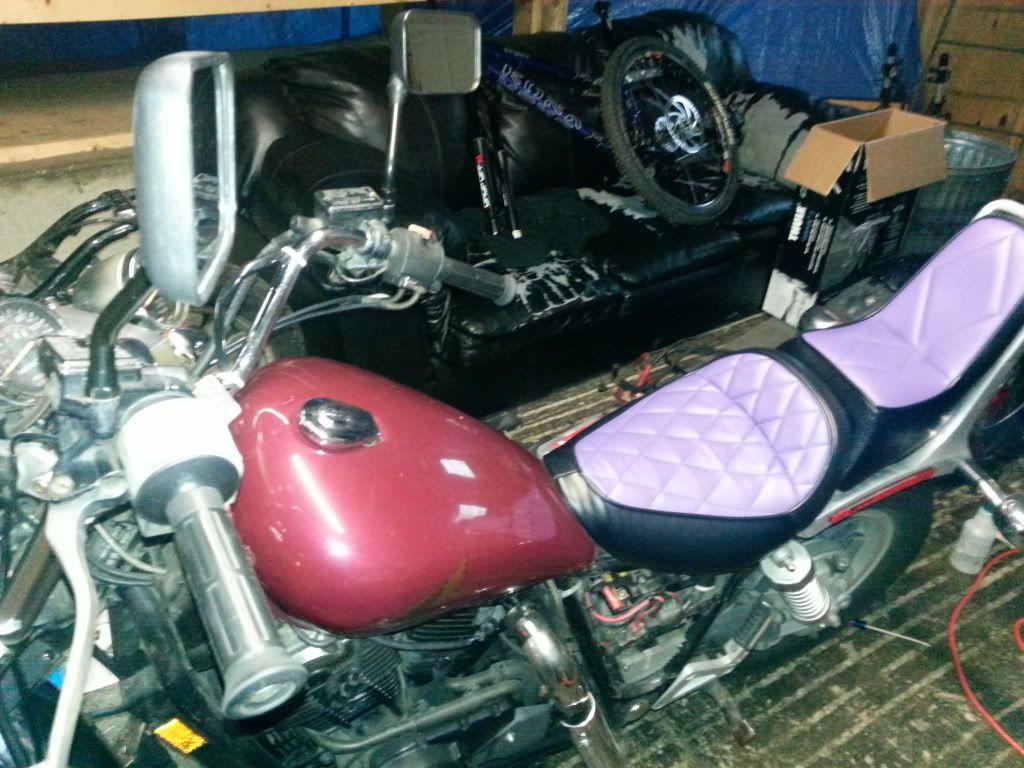 Member
Join Date: Nov 2012
Location: Boston, MA
Posts: 58
glad you got that problem handled. now do you mind helping me out I'm gaving the same exact problem with the same bike lol ? new battery nd regulator nd think'n about on getting some new ignition coils and spark plugs ... any advice?
Member
Join Date: Nov 2012
Location: Boston, MA
Posts: 58
Junior Member
Join Date: Jul 2012
Posts: 9
I just followed the advice in tech forum of WHY bikes don't start...I think it was because the plugs were fouled. Plus the choke on is all the way UP not down on my bike. Did your bike run before? Mine sat for a while...fresh gas might help. Don't replace anything until your sure that is the issue. GL
Member
Join Date: Nov 2012
Location: Boston, MA
Posts: 58
yea mine was running sometimes it would and sometimes it wont its also been sitting for a while ....but ok ill try to find that forum , thanks