Junior Member
Join Date: Nov 2012
Posts: 8
How often to change oil?
---
I hear different mileage figures related to this. My mechanic suggests 2,000 miles and wants $85 to change oil. That sounded a bit steep to me.
people change their oil at different times. imo 2000 miles is too quick for an oil change. it's just waste. i change mine 3000-4000 miles usually. it also depends on if i have a big trip planned. you'll get many opinions on here.
$85 for an oil change is steep. we(i work in our family owned independent motorcycle shop) only charge $20 plus parts.
---
I started out with nothin'... and i still got most of it left.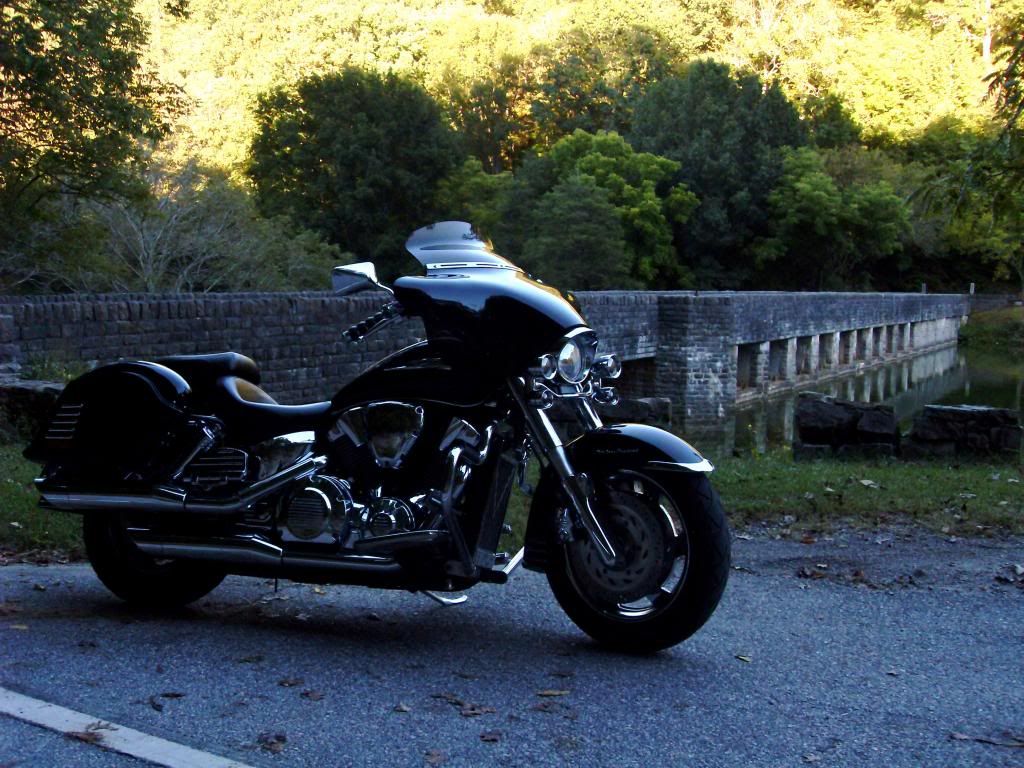 2006 Honda VTX-1300R
Memphis Shades Batwing, Stock "C" Model Pipes, Mustang Seat, Mustang Fender Bib, National Cycle Hard Bags,
Lindby Multibar, Küryakyn Sound System, Küry ISO Grips, Show Chrome Grille Cover, Küry L.E.D Light Kit, Küry Triple Whammy,
Küry Constellation Light Bar, TTO Tach, Metzeler Tires, Chromed Wheels and much, much more.
---
Last edited by -AJ; 11-19-2012 at

03:13 PM

.
Between 3k-5k. Running synthetic oil will last longer. Also all depends on my riding during that time.

Sent from my DROID RAZR using Motorcycle.com Free App
---
04 Aero 750
Cobra HP Pro Exhaust,Wrapped
De-snorkeled,K&N AF, Dyno Jet JK
Blue Collar Bobbers 31" Drag bars and Risers, Avon Grips,Baron Tach
Goodrich Braided SS/Black Teflon front brake line, EBC HH Front brakes/EBC Rear shoes
ScootMods 4" Control Extensions
ScootWorks Front/Rear 1.5 Lowering Kit
Shaved Stock Seat (Self made)
Flush Mount Tag (Self made)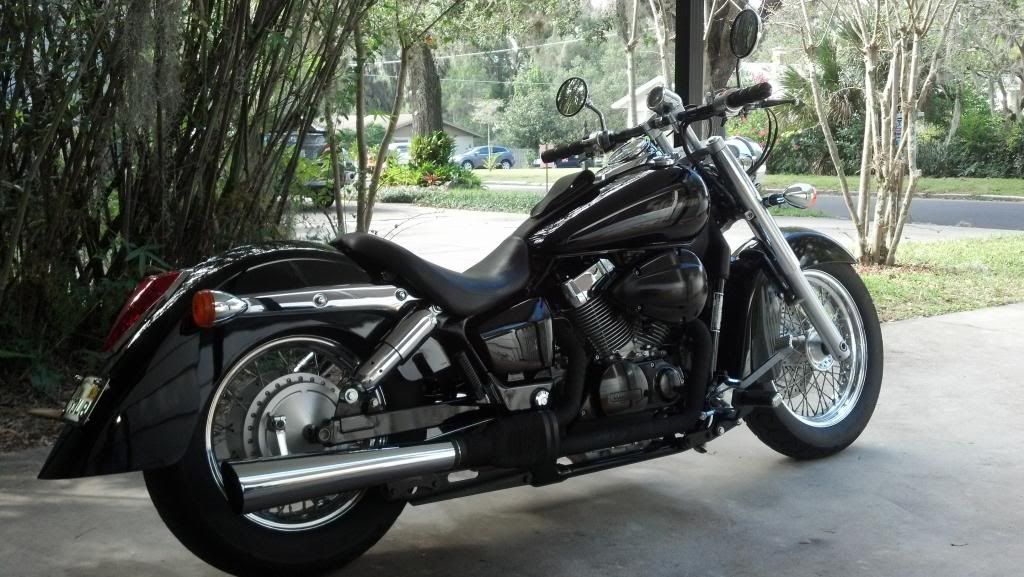 Quote:
I hear different mileage figures related to this. My mechanic suggests 2,000 miles and wants $85 to change oil. That sounded a bit steep to me.
no way would I pay $85 for a motorcyle oil change.
why aren't you considering doing it yourself? it's not technically challenging, and for most Shadow's, doesn't really require jacking the bike up. a paint-roller tray can be used to catch the drain oil.
just my 2cents worth. I change mine about every 4K, even though I use synthetic.
---
riding since 1969, currently a 2009 Shadow Spirit !
Junior Member
Join Date: Nov 2012
Location: Oregon
Posts: 7
I agree less than 2500 mi between oil changes is a bit too often. 3000mi is a good though. I'd encourage changing your own oil unless you have a warranty you don't want to risk voiding.
Senior Member
Join Date: Feb 2012
Location: Vancouver BC
Posts: 2,347
My 1995 VT1100c2 owners manual indicates 8000 miles between oil changes, however I do it minimally every 2 years with coolant flush. I have no idea why some people insist on changing before the required period. I have had my oil analyzed and more frequent changes do not improve wear or oil function. Currently I am using Rotella T6 and its expensive here so the recommended oil change interval has been followed.

G.

PS I also have a 1978 Gold Wing with 150,000 miles that has always had the recommended oil change and the bike has never had an engine issue. I also have a 1969 BSA with 80,000 miles and same results that I have taken apart and the same results so I stick to recommended oil change interval.
---
Last edited by gdb069; 11-19-2012 at

03:50 PM

.
Old school was 3000 miles on everything. With modern oiis and filters you can go a lot farther. It also depends on the type of riding you do, all city, stop and go or highway. The least I would do is 3000 miles or 6 months, which ever comes first, your mechanic wants to make money off of you at $85.00 and every 2,000 miles. He must have a kid in college he wants you to pay for!! Ask him to show you where in the owners manual it says that. Honda oil is about $22.00 a gallon and a filter is about $10.00, so he's charging you $50.00 labor for a 15 minute job.
---
IF YOU ARE BORN ONCE YOU WILL DIE TWICE
IF YOU ARE BORN TWICE YOU WILL DIE ONCE
Junior Member
Join Date: Nov 2012
Posts: 8
Senior Member
Join Date: Jan 2011
Location: Taylors,SC
Posts: 2,404
3 K and I do it myself in 10-15 min and less than 30 bucks using Honda GN4 oil
---
03 VT750DC Spirit
00 XR650R (Sold 5/3/13)
---
Last edited by rkforrest; 11-19-2012 at

07:22 PM

.
8000 miles. I do what the Honda Manual recommends.
---
Just Ride...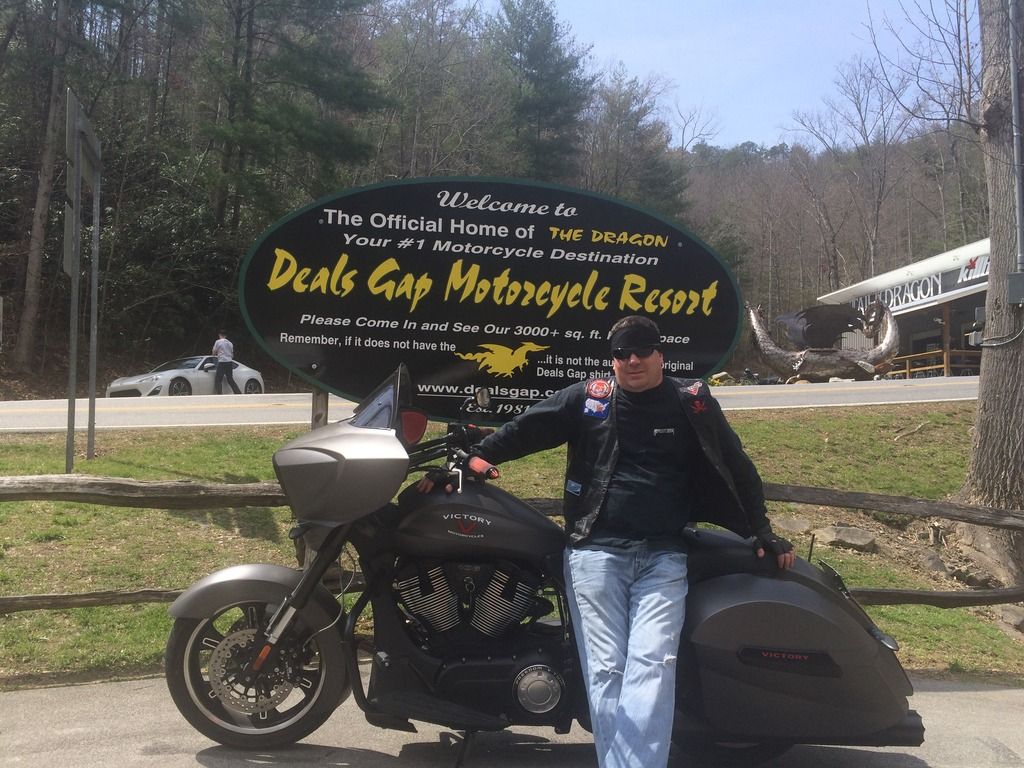 2003 Harley Davidson Sportster (RIP)
2006 Suzuki GZ250 (traded)
2012 Honda Shadow Phantom (traded)
2014 Victory Cross Country (current)