Member
Join Date: Oct 2012
Location: Chattanooga, TN
Posts: 59
3rd Post, Heated Gear??
---
Trying to decide between just the $250 nice heated gloves, or the $450 full heated gear.. I live in Tennessee, so the winters will only get to the low teens, but i can't decide. Anyone with any tips for a new rider trying to gear up?
Senior Member
Join Date: May 2011
Location: Sussex, NJ
Posts: 1,365
My brother swears by the heated grips. I'm thinking about getting a set.
---
1994 VT1100C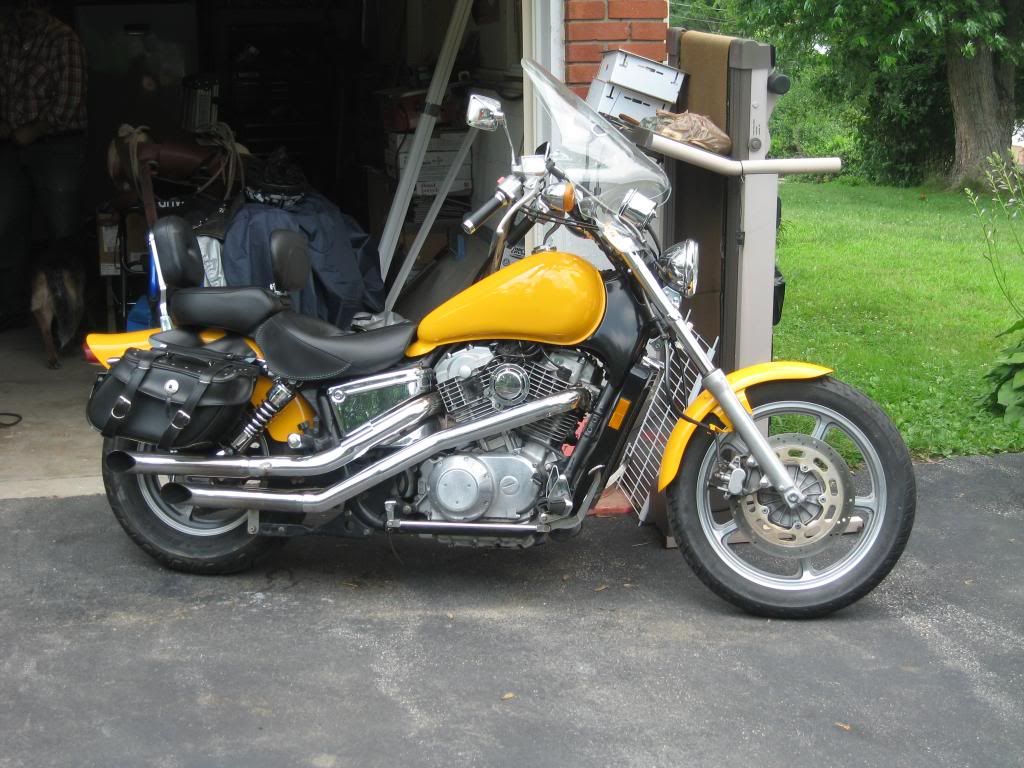 Senior Member
Join Date: Jun 2006
Location: Southeast Michigan
Posts: 8,932
If you've got the money to spend, get jacket and gloves. Gerbing's has the ones I'm looking at getting to replace my Widder vest and gloves. Where you live, electrics will guarantee that you'll be able to ride year round. Just watch out for ice -- mid 20s to mid 30s is more dangerous than low teens because the sun will melt ice that refreezes in the shade or after dark.

As for low temps, the coldest I have ever felt while riding came in the upper 50s with rain. My gear kept me dry but not nearly warm enough. The electrics allowed me to keep going on my trip to GA rather than having to stop for the day a couple of hours from home in the Columbus, OH area. Glad I had the electrics packed!

If I had to choose, I'd take the jacket.vest over the gloves EVERY time. Keeping the core of my body warm keeps the hands from getting too cold but it doesn't work the other way. I've had vest and gloves for 15 years and use the vest probably 5 times as much as the gloves.
---
Art's 1999 Shadow 1100 ACE
.
Ride bell by Dr. Bob's Patient
---
Last edited by adlowe; 11-24-2012 at

09:59 AM

.
I don't use heated gear, except for my grips, the heated grips are well worth it and the ones I have where around $70, alot cheaper than heated gloves, here is a pic of me, on one of my colder rides, 17 degrees that day, my chaps have removable insulation,so does my jacket for year round wear,I layer my cloth so under jacket a hoody and a vest
---
---
Last edited by Bens06Sabre; 03-26-2013 at

11:12 PM

.
I have an Olympia Air Mesh jacket and Alpine gloves that have been very comfortable in mid-20s temperatures. No heat required. But then my commute is only a mile each way.
Member
Join Date: Oct 2012
Location: Chattanooga, TN
Posts: 59
So I ended up getting the Powerlet Heated Jacket ($349) and the Heated Glove Liners ($89), and just let me say, THEY ARE AWESOME! 30 Degree ride home from work for 30 minutes at 85mph, and i have to turn the gear down 'cause i'm sweating. Seriously, excellent purchace.
Heated gear for us wusses
---
I'm with you, Tennessee! Moved to Montgomery, AL from Louisville, KY this past month. Rode with a one-piece camo hunter's suit from Bass Pro for the past winter, but decided to go with heated gear because I just couldn't get my hands warm and was tired of looking like the Michelin Man. . .even in camo. Seems disingenuous to wear CAMO while on a motorcycle where hi-vis is better suited, but they didn't have the gear in ORANGE. It is waterproof and windproof as well as thermo, but my hands, well, just couldn't keep them warm.
I bought the same Powerlet liner as you, although I got mine on a "buy it now" from a powerlet distributor on ebay, saving $. Bought the Gerbing G3 gloves rather than the powerlet glove liner, because I decided the liners would make my gloves too bulky. It's a toss-up.
Do you like the liners? What are you wearing over them to keep them dry?
Next, heated socks. . .
Junior Member
Join Date: May 2011
Location: Washington DC area
Posts: 2
Got my heated grips added at purchase - they don't always 'heat' your hands (esp the backs, finger tips), but it is much better holding grips that are 50-60 degrees than 20 or less which will suck the heat out of your hands. Have a Kanetsu vest that I got surplus from sportsmansguide.com for about $65. Have had to replace the cords about every year due to shorts blowing the 5amp fuse, but a life-saver last winter when the temps were in the single digits and my commute is 45 minutes at 65-70mph. As said earlier, just keeping your core warm will make a big difference for the extremities.