Junior Member
Join Date: Nov 2012
Posts: 7
Hello from Bc Canada
---
Hey there riders
Im new the forum. I wanted to say Hi 3 days ago, but only got my activation email now.
Just this Friday, I became a proud and happy owner of a 94 Shadow 600 vlx
That's why im here.
This is kinda my 2nd and a half bike.
A long time ago, after I totaled my first bike within 3 months and learned how to respect a motorcycle, a few years later, maye 4-5 years after, in 2008, i bought another bike. A 2005/6 Ninja 636.
But now, i have another one. This one I hope to ride slow and low.
Anything important things I should know about my new baby?
Are all bikes female. My ninja is female and her name is Jenna
Im having a hard time sexing my shadow?
Senior Member
Join Date: Oct 2011
Posts: 2,288
Member
Join Date: Oct 2012
Location: Baltimore Maryland
Posts: 77
Welcome to the forum...enjoy
Greetings from BC. Where abouts are you located?
---
------------------------------------------------------
Junior Member
Join Date: Nov 2012
Posts: 7
Quote:
Greetings from BC. Where abouts are you located?
Somewhere in Richmond
You?
Member
Join Date: Jul 2012
Posts: 87
Quote:
Im having a hard time sexing my shadow?
Woah. Not sure there is a forum here for *this* kind of problem ....
All kidding aside, welcome from a fellow Canadian.
Sent from my iPhone using
Motorcycle.com Free App
Member
Join Date: Oct 2008
Location: Calgary Alberta, Canada
Posts: 91
Welcome aboard!
---
Member
Join Date: Sep 2012
Location: Newport News VA
Posts: 268
I have never understood guys thinking that their bikes and cars are female. Do they argue with you when you want to buy something? Do they always beak down and expect you to spend all your time fixing them, instead of riding them? Do they get jealous if you ride a different one? If you get rid of them, do they take half of your stuff?

If you answered yes to more than one of those questions, then maybe you need to get rid of it then. If the answer was no, then are you sure of the sex of your bike? LOL
---
Aaron
Newport News Va
Greeting eh! Aboot time you joined.
---
88 Honda VT1100C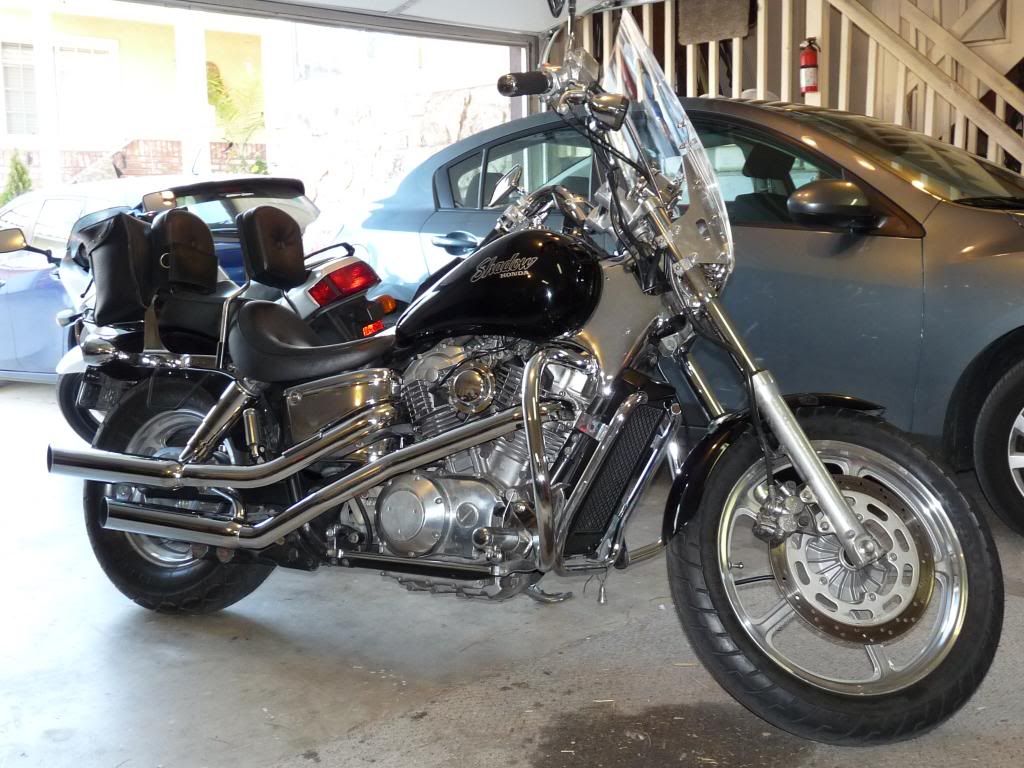 02 Yamaha WR426
71 Honda CB175
Would you like to ride a guy hard all day? Or a female? There is your answer, and keep everything but a hole saw out of your exhaust.... Remember, if it has **** or tires, you will have problems with it. Another good reason it's female.
I am in central BC, Williams Lake. Hoping to head towards the Okanagan sometime in the spring/summer. Maybe meet up with some of the other BC folk on these boards.
---
------------------------------------------------------