Junior Member
Join Date: Nov 2012
Posts: 1
Buying a Shadow !!!
---
Hi All
I just got my shiny new endorsement and am buying a shadow to get some miles and experience.
The 2 candidates are a 2005 Aero 750 with 65k or a 2002 Spirit 1100
in a chubby 6 footer so both seem a Little small but should have enough power to drag my fat ass around
Any suggestion on whats to look out for in a 750 with 65k
it s dealer unit and they say they go over it mechanically and of course "should have no problems"
The 1100 has 10 k
both are around the same price 3k
any thoughts or feedback is appreciated
Have a great day !!!!
Patrick
a lot of people around here have the 750's but personally I dont think I would want anything less then my 1100
---
Member
Join Date: Nov 2012
Location: Florida but Alaska is home!
Posts: 243
Welcome to the forum! I would pass on the 65k mile Shadow! There are lots of good deals out there! Have you checked craigslist in your area? Find one with under 20K miles,check service records,tires and cosmetics.
---
You will never see a motorcycle parked outside a therapist's office!
$3K for a 65k mile 750 doesn't sound like a very good deal.
---
2007 Honda Sabre 1100
Member
Join Date: Apr 2012
Location: Gainesville, Fl.
Posts: 114
Thats a great deal for the 1100, low miles too, go for it, you could always re-sell it for that price'
Member
Join Date: Oct 2011
Location: Nashville, TN
Posts: 661
i'd go with the 1100 unless there were anything wrong with it.

65k (kilometers...? or 65,000 miles) versus 10k (10,000miles?) is a no brainer

bigger bike with less miles for the same price...
---
*********
Live to ride another day!
Senior Member
Join Date: Oct 2011
Posts: 2,288
Junior Member
Join Date: Nov 2012
Posts: 20
I've quickly found out that a higher mileage bike causes you money if the previous owner didn't keep up with maintenance. Mine has 18,000 and I'm replacing the chain and sprockets, a new rear wheel, and all the fluids changed. But for the price I paid it's still a good deal. I would pass on the higher mileage bike like others have said and they have more experience than I do. Welcome btw, I'm in the same boat.
Senior Member
Join Date: May 2011
Location: Sussex, NJ
Posts: 1,365
The 1100, of course.
---
1994 VT1100C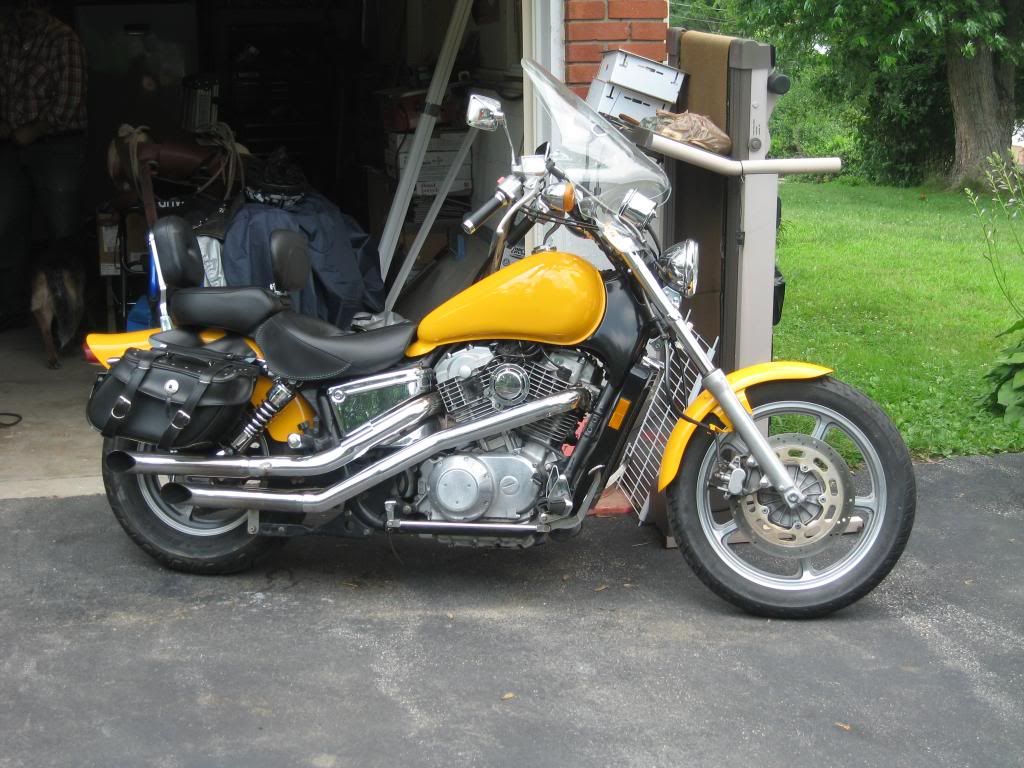 Member
Join Date: Mar 2011
Posts: 790
sounds to me like your dealer is trying to use your inexperience against you and get you to buy a bike that they haven't been able to move. I wouldn't even consider a 65k mile bike for $3k.
Actually, I see that the original poster has not been back yet. I wonder if that was supposed to be 6,500 instead of 65,000?
---