Junior Member
Join Date: Nov 2012
Location: Marshall, MI
Posts: 3
Any Michigan riders?
---
I know it is quite late in the season, but we may have a few more riding days left. Are there any groups or riders in Michigan area. I don't mind riding long distances....thank you
Member
Join Date: Aug 2011
Location: Adrian, MI
Posts: 197
Where u at not for this season maybee next year im in adrian
Sent from my MB855 using Motorcycle.com Free App
---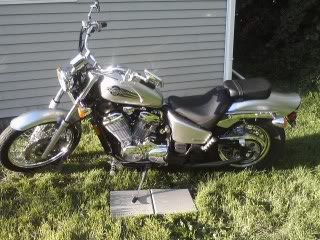 We did a late season ride in October over here on the west side of the state. Not many of us due to others having obligations, but we had a really nice fall ride.

We're planning to organize a spring ride. Keep your eyes open in the Midwest riders thread and plan for a ride. We haven't decided where we'll ride, but it's guaranteed to be a good time.
---
Greg
1993 Harley-Davidson XLH 1200 Sportster
1997 Harley-Davidson FXSTC Softail Custom
Senior Member
Join Date: Jun 2006
Location: Southeast Michigan
Posts: 8,932
What is the "Michigan area"?
Does that include Ohio and Indiana or is it just 96,716 square miles and 9.9 million people?
If so, then no, there are not any motorcycle riders here at all. We just hang out on this forum to pose.
---
Art's 1999 Shadow 1100 ACE
.
Ride bell by Dr. Bob's Patient
---
GoldWing. Nothing else needs be said...