Member
Join Date: Nov 2012
Location: Near Winston-Salem, NC
Posts: 38
New to the Forum
---
My daughter and I purchased a 600 Shadow VLX Deluxe and took the MSF course in the late spring. We absolutely love not having to ride on the back of my hubby's bike (1200 Sportster). I purchased to Sportster for him new in 2007 as a method of getting him to kick the cigarette habit. He has not smoked since 2007.
Our first 8 hour trip (Black Friday) was a challenge for my daughter. We rode to Diamondback in the Little Switzerland, NC area.
Am looking forward to reading the posts and participating in the forum.
Senior Member
Join Date: Oct 2011
Posts: 2,288
Member
Join Date: Oct 2012
Location: Chattanooga, TN
Posts: 59
Welcome from Chattanooga!
---
itsNatedude
CMA Member Chattanooga Chapter
Chattanooga, TN
2007 Shadow Sabre 1100 Black/Flame (Dead)
2006 VTX 1800S Touring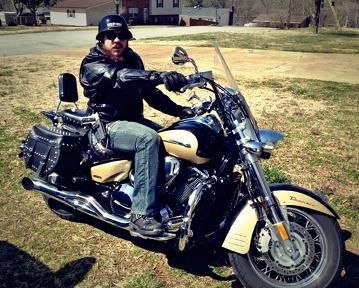 Member
Join Date: Nov 2011
Location: Lehigh Valley, PA
Posts: 902
Howdy!! Glad to hear the incentive to quit smoking worked for your hubby. I quit in 1992, my girlfriend about 6 years ago. What a difference!! Enjoy riding with your family and welcome to the forum!! Post a family portrait when you can.
Great to have you here. Have fun and be careful
---
IF YOU ARE BORN ONCE YOU WILL DIE TWICE
IF YOU ARE BORN TWICE YOU WILL DIE ONCE
Member
Join Date: Sep 2012
Location: Newport News VA
Posts: 268
Welcome to the forum. Also glad to hear about the quit smoking. I quit 3 years ago Feb. 19. I remember that date because it was the day I had a heart attack, and it was also our 33rd wedding aniversary. Sure do breathe a whole lot better. Also don't have to stop for a smoke when riding.

Where you from?
---
Aaron
Newport News Va
Member
Join Date: Jun 2011
Posts: 44
Welcome from the NC
---
Have a Positive Day
Welcome to the forum

Sent from my EVO using Motorcycle.com App
Member
Join Date: Nov 2012
Location: Near Winston-Salem, NC
Posts: 38
Thanks for the nice welcome!