Junior Member
Join Date: Aug 2012
Posts: 2
My first fall
---
Picked up my 98 Shadow Ace in July of this year. Since then I have put on about 3 thousand miles. Understandably, I have been ostracized by my wife and older children. I live in Rockland County in a small town about 25 miles Northwest of NYC. I planned on riding through out the whole winter whenever there was no snow.
This past Thursday afternoon I was out shopping for presents for my Son. I was looking for a GameStop. Out of the corner of my eye I noticed one. I apparently pressed a little too hard on the foot brake causing the bike to fishtail and throw me off. I smashed head first into Route 17 in Paramus with the bike flipping over, possibly on top of me. I was wearing my new HJC full faced helmet and remember thinking, that didn't hurt at all. I got up, thank G-D, in the shoulder. I stood up and started picking up my bike which surprisingly looked very good. Someone had stopped right behind me and was helping, wondering how I had stood up in the first place.
Soon after I was sitting on my bike when the first of 4 police cars came. I let them all know that I was ok and didn't feel the need to file a report or call an ambulance. After about 3 minutes the bike started up, I parked it, and proceeded to buy the Xbox I had come for. Everything seemed to be ok, no pain or broken limbs. I received a call from my wife and told her that I had fallen but thought I was alright. I told her that I was going to ride home. She hung up the phone mumbling something that I couldn't understand. I had remembered what my friends at Locomotion Powersports in Suffern NY had told me, "Whatever you do, don't stop riding"!
The problems started when I came home and realized that my right foot was all swollen and my left foot was all bloodied up. The entire right side of my pants and my jacket was scrapped open. Both my knees had big scrapes and my right shoulder was not working. Now, in a foot brace and no toenail on my left big toe, I can't walk without feeling pain all over.
My kids were here for the weekend and together with my wife were threatening all kinds of punishment if I don't get rid of it. Naturally I had foreseen this and hid all the keys. I have no plans on getting rid of the bike. I plan on riding again this winter. I am writing tonight for the first time simply for support. Please help!
Sent from my iPhone using
Motorcycle.com Free App
Quote:
I am writing tonight for the first time simply for support. Please help!
Oh, this should be fun....
Support?
You're old and competent enough to land a wife, sire children and hold down a good enough job to be able to purchase a motorcycle. This means you are a fairly responsible adult.
Each one of us gets one life. However short or long that life may be, it is still ours to live as we see fit. No one else should have the right to tell us how to live that one life. My family would never dream of trying to tell me how to live my one life, and if they did....fuk 'em. Of course, I've been riding for over 40 years, and they've all been riding for a while too, so.....
Now, on the other hand, you've been riding for what, 4 months and you've had a fairly serious crash with blood and injuries.....due solely to your lack of riding experience/skills. Maybe they're right and you shouldn't be riding a motorcycle.
Either way, only you can decide to weather their criticism and continue to ride, or cave to the pressure and bail. Regardless of what I, your family, or anyone else on the internet says, in the end it's your life and you should live it as YOU like. If someone doesn't like the way I'm living my life, it is NOT my problem...it's theirs.
---
GoldWing. Nothing else needs be said...
Member
Join Date: Nov 2012
Location: Florida but Alaska is home!
Posts: 243
When I was 16 years old,myself and two friends were riding our motorcycles one summer evening. I don't remember if I was second or third in line but as we crested a hill a drunk driver was passing a car coming up the hill from the other side. He hit my friend who was the lead rider,head on and killed him instantly! I don't know how I got through the wreckage but I ended up in a field sitting on my bike!
It was a traumatic experience and I remember telling my Mom,I was never riding again! She said yes you will! Two weeks later I was back riding! That was in 1964! I have had 20 some bikes over the years and still enjoy riding!
That accident made me a better rider! I pay attention to what's going on around me and anticipate people pulling out in front of me or hitting me from behind! I ride defensively all the time! Sure I could still get hurt or killed riding but I won't give it up until I feel unsafe as an operator!
I'm glad it wasn't worse for you! If you enjoy riding,I hope your family understands and doesn't take that enjoyment away! If you feel uncomfortable riding,take a break for awhile and see how you feel in a few months. Don't know if this helps or not but be safe what ever you do!
---
You will never see a motorcycle parked outside a therapist's office!
Member
Join Date: Jun 2012
Location: North Carolina
Posts: 542
Hey Eyuro, I am certainly glad you didn't get hurt worse than you did. I recently bought a bike and picked up riding again after twenty some years. It's been about six months now, but the day after I bought it, I low-sided it in a curve at about 45mph. There was blood and a little damage and to be honest, I was a little scared. Took me awhile to shake it. My wife tells people that it was a scary situation for her when I crashed, but the worst was finding my bloody clothes. Anyway...I ride most everyday now and couldn't give it up now for anything. You'll mend soon. Both in body and spirit. If you want to ride, just let your family know you love them, but you're a grown man and intend to live as you enjoy. Make sure you take the safety course if you haven't already and inform your family you plan to be as safe as possible,but you can't give up your freedom. They will come to accept it eventually. They're just scared and they don't want to lose you. Unfortunately they don't seem to understand you could have gotten hurt just as easily walking from your cage to the store. Some things just take time and the will lower to weather the storm man.
Ok, I'm done rambling. Don't know if this will help or not, but I sure wish you the best!
Steve
Sent from my iPhone using
Motorcycle.com Free App
---
Steve G.
North Carolina
2006 Vlx Deluxe
When I grow up......ahh hell I ain't plannin to do that!
Ride on my friend, only YOU can decide if it is time to quit. Just about everyone here has had a mishap while on 2 wheels. I had mine shortly after returning to riding after a loooong break. Was about 12 miles from home, had NOT gotten my licence endorsment yet and failed to complete an almost 180 degree turn. The adreline sure keeps the pain away for awhile. I had some road rash and broke the clutch lever housing on the handlebar. What would McGiver do??? I used my belt to hold the clutch lever in place and rode home. I rode with the clutch lever tied in place for several weeks until I got the part to fix it.
I have put almost 7000 miles on my bike this year. There have been a few close calls with both vehicles and that big old buck that steped out in front of me. I accept the additional risk of riding a motorcycle and I too will ride all through the winter except for the snow and ice. No need to get TOO crazy.
Member
Join Date: Jun 2011
Location: Kings Park N.Y.
Posts: 666
Glad you made it out with relatively minor injuries. You are the one that has to decide if you will ride again or not. The way i would look at this is that you just learned a lesson. Hopefully next time you will be able to control the situation without going down. You also may want to avoid rt 17 this time of year, lots of crazy holiday cage drivers around there. I will say though you have allot of great riding by you in Rockland and almost everywhere north. Good luck and stay on two for now on.
---
2001 spirit 1100 , vance and hines long shots, , a few other small mods. Now also with a mustang seat
Junior Member
Join Date: Aug 2012
Posts: 2
#2, thanks for your honesty. You sound like my primary care physician who on Friday refused to see me, instead telling me to call my motorcycle insurance company! I told him, " if I want your opinion, I will beat it out if you"! Sorry for the misunderstanding. I have been riding since I'm 22 and I took a long break, I'm 47 now. Have 3 grandchildren now and plan on riding again as soon I am able. I was not looking for your sympathy, but was definitely not interested in your ass beating either.
The blood was from a small cut under my toe nail, and the injuries while painful, are a lot less than some of the horror stories I have both seen and heard. I am thankful to be alive and happy that my bike, due to the Lindby bars I had put on, is basically as it was.
To everyone else out there, thanks for your well wishes, and many years of safe riding.
Sent from my iPhone using
Motorcycle.com Free App
stuff happens. ride on bud
---
I started out with nothin'... and i still got most of it left.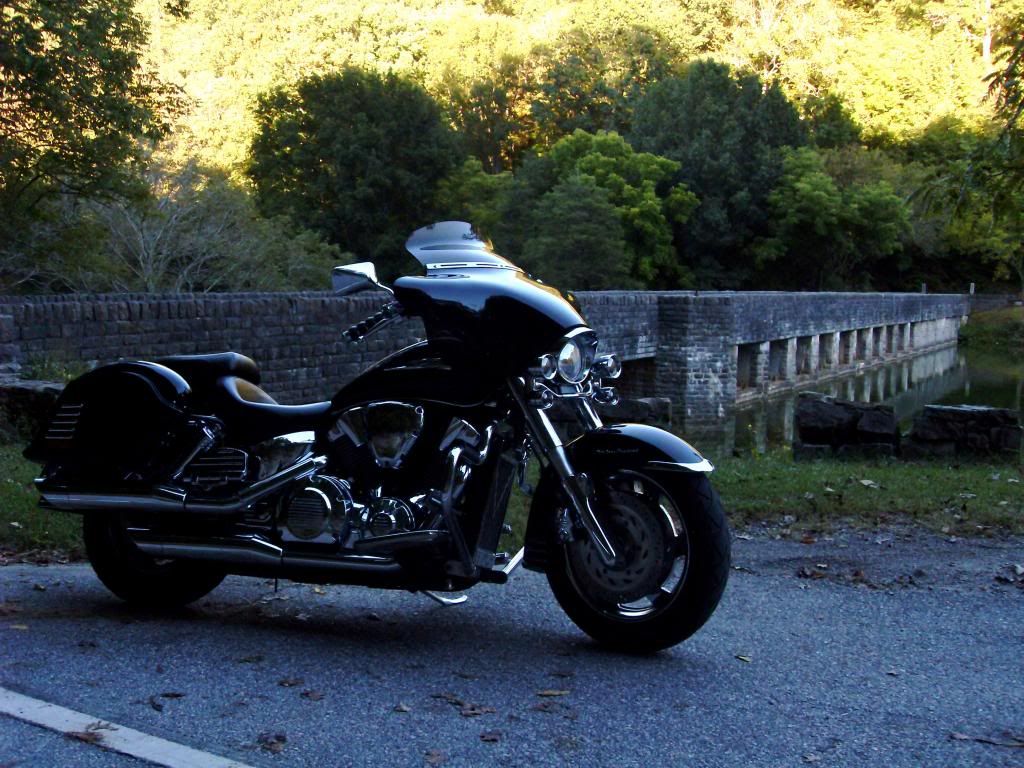 2006 Honda VTX-1300R
Memphis Shades Batwing, Stock "C" Model Pipes, Mustang Seat, Mustang Fender Bib, National Cycle Hard Bags,
Lindby Multibar, Küryakyn Sound System, Küry ISO Grips, Show Chrome Grille Cover, Küry L.E.D Light Kit, Küry Triple Whammy,
Küry Constellation Light Bar, TTO Tach, Metzeler Tires, Chromed Wheels and much, much more.
It's been stated many times already, you control what you do. Your a grown adult and sometimes you have to make a decision and make it for yourself. It may be unpopular but it's for you. AJ said it best. Stuff happens.
Sent from my iPhone using
Motorcycle.com Free App
---
Just Cruise...
Man, can I relate!
---
Without going into detail of my OWN stupidity in falling off the bike as I was riding it UP the ramp into the Uhaul truck (hint, there is only AIR when you put your right foot down to "steady yourself") during the recent move from Louisville to Montgomery, my youngest son having witnessed my subsequent fall and my imminent death (to his eyes). Got major grief from all the children, who banded together to do an intervention . . .
My son kept saying, "you don't understand, mom, you were dead."
Have to admit, riding the bike DOWN the ramp 10-hours and 500 miles later, was much more frightening with all my aches and pains. Delayed the hospital visit until the trip was completed. Did I mention that I loaded a great dane dog in the cab of the truck, who had to be let out every couple of hours and reloaded?
Doc's sent me to ortho consult, who said my shoulder rotator cuff was messed up and something about my ACL. Massive deep bruising of my right hip, thigh and ribs was of equal concern. They referred me to surgeon for shoulder repair and had me take aspirin to keep a blood clot from forming. Decided since nothing was broken, I would forgo the ortho surgeon and just keep heat on it and exercise it to keep it limber. Passed on the offer of pain med's. That was on November 6th.
Found that I was avoiding my bike. Decided to change all the oil, in case gas had gotten into it, changed out the air filter, replaced BOTH broken mirrors (it takes great skill to break BOTH mirrors in one fall), washed, shined, buffed and finally got back on two weeks later.
I admit my anxiety level was high when I hit the starter. The bike kicked right in, grumbled a bit, sputtered, then settled down to the usual steady hum. I geared and with some trepidation, got on and rode. . .And remembered why I ride.
I don't ride to be cool, or to save gas, or to be different. I ride for the sheer joy that comes from riding. My accident was entirely and completely my fault. I know what I did wrong, and will learn from it and move on. . .at high speed, on two wheels.
As I previously said ( in my Part three post when I was completing my "must post three times" requirement), my only concession to my children is a dog tag with my emergency contact information.
Ride or don't ride, but make it your choice. Glad you are ok. We're with you.