Junior Member
Join Date: Dec 2012
Location: Portland, TX
Posts: 3
Jerking of Bike
---
Well as I am still fairly new to the Biker's world. I have been noticing jerking of my bike...it mainly does it when I am shifting gears and accerlating. It goes away the faster I go. I thought it was from me not shifting correctly or to early but I have been working on that but it still does it...any ideas?
Senior Member
Join Date: Feb 2007
Location: Tecumseh, Michigan
Posts: 1,340
If you are riding it like an old lady you are probally shifting to soon. The V twins like to be reved (within reason) and not luged.
---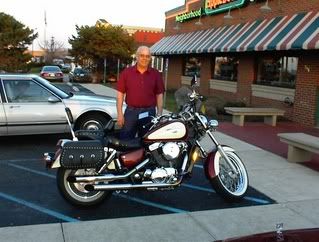 Member
Join Date: Dec 2012
Location: Central plains.
Posts: 539
New machine?
Sounds like your are either lugging the motor by shifting too soon or, maybe, the clutch is slipping under load which may be a maintenance error in that the cable is adjusted too tight and not completely engaging when released.
Takes some first hand experience to learn that last bit.
There's a bunch of different bike wobbles and jerks. From out of balance tires, to clutch grabbing, to misfiring, to who knows what.

Assuming you're not talking about giving your bike a hand job (you were all thinking it), can you get someone to take a short video of the problem, and post a link to a youtube vid?
---
2006 Shadow Spirit 750, 2011 Shadow Aero 750, One wife and three kids.