Member
Join Date: Dec 2012
Location: Tampa, FL
Posts: 87
Addition to the forum
---
Hello members, my name is Branden. New to the forum, new to bikes as well. I have only been riding 1.5 weeks. I just received my BRC 2 weeks ago, never ridden in my life. Scored my first bike a
Honda Shadow VLX600 Deluxe
Silver for
1650
,
37,000
Miles and still in perfect condition. I removed the back
seat
;
saddle bags
; and
sissy bars
only cause I wear a back pack most of the time. Umm, as for myself, I am a father of 1.5 kids married and work as mesh network support here in Tampa, FL. Story of my life =)
Pic of bike linked to album:
---
Last edited by herboren; 12-10-2012 at

06:03 PM

.
Member
Join Date: Dec 2012
Location: Tampa, FL
Posts: 87
Maybe I should dumb down the proper introduction.
Introduction:
I ride a bike.... yo!
Member
Join Date: Jun 2011
Location: Kings Park N.Y.
Posts: 666
Welcome. Nice looking scoot. Ride her well
---
2001 spirit 1100 , vance and hines long shots, , a few other small mods. Now also with a mustang seat
Hello Brian, I'm a new member here also, been riding for several years, congrats on your purchase of a Shadow, i just bought my first Shadow a couple of months ago, put enough mules on it to realize I really like it
As a beginnng rider there is something you must be told, might as well hear it from me, you must EXPECT the other people on the road (especially cage drivers) to do the most stupid thing they can - so when they do you are ready for it - if they don't, well that's good too!
Trust me, somewhere, sometime, they will - please be ready when they do.
HAPPY RIDING :d
Member
Join Date: Oct 2012
Location: Jacksonville, FL
Posts: 125
Hi Branden. Welcome to the forum. That's a very nice looking bike. Ride safe and have fun!
---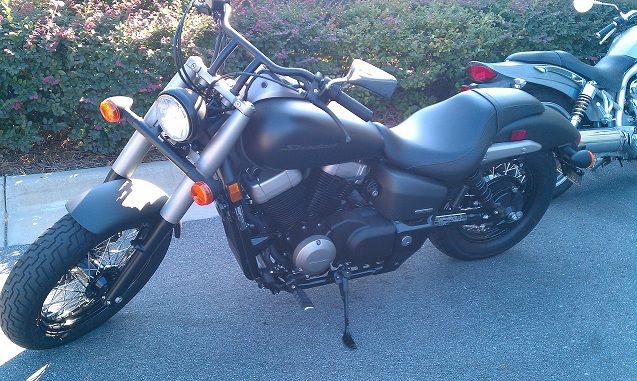 2012 Shadow Phantom 750