Junior Member
Join Date: Nov 2012
Posts: 20
the vlx is my first bike, and I have to say I love it! I'm not a small boy either, 6ft and 205lbs. I love the maneuverability of it. It's light and nimble and as others have said it is quick enough on the highway. I've ridden my buddies stock 650 shadow and another friends 1100. Hands down I like mine the best.
Member
Join Date: Dec 2011
Location: Charlottesville , Va
Posts: 217
Girley Bike ? My 750 Spirit will effortless hang with the rest of my club on rides. It will go way faster than my Guardian Angel can fly and it get lots of compliments. What more do I need.
---
Out of commission Fri 12-18-2015
---
Last edited by bldrums; 12-23-2012 at

05:20 PM

. Reason: Opps misspelled angel....my bosses last name is Angle, I never misspell it.
Member
Join Date: Dec 2012
Location: Maryland
Posts: 124
I would have gladly gotten a purple bike. Just would have added a few Ravens logos, which I'm probably going to do with my new bike.
Sent from my iPhone using
Motorcycle.com Free App
---
This is my bike. There are many others like it, but this one is mine.
Member
Join Date: Jun 2012
Location: Brampton, Ontario, Canada
Posts: 450
Member
Join Date: Oct 2010
Location: Palm Coast, Fl
Posts: 228
i've also heard the Harley soft tail is a girley bike.
---
As long as it isn't a Rebel 250 I think you are ok.
---
88 Honda VT1100C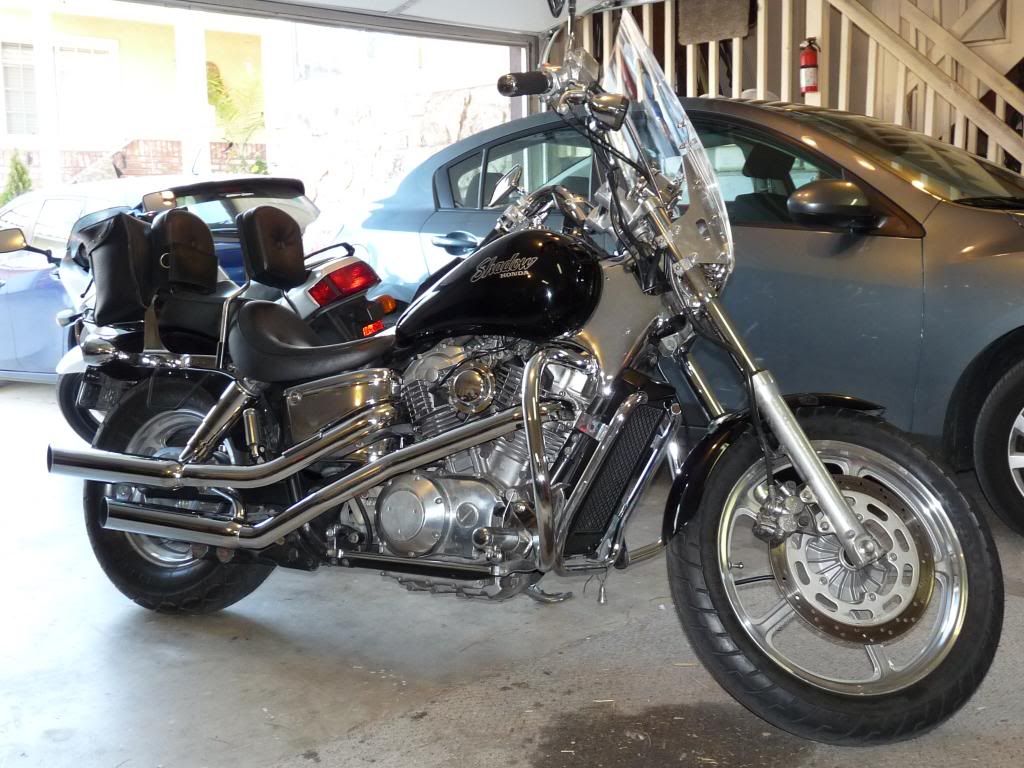 02 Yamaha WR426
71 Honda CB175
Senior Member
Join Date: Mar 2012
Location: Ketchikan, Alaska, salmon capital of the world!
Posts: 1,304
the only thing that "might" make that bike "girly" is if a "girly girl" was riding it.. even then I wouldnt call it "girly.... its a GREAT bike! and then she would probably just make that bike even MORE awesome!
---
My new to me 1984 VT700C
Member
Join Date: Nov 2012
Location: Near Winston-Salem, NC
Posts: 38
Quote:
I discovered from the maintenance records that my 750 Spirit was owned by a woman before me. She kept it nice.
I guess that makes it a girlie bike...I don't mind.
Now that's a reeeeeeel girley bike. I like the pink!
---
Ann
Winston-Salem, NC
2004 Shadow VLX Deluxe 5K miles