Member
Join Date: Dec 2012
Location: Tampa, FL
Posts: 87
Modifying my bike
---
I have noticed that it is very difficult to find after market parts for a shadow, whether be exterior; LED's or engine parts. Am I looking in the wrong area or have mods for the shadow gone out the window, or do I have to be a professional welder and have an active imagination?
I can't find custom fender parts, ape hangers or seats that match my needs.
Senior Member
Join Date: Feb 2011
Location: Kitchener, Ontario
Posts: 7,216
What bike do you have. I've seen lots of people change their bikes look with either aftermarket accessories and parts, or with their creative ability to fabricate their own parts.
---
2002 Honda Shadow VT750 ACE Custom.
***HondaShadow.Net Patch Order Info***
Member
Join Date: Jun 2011
Location: Kings Park N.Y.
Posts: 666
I have no problems finding mods. Everything i have done has been in the last two seasons
---
2001 spirit 1100 , vance and hines long shots, , a few other small mods. Now also with a mustang seat
Member
Join Date: Nov 2012
Location: Arizona
Posts: 229
For half of those things, you need to take measurements and look them up by size. There are a ton of lights, bars, etc, but they aren't exclusively for the Shadow.
Junior Member
Join Date: Mar 2010
Location: New Jersey
Posts: 13
Mustang makes several seats for Shadows. I know JandP has bars. Your limited by current cable length. Its out there, just have to dig a little.
Sent from my iPhone using
Motorcycle.com Free App
look on e-bay there is all kinds of stuff on there for the shadow
---
IF YOU ARE BORN ONCE YOU WILL DIE TWICE
IF YOU ARE BORN TWICE YOU WILL DIE ONCE
Member
Join Date: Dec 2012
Location: Tampa, FL
Posts: 87
I have the Honda Shadow VT600CD VLX Deluxe
Member
Join Date: Dec 2012
Location: Tampa, FL
Posts: 87
Type ur year and exact model in at ebay. U will be flooded with stuff for ur bike.
---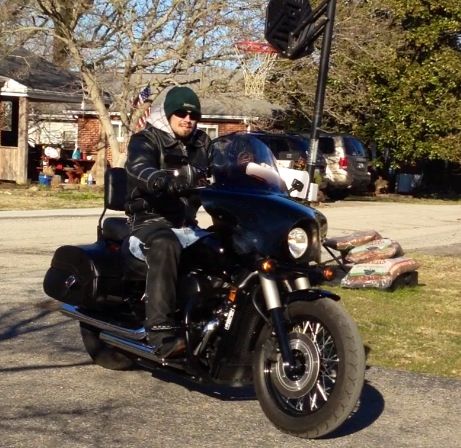 Member
Join Date: Dec 2012
Location: Tampa, FL
Posts: 87
What if I am looking for custom seats, back fenders; after market tail lights; headlamps and aftermarket applique for the bike. I have checked ebay and the only results I have gotten were mostly chrome oem parts or parts that people were selling form their bike that is either vendor trash or bike parts.
And lighting systems as well, I wouldn't mind putting some cool lights on it, I know of oznium but wasn't sure that there were certain parts made specifically for lighting