Junior Member
Join Date: Jan 2017
Posts: 4
When Shadow met Bambi on Hwy 194
---
Yep... I don't ride nearly as carefree as I once did.
A couple of years ago, I was a passenger on my ex's bike.. we normally finish riding well before dusk but that day we lingered too long somewhere or another. All I heard was "OH S**T"!
We were traveling about 40 to 45 mph and a large doe crossed the road dangerously close ahead of us. I felt bf hit the brakes and he might have been able to miss that one,,, but just fractions of seconds later a small buck crossed directly in front of us.
All I was was brown and next thing I knew I was body surfing down the road on my bare stomach,,, because we all know procrastination is an awful habit and I hadn't fixed the zipper on my second hand store leather jacket. I could feel the skin being peeled away from my stomach and I was thinking... Holy ****, Im skidding down the asphalt on my stomach.
In the mean time seeing my bfs shadow sliding and spinning down the road on its side with sparks a flying.
When I finally came to a stop I was afraid to move. I've had lower back surgery, and double hip and knee replacements and was so afraid I had damaged something. But as luck would have it I was still intact short of loss of skin,, cuts on my elbow and left hand. We weren't wearing helmets... and usually I still dont.... no brains no headaches or so Im told.
My bf was up right away and by my side. Traffic stopped and people were helping. A truck came barreling up thinking someone had a flat or something and attempted to pass the cars on the side of the road and came skidding and burning rubber with in feet of running me over so i was moved to the side of the road.
By then I was thinking I was ok and wanted to get up. My bf was helping me and dropped me, me landing on my forehead on the asphalt.... My only head injury !!!
By then the ambulance was there and I was strapped to a board and on my way to the hospital where I spend hours getting asphalt scrubbed from my belly and staples put in my elbow and hand.
What was awesome about my hand injury is that I always wear a POW/MIA bracelet and it had been pinned beneath my stomach and took the brunt of the abuse from the asphalt. It wore the edges off and scraped off the name of Leo Earl Seymour from Towanda Penna, lost in Laos in 64. If it hadn't been for the bracelet my wrist might have been destroyed.
Once I was discharged from the emergency room with gown still on and my jeans, I rode on the back of the same bike to a nearby motel. No foot peg on left side, and all bandaged up. Hey you cant keep a good gal down, even if you should. LOL.
anyway... blabbing on........Now each bush and tree along side the road are potential hiding places for dastardly critters who are out to get me. LOL. About the only time I ride carefree are on roads with clear areas on each side.
We were blessed beyond belief. I pray you are too. ss
---
Last edited by SabreSabre; 01-09-2017 at

01:47 PM

. Reason: forgot something
Senior Member
Join Date: Oct 2012
Location: Evansville, Indiana
Posts: 8,675
Welcome! Glad you are here to join the madness.

Sent from my SM-G930V using Tapatalk
---
Ride Bell By OldDad
Junior Member
Join Date: Jan 2017
Location: Hawley, Pa.
Posts: 7
WOW what a ride, glad you are OK! I almost hit a little Bambi a few months ago, it was a close call. I learned years ago to wear riding gear, including boots and gloves. Hey, its better to be sweaty than bloody! LOL
Chuck
Member
Join Date: Dec 2015
Location: NW Indiana
Posts: 660
Glad you both made it and Welcome...
---
94 Honda Shadow Spirit VT1100C
Senior Member
Join Date: Oct 2014
Location: Not Bessemer Alabama
Posts: 1,970
Senior Member
Join Date: May 2013
Location: Draper Utah
Posts: 2,981
Already welcomed ya. But damn girl you rode the same bike from the hospital! That is so cool!
ride safe !
---
02 1100 shadow spirit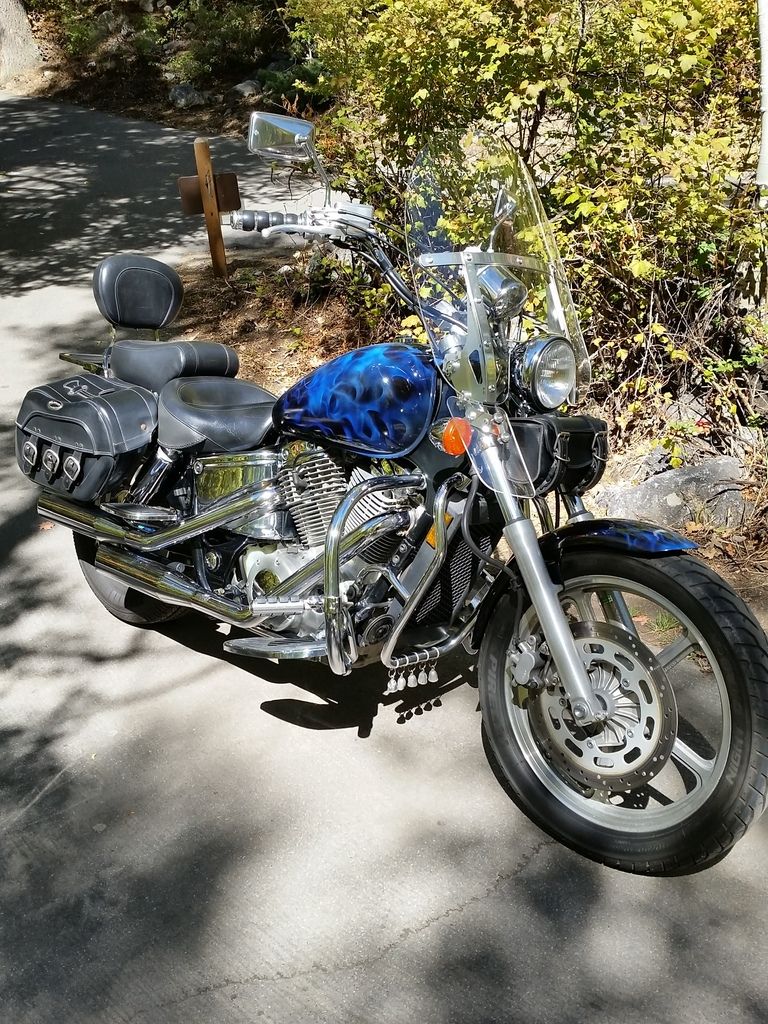 Member
Join Date: Jan 2016
Location: Fort worth TX
Posts: 304
Wow, welcome to the show.

Sent from my SAMSUNG-SM-N910A using Tapatalk
---
2014 Honda Shadow Phantom
Every Day Above Ground Is A good Day