Junior Member
Join Date: Feb 2017
Posts: 3
New rider and excited
---
Hello hello,
Pauly here. I just got a used 2003 Honda Shadow ACE (first bike). I could of gotten a newer model Shadow, but I wanted a carb and chain drive because I want to learn to do all the work as well as restore an ol '79 Kawasaki KZ650. I've been told that these old school type bikes are easier to work on and I can believe that because I've been diy on my 97 Astro Van and all the electronics and fuel injection make things harder.
Do y'all think that these old school types of bikes will be around for much longer. I've heard chattering about the EPA banning certain bikes from California...
Anyways thanks for being a part of this forum. These forums truly have restored my faith in humanity.
Pauly
Welcome to the forum, love to see some pics of your ACE
---
"My father says almost the wholeworld's asleep. Everybody you know,everybody you see, everybody you talk to. He says only a few people are awake. And they live in a state of constant total amazement."
" From the Movie 'Joe Vs The Volcano'
2001 Valkyrie I/S
Senior Member
Join Date: May 2013
Location: Draper Utah
Posts: 2,981
Welcome aboard!

RIDE SAFE!
---
02 1100 shadow spirit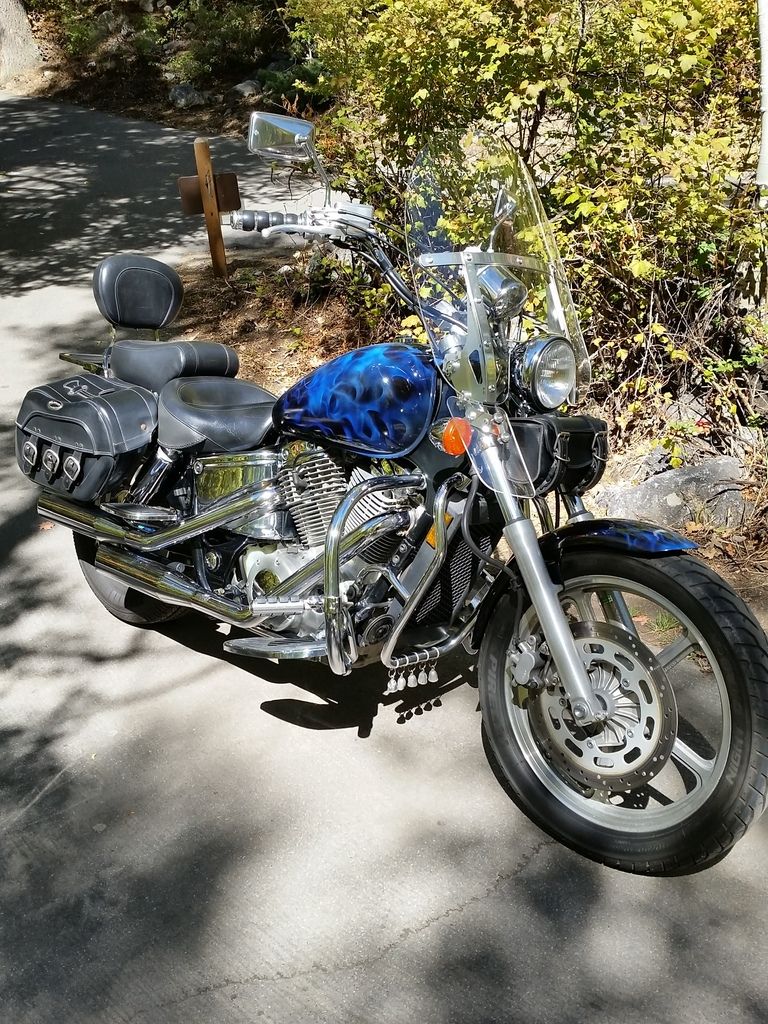 Member
Join Date: Sep 2015
Location: Louisville
Posts: 617
Welcome to the circus my friend. I don't think the old rides are going away any time soon. It's no different than a classic car there here to stay. And the older bikes are easier to work on however sometimes the parts can be hard to find so they take a degree of commitment to keep on the road especially if your keeping it original with OEM parts like my 33 year old mistress, 84 VT700C still running good and making smiles every mile.
Sent from my Nexus 6 using Tapatalk
Senior Member
Join Date: Oct 2012
Location: Evansville, Indiana
Posts: 8,680
We chatted last night, but don't think I officially welcomed you yet, so welcome to the forum! My last bike was an '02 750 ACE and I still miss that bike. It's a great machine that will give you well over 100,000 miles if cared for properly.
http://i997.photobucket.com/albums/a...turner/154.jpg
Senior Member
Join Date: Oct 2014
Posts: 5,949
Welcome to the forum. We love pictures here.
---
Only a biker knows why a dog sticks his head out of a car window.
1983 750 Shadow
From the past
=
1951 Cushman scooter
1962 Honda 305 Dream
1965 Honda 305 Dream
1971 Honda 175 scrambler
Member
Join Date: Jan 2017
Location: Denver CO
Posts: 375
yo!
---
"Eve" my 2013 Phantom
Member
Join Date: Jan 2015
Location: The Virginia Coast
Posts: 954
Welcome to the forum!
---
- Ride Safe!