Junior Member
Join Date: Apr 2017
Posts: 10
I have an 1984 Honda Shadow VT500 With a Starter Issue
---
Hey guys,
So my shadow wont start. I am pretty sure that it is my starter motor, but I am no mechanic and that is why I am here.
I tried starting it last week and got a single click from the solenoid when i would push on the starter button.
So thinking that it was a weak battery, i checked and it was a little weak, so I charged it up & put a jump box on it to try to further diagnose (until i make it into town to buy a new battery). I checked the voltage at the battery, then through the solenoid & they were the same. Then I checked it at the positive post to the starter and found that it was a loose connection on the starter. Once i tightened that up, I checked the voltage to the starter and it was the same all the way through. I put the negative on the back side of the starter motor to see if it was a grounding issue or not. Same voltage all the way though, with nothing out coming out of the starter. Upon further review, it looks like there is some discoloration/rust around the positive post on the SM.
If i take it off, there is a electrical repair shop down the road that I would bring it to and get their opinion on weather it is able to be rebuilt good as new, or time to buy a new one.
Being in a small town, there isnt really many mechanics. There are a few here and there but no one who seems overly helpful, or that seems to wants my business (as in, i leave a few voicemails, and no call backs). Hot wiring the starter doesnt seem to do anything. Briding the solenoid doesnt seem to do anything. I have tried to roll the bike backwards in first gear to try to get the starter to turn manually but with no luck.
Is taking the starter off something that I can do? Ive tried to do a bit of research, and it seems like there are a few steps involved. Ive seen a few posts where people can get their SM out without emptying out the oil and taking the pans off, and ive seen some where they say take both covers off, drain the coolant, take the hose off, the tool box off, the right side of the exhaust off and pop it out that way.
Opening the left cover up and taking it all apart makes me a little nervous because ive never done that before.
Junior Member
Join Date: Apr 2017
Posts: 10
Senior Member
Join Date: Oct 2014
Posts: 5,365
One thing you might try is jump directly to the large starter terminal and if it does nothing tap on the side of the case with a small hammer. The brushes may be worn down and hanging up or just very dirty from carbon dust.
Here are the instructions from the manual. If you do take it out you can get one of these kits cheap to rebuild it. I bought one of those kits to have as spare arts. I was impressed at the decent quality for the price.
Starter Rebuild Kit For Honda VT500C Shadow 1983 1984 1985 1986 | eBay
---
Only a biker knows why a dog sticks his head out of a car window.
1983 750 Shadow
From the past
=
1951 Cushman scooter
1962 Honda 305 Dream
1965 Honda 305 Dream
1971 Honda 175 scrambler
Junior Member
Join Date: Apr 2017
Posts: 10
Thanks swifty for the reply

I have tried to directly jump to to the post on top of the starter. Via the wire first, then a direct connection to the post. I checked the ground, and if I did it right, it isnt an issue.

When you say tap on it with a hammer, the starter case?
Senior Member
Join Date: Jun 2008
Location: SW Georga Between Americus & Beuna Vista - Plains & Ellaville - Preston & Andersonville
Posts: 13,999
Yes, the starter case is his suggestion...
Most likely
An old mechanics trick on pesky starters on Chevys
As mentioned, I suspect brushes are not making good contact to make the starter spin...
Laptop diagnosis ain`t always correct though NOR easy...
Can sometimes take a few steps through wait and post...
You have already taken steps we commonly suggest in this is a common problem > No Start I mean...
Welcome to the site...
Our Gurus are on it, we`ll get that starter issue solved,
D
---
`98 VT750 A.C.E.
Motorcycle Rider Rights Activist
ABATE member 38yrs.
www.ABATEGA.org
www.mrf.org
www.MSF-USA.org
http://www.ama-cycle.org/
http://www.bikerrogue.com/Articles/Biker_Rights/History_of_Abate/history_of_abate.htm
Enjoying Life,D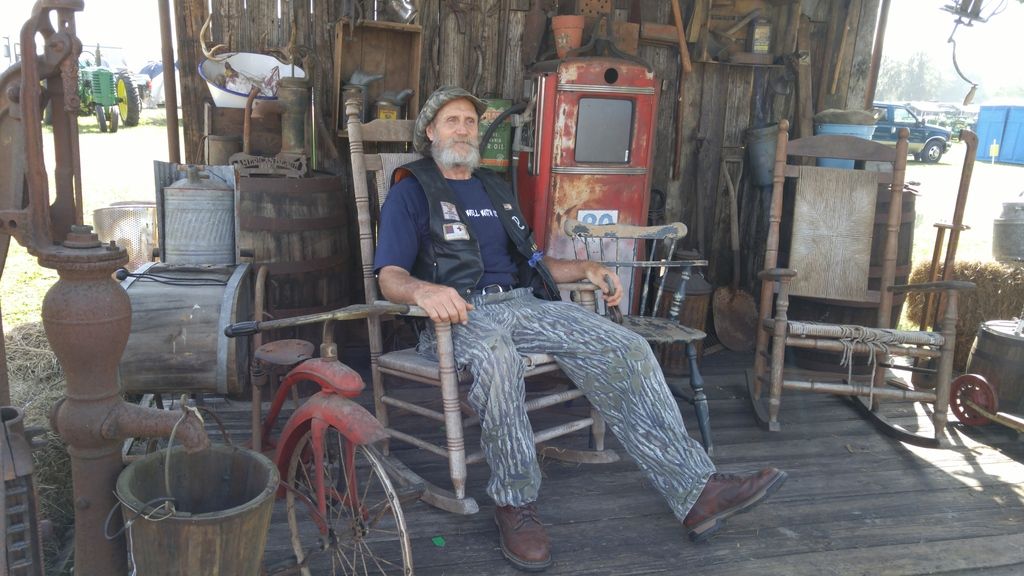 Senior Member
Join Date: Oct 2014
Posts: 5,365
Yes small hammer on the side of the case near the end with the terminal. When you crank it tap on it. If it comes to life it may be reparable with a cleaning and brushes.
---
Only a biker knows why a dog sticks his head out of a car window.
1983 750 Shadow
From the past
=
1951 Cushman scooter
1962 Honda 305 Dream
1965 Honda 305 Dream
1971 Honda 175 scrambler
Junior Member
Join Date: Apr 2017
Posts: 10
I will give it a shot when I get home. Im more nervous to take it apart if need be. WIth the diagram Swifty gave me it shows me that it was much easier than the rest of the stuff that I have looked for.

My riding season is just so short up here it makes me sad that I am having this time cut into it
Junior Member
Join Date: Apr 2017
Posts: 10
Captain D - I live up in good ol' Vermont