Junior Member
Join Date: May 2017
Posts: 4
Runs when cold, not when hot.
---
Hey guys, might you know what would cause my 95 ace 1100 to suddenly die after it gets hot? It has strong spark at cold, but have tested the plugs once hot, and none of them will fire.
Senior Member
Join Date: Oct 2014
Posts: 5,663
Possible heat failure of the ignition control unit . If you get it running while cool, heat it with a hair dryer to see if it will cut out. Tap on it too. Spray water on the coils and see they arc anywhere.
---
Only a biker knows why a dog sticks his head out of a car window.
1983 750 Shadow
From the past
=
1951 Cushman scooter
1962 Honda 305 Dream
1965 Honda 305 Dream
1971 Honda 175 scrambler
Start up in a dark garage also a good way to check for arcing.
Don't let it run too long without some kind of ventilation in the garage/shed.
---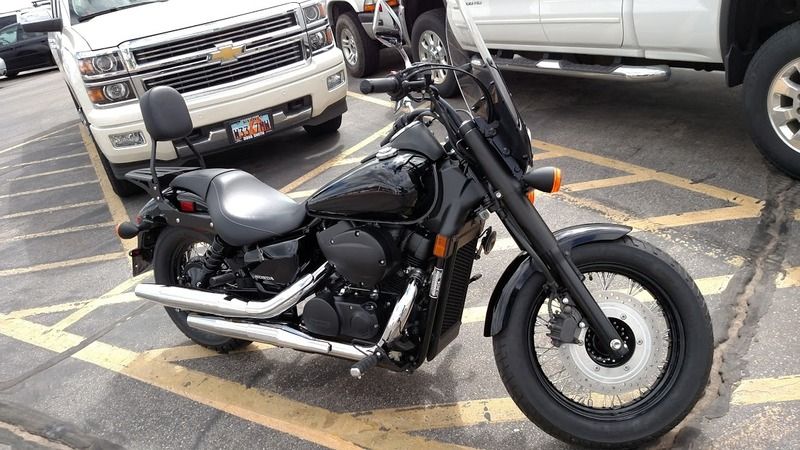 2016 Honda Phantom
2001 FLHR Road King
Past-
03 Honda Sabre
82 GPZ Kawasaki 550
79 Honda CB550
71 Honda CB500
Senior Member
Join Date: Apr 2013
Location: Wherever you go, there you are!
Posts: 2,175
Sounds to me like the coils might be cracked. That will cause the bike to die after it's heated up, and the crack has separated enough inside so that the arc can't jump across the crack anymore, and it won't start again until it's cooled enough for that gap to close and the arc to be able to jump across again. Had that trouble on an old Sporty I used to have. As soon as the coil was replaced, it ran like a champ all the time.
---
(((=-JammeR-=)))
"My Life is NOT a journey to the grave with the intention of arriving in a pretty and well-preserved body, but rather to skid in broadside, in a cloud of smoke, tires screeching, totally used up, thoroughly worn out, and loudly proclaiming...WOW! What a Ride!!"
'03 Spirit 750
Ride Bells by blue flames and shadowride69 (THANKS!!)