Junior Member
Join Date: May 2017
Posts: 5
Why 3 posts? So which bike?
---
I want a Shadow, who can tell me the best little Shadow to get? I want to save on fuel money. I ride down to 30 degrees or so. Which Shadow doesn't mind rain?
The best one? That is really a subjective question. What type of riding do you do? Do you ride solo or with a passenger? What is your body size? etc. etc. All are factors, and many more. One model is not more reliable/less reliable than others. It depends on how the previous owner maintained or didn't maintain the bike. Honda quality control from the factory is quite high.
The three threads are required to weed out the plethora of spammers that try to hit this board so you the member don't have to wade through post after post of porn, spam and other nonsense.
---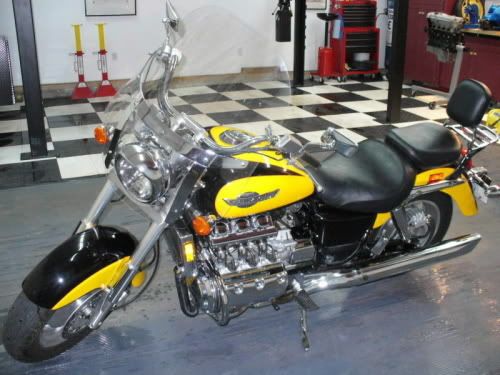 Rider #5 in Woody's Memorial Ride
Member
Join Date: Mar 2017
Location: So Cal
Posts: 141
most shadow 750's, whether is an Aero, Spirit, Phantom, all get great gas mileage.
all depends on how your ride.
your question of which one doesn't mind the rain? none of the Shadow's mind rain.
put it this way... you (the rider) are more likely to quit riding before the bike decides to quit... its a Honda.
Senior Member
Join Date: Apr 2013
Location: Wherever you go, there you are!
Posts: 2,175
A VERY subjective question! I'm sure you'll get LOTS of different answers, and all depend on various factors, as @
Spiritman
has pointed out. We need more details to be able to give you an answer.
---
(((=-JammeR-=)))
"My Life is NOT a journey to the grave with the intention of arriving in a pretty and well-preserved body, but rather to skid in broadside, in a cloud of smoke, tires screeching, totally used up, thoroughly worn out, and loudly proclaiming...WOW! What a Ride!!"
'03 Spirit 750
Ride Bells by blue flames and shadowride69 (THANKS!!)
Member
Join Date: Jan 2017
Location: Denver CO
Posts: 257
Quote:
...the best little Shadow to get?
the one that makes you feel as giddy as a school girl and makes you day-dream about riding it
---
"Eve" my 2013 Phantom
Senior Member
Join Date: Nov 2015
Location: Kingston, Ontario
Posts: 2,732
Quote:
the one that makes you feel as giddy as a school girl and makes you day-dream about riding it
Yep, that's the one. I have one of them.
Sitting on my Shadow making vroom vroom noises.
---
2006 Shadow Aero 750, "Audrey"
Mods/Ad-ons to date:
NC Switchblade
NC Chrome Deflectors
NC Hand Deflectors
Oxford Grip Heaterz
Power Trip Saddle bags
Willie & Max Handlebar bag
Highway pegs (eBay)
Gremlin Bell (gift from my son)
Mustang Seat!
Crash Bars
Vance and Hines Cruzers
Rear Signal relocation