Junior Member
Join Date: May 2017
Location: Edmonton, Alberta, Canada
Posts: 3
Advice Please
---
Members I'm hoping someone can help me out. After getting my bike home and getting it ready to ride I suddenly noticed a drip coming from the bike and my worst nightmare I'm leaking a substantial amount of fuel from the top of my fuel line where it meets the petcock. I replaced the fuel filter (I have no leaks from there down) replaced the upper fuel line and clips and it's still leaking weather the petcock is on reserve, on or shut off. As mentioned it appears as as though the leak is coming from the top of the hose. Any thoughts on fixing anyone's help is greatly appreciated.
Senior Member
Join Date: Jul 2013
Location: Northern Illinois
Posts: 5,253
Senior Member
Join Date: Apr 2008
Location: Palatine, IL
Posts: 10,075
If you replaced the fuel line from the petcock down and it's still leaking it's probably the petcock. You didn't say which Shadow you have but they have petcock rebuild kits for some and some 750 petcocks were recalled by Honda.
Senior Member
Join Date: Apr 2013
Location: Wherever you go, there you are!
Posts: 2,237
It might just be that the petcock, which probably has a nut that locks it into the tank, might be loose, and just needs to be tightened. You'll need a pretty big wrench to tighten it, though it's not difficult. If that doesn't fix the leak, you may need to rebuild the petcock, replacing the rubber inside. They do tend to wear out and get eaten up by the ethanol in the gas.
---
(((=-JammeR-=)))
"My Life is NOT a journey to the grave with the intention of arriving in a pretty and well-preserved body, but rather to skid in broadside, in a cloud of smoke, tires screeching, totally used up, thoroughly worn out, and loudly proclaiming...WOW! What a Ride!!"
'03 Spirit 750
Ride Bells by blue flames and shadowride69 (THANKS!!)
Turn petcock off. Remove hose. Still leaks. Bad petcock.
---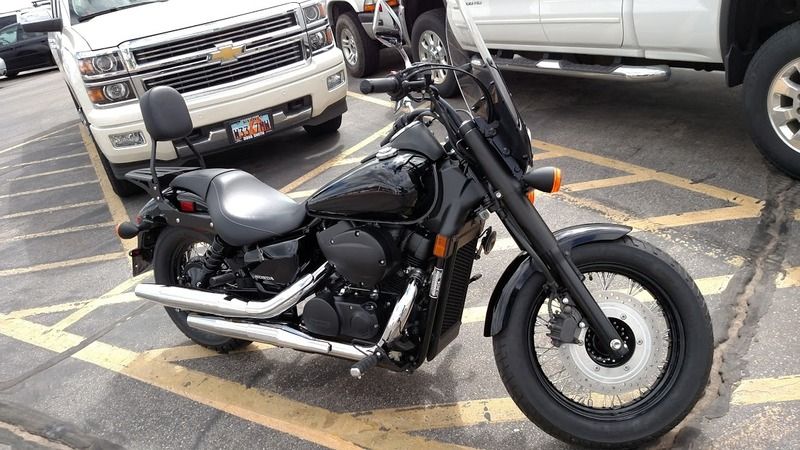 2016 Honda Phantom
2001 FLHR Road King
Past-
03 Honda Sabre
82 GPZ Kawasaki 550
79 Honda CB550
71 Honda CB500