Super Moderator
Join Date: Jan 2004
Model: 750 ACE Dlx
Year: 1998
Location: Sterling Heights, Michigan
Posts: 6,458
Quote:
Solder is great for conductivity with good physical contact between strands it can be better than crimping, but, and this is the important bit, as long as there is no vibration or movement in the joint or the wires immediately adjacent to the joint it will be reliable.

The problem being that the soldered joint is a solid lump, it cant flex and it allows no movement within the interface with the wire strands so it creates a stress riser at the interface.
On the other hand a crimped connection if done well, supports the wire and allows some movement reducing the problem.
Yep!
Much like the refrigeration system in your homes refrigerator or split A/C system. In those systems, all the refrigerant tubing connections are made by brazing or soldering. That's because they are stationary set-ups that aren't exposed to movement and vibrations.
Try that in an automobile and your A/C's refrigerant would leak out with the first few bumps you hit.
In a car, the A/C tubing is connected with compression fittings utilizing neoprene o-rings which counteract the effects of movement and vibrations. Like I said, a soldered or brazed connection in a cars A/C system would ultimately fail because it can't withstand the effects of movement and vibrations.
Soldered wire connections are no different and it's why you don't find them in cars from the factory unless they're on (or) part of a circuit board.
It doesn't matter how good you are at soldering. You could have your Masters and Doctorate in "Solder Technology" as a world renowned solderer.......if you solder your connections on a car or motorcycle, they won't outlast a crimped connections and "WILL" eventually fail.
In moving vehicles like cars, trucks or motorcycles, when it comes to wiring; mechanical or crimped connections will far outlast soldered connections.
Phil
---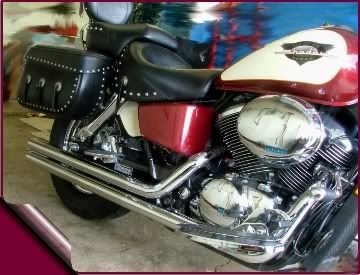 1998 VT-750 ACE Deluxe
Sterling Heights, Michigan


Member
Join Date: Mar 2016
Posts: 260
I was once told by a electronics technician who retired from Boeing as a electronics engineer, that they were told crimping is superior to solder for the simple reason that in a worse case scenario of a fire on a plane, solder would release before crimping. Even while burning the wires will still have contact.
All of the above comments are probably correct in that IF it is done correctly, one or both methods are sufficient for motorcycle riding.
I do both.
Sent from my XT1254 using Tapatalk
Senior Member
Join Date: Jun 2008
Location: SW Georgia Between Americus & Beuna Vista - Plains & Ellaville - Preston & Andersonville
Posts: 16,107
After coming back to this, after I commented earlier, I see everyones point that says Crimp motorcycle wires connections...
Take any automotive wiring harness apart and you`ll find factory crimped connections...
I`m a TV technician so soldering just comes natural to me, however I do see crimps on these connections we`re discussing...
Slide the connector out of any plug, and you`ll see it has been crimped,
D
---
`98 VT750 A.C.E.
Motorcycle Rider Rights Activist
ABATE member 40+yrs.
www.ABATEGA.org
(DC District 13)
www.mrf.org
www.MSF-USA.org
http://www.ama-cycle.org/
http://www.bikerrogue.com/Articles/Biker_Rights/History_of_Abate/history_of_abate.htm
Enjoying Life,D
Senior Member
Join Date: Dec 2008
Model: 2007 Shadow 600
Location: Newport Beach
Posts: 3,358
traumajunkie
, believe me, there's very few people who can crimp properly. If you practice, half of your crimps will pull apart. It's still easier than soldering properly though. Unless you can remove the particular wires you're soldering together from the bike you're working in tight quarters so that poses a difficulty in itself. I'm pretty good at soldering and I don't believe bike vibrations are anything like airplane vibrations. Wire nuts are probably better than most people's crimps if you electrical tape them together. I personally like
Posi-tite
brand connectors especially the water proof
versions
. About the only negative is that they make the electrical joint bulky.
---
2007 Honda Shadow 600
Senior Member
Join Date: Oct 2014
Model: Vt750
Year: 1983
Location: Washington State
Posts: 10,654
I agree that soldering makes a better electrical connection if done correctly and I agree that crimping has a lot of benefits too. I use both at various times, and heat shrink is good for keeping moisture out and protecting the joint, especially the type that has a sealer inside that oozes out when heated. So there are many ways to get the job done and have it last. Another very good type splice I have used is the
best of both world
s. It has solder in the center that melts around your wires and has heat shrink that seals when heating the splice and solder. =
https://www.amazon.com/Waterproof-So...240JJJF2YDEJD7
---
Only a biker knows why a dog sticks his head out of a car window.
1983 750 Shadow
From the past
=
1951 Cushman scooter
1962 Honda 305 Dream
1965 Honda 305 Dream
1971 Honda 175 scrambler
I worked as a journeyman maint mech for many years, everything was crimp and shrink-wrap because of the vibration problem mentioned earlier. Wires tend to break right at the solder joint and makes a bigger mess to fix the next time. Also a lot of screw terminal connections, even easier and assured stronger.
Now I do a lot of guitar repair and almost all older ones even most new are all solderered, if not done right you can fry a lot of parts. Heat sinks are very important! A new thing is coming out that the potentiometers have screw terminals! Much easier to work on and much less chance of frying something.
So with all that said I prefer crimping on cars and bikes and heat shrink or electical tape depending on the location, faster, easier and safer for delicate components.
JMH JOURNEYMAN OPINION.
BTW, every factory I worked at was the same in this regard and I worked at 5 major companies.
Circuit boards are about the only exception but even they have a lot of screw terminals. Just changing out a component like a resisted or something would obviously need to be soldered, old part desoldered first of course.
---
Last edited by pastordave1; 07-09-2016 at

01:17 AM

.
Member
Join Date: Jun 2016
Posts: 36
OK, if I am going to do a crimp type should I go with one piece or two? As stated before this is the wiring that goes to the starter relay, will 16agw work ok?
Quote:
OK, if I am going to do a crimp type should I go with one piece or two? As stated before this is the wiring that goes to the starter relay, will 16agw work ok?
Do you mean separate crimp connector and heat shrink or a one piece solution? If so, my preference is for the two piece method, but quality materials may be harder to come by in this style. If separate, the crimper I linked will still work fine, but it's not the best.
Use the smallest terminal that will accept all of the wire's strands. Take your connector to the store with you and eyeball it if possible.
Give your repairs a good tug, and if they won't come apart, they're likely fine. Don't be afraid to pull pretty hard.
Wire nuts do not belong in any transportation environment.
On point three, we will have to disagree. That type of connector has been seen to fail quite a bit in the automotive field. The wires wiggle loose over time. You may have good luck, but I have repaired
many
connections where these were used.
Those connectors can work fine if everything is nice and clean. they are known to fail often in practice in the field due to the presence of various contaminants, poor application, etc.
Hope you guys will still help me with my questions after all of this discussion, as I'm sure I'll have more.
All of my comments are intended in a good, helpful mindset.
Posting Rules

You may not post new threads

You may not post replies

You may not post attachments

You may not edit your posts

---

HTML code is Off

---