Member
Join Date: Nov 2006
Model: Shadow Spirit VT750 DC
Year: 2006
Location: Bethpage, Tennessee
Posts: 669
Quote:
checked the oil this morning, was a half quart low.
apparently, the crank case data of 2.5 quarts , is the MINIMUM level
topped it off, bike didnt seem to be "off" during my travels so ,i hope i didnt hurt it too much running 80 miles on the minimum oil yesterday


i havent touched any of the electrical or ignition yet
im heading on a road trip sunday, and Im trying to get familiar with the ride
as well as shakedown any potential issues before i get out there

right now, im getting clutch slipping even with the new oil, under hard ,high revs

thing is its possibly cable related, cause i can push the clutch lever back out at the end of its travel, and that baby locks in .

i think itll be fine for 800 mile trip

outside of not having a sissy bar and , some hiway pegs and maybe a windscreen, this bike , i think , i can trust to get me out there and back
Been doing oil changes on every vehicle I owned since high school and the capacity listed is or has always been the required and maximum amount of oil, not the minimum. I have never seen any capacity listed that way. That is not to say that you were a bit low but don't take as the rule and add 3 quarts next time.
For the slippage, try some Barnett springs for a bit more pressure on those hard shifts.
---
My Photos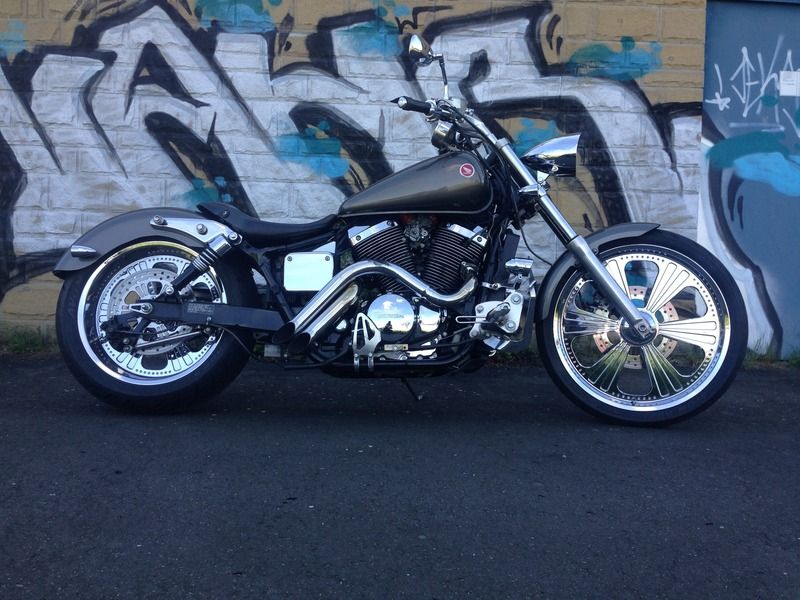 beans...
took it by the shop today, unfortunately there was no replacement cables in stock
ima just run it and look around for a few other sources
6049
i wasnt looking at the maual, but aa website for the bad info
thanks you , helpful forum members
Senior Member
Join Date: Jun 2008
Location: SW Georgia Between Americus & Beuna Vista - Plains & Ellaville - Preston & Andersonville
Posts: 16,102
Just now joining in this thread, as I`ve beena busy watching an 18month old girl, trying to keep her quiet so Auntie Ann can get some rest...
Yeah, I run 1/8" freeplay at the clutch lever, some use a nickel for the gauge to adjust their cable...
I read it has been to the shop? They shouldda adjusted it for you...
You CAN go Barnett, but I went with OEM clutch when I replaced mine...
My first thought too was is the oil level correct?
Those lines on the dipstick, are meant for oil to NOT be Over the top one OR NOT be Under the lower one, BUT In Between the two...
The top Line is NOT the FULL MARK!



Changing Gas,
D
Coming up on 150,000 miles


Click the Link> ABATE of Georgia NEEDS YOU!!!
---
`98 VT750 A.C.E.
Motorcycle Rider Rights Activist
ABATE member 40+yrs.
www.ABATEGA.org
(DC District 13)
www.mrf.org
www.MSF-USA.org
http://www.ama-cycle.org/
http://www.bikerrogue.com/Articles/Biker_Rights/History_of_Abate/history_of_abate.htm
Enjoying Life,D
Senior Member
Join Date: Feb 2012
Location: Vancouver BC
Posts: 2,779
Just to revisit your oil capacity:
The Canadian version of this bike was upgraded before the US version (ie we had tank speedo in 199
however I do not believe crankcase size would have changed. In any case there are 3 capacities listed for oil; change:
At draining: 2.32 US qt
At filter change 2.54 US qt
At disassembly 3.06 US qt
so your 2.5 qt should have been correct unless my specs are wrong?
It is possible that the previous owner used an energy conserving oil (non-Jaso spec) and that may have caused the clutch slip. If slipping long enough the plates may be damaged but often one oil change may not be enough to clear out the old oil. If you can contact the previous owner it might be a good idea to find out what was used. A second oil change after a little while might correct.
As far as the lines on the dipstick: here's the way the manual should read:
Under bottom line not enough; over top line too much. Yup I think there should be just one line in the middle, however traditionally there are 2 marks so we're stuck with it.
G.
yeah , idk what the former owner used, im not above replacing the clutch either.
those numbers -> at filter chage<- thats what i was going by for some reason, but in reality a little under 3 quarts is just right
Senior Member
Join Date: Apr 2013
Model: Spirit 750 VT750DC
Year: 2003
Location: Wherever you go, there you are!
Posts: 2,642
If you're going to be changing the oil again anyway, you might as well do the clutch springs at the same time. These bikes are notorious for weak springs, and once you replace them (and that SHOULD be ALL you need to change), it will improve the grip in the clutch. You might also adjust the clutch cable a little. If a shop adjusted it, they tend to make it so you let the clutch out about 3/4 of the way before it even engages at all, which is a bit TOO far out IMHO. Don't adjust it too tight, though, thinking you will get better grip, because you may end up causing it to slip even MORE. (Don't ask me how I know...) Most likely, a combination of changing the oil, making sure it is NOT "energy conserving", changing the clutch springs, and adjusting the clutch cable will fix it for you.
---
(((=-JammeR-=)))
"My Life is NOT a journey to the grave with the intention of arriving in a pretty and well-preserved body, but rather to skid in broadside, in a cloud of smoke, tires screeching, totally used up, thoroughly worn out, and loudly proclaiming...WOW! What a Ride!!"
Ride Bells by blue flames & shadowride69 (THANKS!!)
'13 Harley Dyna Super Glide (FXDC)
Member
Join Date: Sep 2014
Model: VT750DC
Year: 2005
Location: Loudon, TN
Posts: 339
Just changed my oil a couple a weeks ago - Used Rotella 15W40...
I noticed when I bought it there was a change in the Rotella Line and labeling.
I wanted the Rotella T Triple (conventional), but Rotella T4 is now what was in stock.
Seams now there's at least 3 Rotella 15W40's around: Just T (Triple), T4 and T5.

I just used Rotella T4 15W40 - and my clutch is now significantly softer that's its ever been before!
Can't say it downright slips, can't break it loose pullin in any gear(i've tried), but it sure doesn't clamp down and grab on strong shifts to 4th and 5th like it does with other oils i've used!
It's not noticeable in normal or double riding, but put a Good GitOnIt thru higher gears and it's a significantly slower grab. I'll run this T4 out till it gets dirty, but I'm goin right back Valvoline premium conventional 10w40 which has always given my scoot good grab...

Rotella "T4" 15W40, tried it - Don't like it...
---
05 Shadow Spirit VT750DC
---
Last edited by KaBob; 05-13-2017 at

10:46 AM

.
how crazy is that, thats what i had put in mine as well
when my new springs are installed , im definitely not using this oil again
Member
Join Date: Sep 2014
Model: VT750DC
Year: 2005
Location: Loudon, TN
Posts: 339
Yea!, my scoot doesn't like "T4 15w40" either! After I changed oil with "T4" my clutch lost it's Grip!
Seamed fine till I put the juice to it and Surprised me! What the heck, never had a SuperSlide shift like that before... T4 definitely softened my clutch significantly!
No wonder (new?) T4 is on sale...
I'll pick up 3qts of Valvoline 10w40 conventional mc oil and filter (what she's used to) and come a rainy day change it. If it puts the Leap back into strong shifts that'll pretty well seal it for me that T4's too slippery for my scoot.
Will get back when I do, ain't "That" bad so no big hurry.
(Valvoline 4-Stroke Motorcycle Conventional 10W-40 Motor Oil's on Sale - $3.97)
Keep in touch per those new springs.
I'm up just south a Knoxville, not that far from Hotlanta ( Gotta Love Hotlanta!!!) .
If ya get up round here (I'm about 15 minute ride to the Dragon, cool lakes and mountains ) shoot me a msg... I may have to go with stronger springs too.
---
05 Shadow Spirit VT750DC
Posting Rules

You may not post new threads

You may not post replies

You may not post attachments

You may not edit your posts

---

HTML code is Off

---