Rear shock ajustment
---
Hello. I have the rear shock to a 01 vt600 in my hand and I see 1-7 on the ring. But how do you ajust it. And are there any pro's or con's in doing so. Thank you
Senior Member
Join Date: Mar 2006
Location: SoCal
Posts: 7,922
Don't know on the VLX but you can twist the shocks on my Aero by hand.
Higher the number the stiffer the ride - less mushy.
More you weigh, the higher you should be running it.
Two up? Increase for that as well so you do not bottom out.
That helps I was not sure which way to turn or even if it was working. I dont seem to be able to turn it by hand though. Maybe after I get it back in the bike. Thanks .
Ok I have got in back in the bike and still can not move it any of it. It is set at #2 And i'm not even able to move the swing arm up or down. leaves me with 2 ideas. 1 i'm not strong enough or 2 the shock is shot.

Grease from head to toe.
Senior Member
Join Date: Apr 2007
Location: Portland OR
Posts: 2,023
I have the 84 VT700C, there is a spanner wrench in the factory tool kit that locks into two holes in the side of the shock that lets you twist it, its an odd looking crescent shaped thing. Yours may have something similar.
+1, the funny looking spanner in the tool kit is for the shock.
Higher number is stiffer. I run mine on 6 all the time, because I like the way the bike handles better that way; I run my tires a bit on the hard side too.
If you don't have the spanner, you can sort of muscle it around with the tip of a large flat-blade screwdriver. Mine is kind of hard to turn, I don't think I could just twist it in my hand. But even at the highest setting, the swing arm should still move, shouldn't it?
---
2002 VLX Deluxe
Ride bell by Lisa AND Kara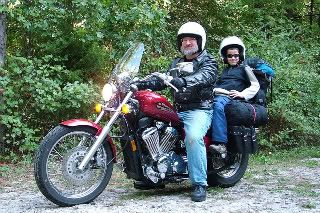 Oh, and make sure you are trying to turn the right part! You don't turn the two ends relative to each other, you turn the outer (upper) shell relative to the rest of the shock. Just being sure...
Senior Member
Join Date: Apr 2006
Location: Sacramento,CA
Posts: 1,295
Go to any motorcycle shop or ask any guy you see on an motorcycle, i know if you came up to me i would be glad to help out a newbe.

ROD
---
'98 VT1100-T
so many roads so little time
A friend of mine stopped by and used a screw driver. When I watched it turn I felt like a fool it was so simple. Just needed to be broke free to work properly. Thanks for the help.
Posting Rules

You may not post new threads

You may not post replies

You may not post attachments

You may not edit your posts

---

HTML code is Off

---