Senior Member
Join Date: May 2008
Location: Portland, OR
Posts: 1,653
11 inch, or 11.5 inch shocks?
---
Now that I've gotten my front end woes figured out (the work is not done yet but the plan is in place) I'm getting ready to order my Progressive 412's. I found them at J.C. Whitney for $282.99 with free shipping. If anyone knows of a better deal please let me know.
From what I understand, the length of stock shocks on my bike is 11.5 inches, but I could order 11 inch shocks instead. From different sources I've heard that this would lower the rear of the bike anywhere between 1 and 1.5 inches.
I have 2 questions before I commit almost 300 of my hard earned bucks:
1. What would I gain if I went with the 11 inch shocks and lowered it?
2. What would I lose?
- - Before anyone answers, I should give a little background - -
First of all I'm not a small guy at 6'2" and 265 lbs.
I normally carry about 20 lbs of gear with me on a daily basis. Maybe 50 lbs if I'm on a trip.
Sometimes I ride 2up, and the smallest person who rides pillion with me is about 120 lbs.
I'm what they call an "Adult Rider". I've scraped my floorboards a couple times but I had to try pretty hard. It's a cruiser and I know it.
I like the idea of lowering the rear of the bike, but I'm not willing to sacrifice everything to do it.
- - That's about the size of it - -
I seek the collective wisdom of HSN.
Thanks,
Mark
---
'98 Shadow 1100 ACE
Senior Member
Join Date: May 2007
Location: LEAVENWORTH WASHINGTON
Posts: 5,286
2. What would I lose?
===========================
Ground clearence, the 11" shocks will drop it closer to the 1 1/2" mark, it will also reduce the tire clearence, the tire won't rub but it will set further up in the fender. At your weight you really want to think about useing the 11's but I do have o say that the springs seem to be stronger/heaver, you will get a shock adj tool with the shocks, lone it to the neighbor that never returns anything and get a real shock adj tool that goes on a 3/8th's ratchet or breaker bar, it's the only way you will ever see any adj's above 3 BTDT.
---
Ted
Senior Member
Join Date: Apr 2005
Location: Berwyn, Pa USA
Posts: 1,490
---

1977 XS650 _________________ 1988 VT800
Senior Member
Join Date: Apr 2008
Location: Palatine, IL
Posts: 10,984
Shocks
---
Definitely go to Phat for your shocks. Best price around and get the heavy duty 412's, not the standard duty. I have the 11's on my Sabre and have had no problem with ground clearance or fender clearance. I paid $184 at Phat with a Coupon code(search google for a code that works) and they also offer free shipping.
Senior Member
Join Date: May 2007
Location: LEAVENWORTH WASHINGTON
Posts: 5,286
Senior Member
Join Date: May 2007
Location: LEAVENWORTH WASHINGTON
Posts: 5,286
Member
Join Date: Aug 2006
Location: arizona
Posts: 471
Well, I have the 11" 412 shocks--I am 5'5" 135 lbs and there is about 1/2" of shock travel on those 11" shocks. And I do scrape hardware with the reduced ground clearance, the front end has the 2" drop with the Progressive lowering kit. For you I would recommend sticking as close as possible to the stock length and using the heavy duty springs.
---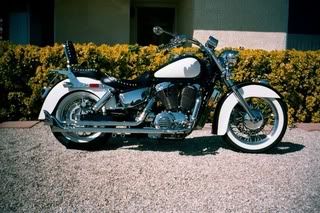 Senior Member
Join Date: Jun 2006
Location: Southeast Michigan
Posts: 9,033
Please post here what you ultimately decide to do and how it works out for you. You have the same bike as me and are looking at the same issues I am; you are little bit taller and a little bit heavier but not much on either and use your bike in the same conditions as me-- so all of that has me very interested in the results you encounter. I'd actually prefer to raise my bike by 1/2 inch or so; I've been told the 11.5" shocks would keep it the same because Progressives are firmer.

PHAT has all 3 (11", 11.5" and 12") listed at $214.95 as well as the 2 (11" and 11.5") HD versions. I'm guessing that the black shocks (B instead of C at the end) are direct replacements; they cost the same. The full cover version (11") is $256.95.

The only working coupon code I found just now was good for 3% off orders over $250 -- but PHAT had the best price on Progressive fork springs last I checked and adding them to the order would make it qualify.
---
Art's 1999 Shadow 1100 ACE (Ride bell by Dr. Bob's Patient)
Senior Member
Join Date: Mar 2004
Posts: 4,688
When I added the Progressive 440 HD they only came in 11.5 (12" is what the Spirit uses) NO Worries - the amount of sag full weighted was so much less than the stock shocks is was like gaining height.

Cornering compression on the HD shocks was so much less body parts dragged less.

Thinks about it- it makes sense that a heavier sprung shock would hold you farther away from the ground than a weakly sprung shock, especially in corners where the shocks get even more compressed with the increasing 'g' forces. 1/2 inch is nothing in this case, but I wouldn't give up any more than that and if I had a choice I wouldn't have given up any.
Senior Member
Join Date: Apr 2008
Location: Palatine, IL
Posts: 10,984
Shocks
---
According to Progressive the 412 HD shocks have 2.02" of travel. If you set your preload properly the 11" should be fine. I scrap my pegs once in awhile but I did that with the OEM shocks too. 95acerider, if you lowered the front 2" and the rear only 1/2" then you upset the bike geometry of the bikes. You should never lower the front more then you lower the rear.
Posting Rules

You may not post new threads

You may not post replies

You may not post attachments

You may not edit your posts

---

HTML code is Off

---