Senior Member
Join Date: Jul 2010
Location: Lexington, IN
Posts: 1,027
Dan, your right down the road......and same bike as mine!!! We'll have to ride sometime.
---
95 VT1100C
Stock Air box (UNI-Filter), HK's, River Road XL Slant Braided saddlebags, 6 degree Timing Advance, Mustang Wide Touring w/ Driver Backrest, PF3 Windshield, Chrome Engine Side covers, Lower forks, Final drive, Driveshaft, Swingarm, Master Cylinders, Brake caliper
1983 VT750C
1983 VF1100C Magna
Member
Join Date: Apr 2011
Location: southern Indiana
Posts: 75
Hello neighbor
---
Yeah I have several friends in the Lexington area. If it ever stops raining we may be able to ride some day!
I just bought my '96 VT1100C about a month ago. About the same time the rain started.... go figure.
I have to put some new tires on it before I can get it out much anyway. The bike has 18k miles on it, and I would be they are the original tires!
I'll try again with some pics...
Later,
Dan
Junior Member
Join Date: Mar 2011
Location: Lafayette, IN
Posts: 14
Member
Join Date: Mar 2011
Location: Indiana
Posts: 139
Well, that puts us the closest together then.
---
Fight to Live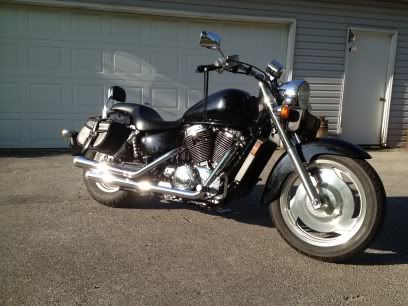 I'm in Monticello, North of Lafayette. If you want a good ride, try the Miracle Ride June 4 & 5. Our group starts in Muncie for the poker run.
---
Member
Join Date: Nov 2009
Posts: 78
I'm in Huntington, just southwest of Fort Wayne. I met a few people that were doing the poker run last year. I would be interested in more information on it. Sounds fun.

'84 Honda Shadow VT700C
I'm in the Lawrence/Geist area and new to riding. Getting some miles under my belt just cruising the back roads of the north east side.
Junior Member
Join Date: Jun 2010
Location: Northwest Indiana
Posts: 7
Another Indiana rider
---
I'm here in Northwest Indiana, Porter County. Hope to see some of you folks on the road.
17 mi. north of West Lafayette. Where the wind blows!
EMT
we ride the "river run" alot. Start @ I65/43N thru Indepedence to Williamsport and sometimes farther south. "Meet you at Arni's".
---
06' 1100 Spirit (sold 6/23/13)
71' CL 100 "Lil' Sista"
99' Valkyrie "Adele"
05' 1600 Vulcan "Ludabelle"
Ride Bell by "Yoman"
To everything there are exceptions.
---
Last edited by h13man; 05-15-2011 at

10:32 AM

.
Lake County guy here. Chicagoland really. I see a lot of Shadows on the road around here, but apparently they don't post, or are not into forums.
Northwest Indiana is where I live, but in this blue collar area, Harleys rule.
Posting Rules

You may not post new threads

You may not post replies

You may not post attachments

You may not edit your posts

---

HTML code is Off

---