Junior Member
Join Date: Jan 2014
Location: California
Posts: 14
Isn't it great
---
I love not having to put my bike away for the winter. California is such a great place to ride.
Middle of January and it was 82 degrees today!
I suppose I probably should learn how to store my bike properly at some point but today is not that day!
---
02' VLX 600 Deluxe

Fear of life is no reason not to live one.
Senior Member
Join Date: Nov 2013
Location: Delray Beach,Florida
Posts: 1,232
Quote:
Yes it is....Learn to store a bike ??? whats that...
Yes. Do tell.
---
2003 VT750DC Shadow Spirit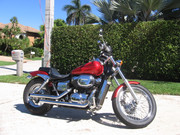 Who knows...i might be happier if I did the "storage" thing. Instead I keep her ready to roll and ride whenever circumstances allow. I just came off a 5 week stretch where the weather, holidays, and schedule all conspired to keep me off two wheels. But boy was it nice when the temps hit 40 last Sunday and I got to run it good.
Enjoy the benefits of your locale so that we might know that somewhere someone is riding something somewhere.
---
"The Edge...there is no honest way to explain it because the only people who really know where it is are the ones who have gone over." ~ Hunter S. Thompson
.
Anger and worry are the two greatest wastes of time known to man. Aside from television, of course.
It has to be an UGLY day not to ride...Store a bike, not in this house.
Posting Rules

You may not post new threads

You may not post replies

You may not post attachments

You may not edit your posts

---

HTML code is Off

---