Junior Member
Join Date: Jan 2019
Posts: 2
Motorcycle weather
---
Anyone ride in the rain? I'm a little nervous too probably because im new to it, but because it's winter we have been getting a lot of crazy weather. Any thoughts?
Where are you located? Probably makes a difference.
I'm in SOCal so it doesn't really rain here. But I did ride to work and back one day and it wasn't too bad. Just make sure you wear waterproof gear. I only wore a raincoat and so my pants got soaked lol
Senior Member
Join Date: Oct 2014
Model: Vt750
Year: 1983
Location: Washington State
Posts: 10,639
I am up in the Seattle area. Plenty of rain, and I am old, and I don't like by bike filthy, so I just watch the rain fall.My tires don't have the best feel of traction either so maybe when I get some sticky tires I will venture out when it is wet more often.
---
Only a biker knows why a dog sticks his head out of a car window.
1983 750 Shadow
From the past
=
1951 Cushman scooter
1962 Honda 305 Dream
1965 Honda 305 Dream
1971 Honda 175 scrambler
Super Moderator
Join Date: Jan 2004
Model: 750 ACE Dlx
Year: 1998
Location: Sterling Heights, Michigan
Posts: 6,457
Back when I was still a beginning rider I took an all day motorcycle safety class at the local college and it rained all day long. The class was about 2-hours in the classroom and another 6-hours on the riding course; in the rain.

I complained to the instructors about the bad weather and instead they told me how lucky I was to be able to practice the maneuvers in the rain. They said not only would I learn the maneuvers but I would also learn the limits of my bike on wet pavement. Riding in the rain doesn't bother me as far as safety is concerned. But if it's cold and raining, that I can't stand!

If you're nervous about riding in the rain, don't do it until you can spend some solid time in an empty parking lot, in the rain and practice, practice, practice......
Phil
---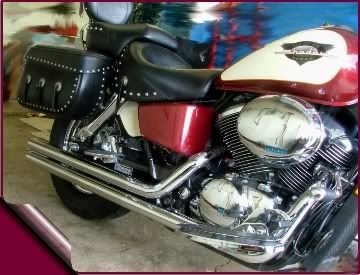 1998 VT-750 ACE Deluxe
Sterling Heights, Michigan


Senior Member
Join Date: Jul 2015
Model: Non Shadow 1982 Honda GL500I SilverWing Interstate, two cyl. transversive "twisted"twin
Year: 1996 VT1100C2 ACE Shadow
Location: Shenandoah Valley near Waynesboro Va.
Posts: 1,809
Get new tires,cheaper than the Hospital,Shinko 777's are good in the rain.Pirelli MT66 are good to, I have both of these on my bikes now.I used to live in Anaheim Ca.near I5 and this time of year it rained every other day but no rain all summer,mudslides then drought.
---
1996 VT1100C2 ACE Shadow,1982 Honda GL500I SilverWing,1980 AMF Roadmaster w/Minarelli V1 moped.
."It's the journey not the destination" Ravens Roost Overlook milepost 10 Blue Ridge Parkway,Virginia
Senior Member
Join Date: Feb 2012
Location: Vancouver BC
Posts: 2,774
Here's why I avoid rain if possible (Vancouver it rains a lot):

1. Riding for me is recreational and not much fun in the rain. My rule is never ride out in the rain.

2. Your ability to see what traffic is doing is impaired by rain on your glasses/faceshield/windshield. Your reaction time will be slower.

3. Your traction is significantly reduced so longer stopping times etc

4. Beware of any painted lines on the road ie crosswalks etc since a little road oil plus water makes them slippery as ice.

5. Worst of all: other drivers vision is impaired with water on windshields and wipers going and they cannot see your headlight/taillight and likely less light to see you. In the best condition other drivers don't pay attention so in the rain you are invisible.

So slick roads, impaired vision, slower reaction time, less traction, and invisibility are a few issues. Now snow …

G.

PS If you must ride in the rain: Find a bright colored rain suit. I keep seeing grey or black rainsuits and that's a bad idea. Leave more space between you and other traffic. I tap my brake lights a few times before slowing so drivers behind me might see. Ease up on acceleration and increase stopping distance.I tend to do a slight weave when approaching traffic that is turning from a side road as the weave helps drivers notice me.
---
Last edited by gdb069; 01-03-2019 at

01:30 PM

.
Senior Member
Join Date: Jan 2009
Model: VT1100C2
Year: 2007
Location: St Augustine, Florida
Posts: 1,076
Ride in the rain, you are going to get wet in places you never though would get wet...


I'm more worried about my wallet getting wet.
Back in the 80s worked as a motorcycle courier in the DC area, first day of work, snow on the roads...talk about pucker factor. Found tourists and wind to be more of a hassle than rain.

I live in Florida, and am use to hitting rain especially in the summer after 3pm. I like to commute a lot so if it's nice in the morning I ride, don't care if I get wet on the way home from work and in the upper 90s it actually feels good to get rained on.


Head out onto some traffic free roads to practice in the rain.
As stated above, stay off the paint strips, also don't hotdog.
---
Honda Sabre VT-1100

Gone but not forgotten!
FZ-10
Victory Vision
FJR 1300
Stratoliner 113ci
Shadow Spirit VT1100
Honda 919/CB900F
Kawasaki ZR7S
Honda CB360



VFW, Post 2391
---
Last edited by Scuba77; 01-03-2019 at

03:25 PM

.
Senior Member
Join Date: Dec 2011
Model: VT700 & NV750
Year: 86
Location: New Zealand
Posts: 1,526
I don't fear it, but I do avoid it sometimes.
I also often do long trips where I'll pass through dozens of different climate zones[*]
The reasons
gdb069
gave are key - few drivers drive to the conditions and visibility is significantly reduced, as is traction.
The rain to most avoid is light rain after a dry spell of several days or weeks. The crud builds up on (and in) the road and it takes a little time for this to wash off during a decent downpour. But if you have light drizzle or rain that's more like a mist than rain don't go out for a while. If the gutters aren't flowing wait it out, the road can be very slick.
But do get out in a parking lot and practice. The thing that will save you most in rain is knowing how to apply your brakes progressively and knowing just how much you can throw your bike around. Being confident of what you can do and 'grooving' your skills (think wearing a groove in the floor by covering the same tracks so often) means instead of freezing up and riding straight into a crash without doing anything, you'll
automatically
be able to brake and/or swerve and avoid it. Your focus can be spent looking for the best exit as your body just knows what to do and you don't need to think.
I recommend get out and learn about rain where you can do so safely, because if you're caught out in it with a long way to shelter you want to know what to expect and know your bikes limits. I like to avoid danger where I can, but I also like to practice and experience as many conditions as I can so I know what my limits are and what to do if caught out.
[*] In NZ, like in mountain areas, it's easy to get 2 or 3 very different climates inside of 20 miles, eg your side of the mountains may be fine, the other side may get heavy rain. Or your side may be fine when you leave, the other side may be fine, but at the end of the day the last few miles home is in heavy rain.
You might as well learn. Sooner or later you'll get caught in a storm and have to deal with it. Just be extra careful. You can shift your body weight differently to keep the bike more upright in the turns with a little practice. You'll need a face shield at the very least and better yet a windshield. And gloves! Them raindrops sting like BB's when you're going down the road!
Senior Member
Join Date: Jul 2013
Location: Northern Illinois
Posts: 6,553
Welcome to the forum! I ride in the rain only as necessary. I sure don't for pleasure. I avoid it also because it makes the bike filthy like @
swifty2014
says. When out on the road, i'll ride the rain, but sometimes you just have places to be.
---
http://
2007 Shadow Spirit VT750C2, Ride bell by h13man, Ride cross by Capt D