Junior Member
Join Date: Apr 2019
Model: Spirit 750
Year: 2009
Location: Upsate New York
Posts: 7
Oil filter and oil
---
What are people using besides Honda for oil and filter?
Junior Member
Join Date: Apr 2019
Model: Aero
Year: 2007
Location: Cleveland, OH
Posts: 15
You'll get a different answer from everyone who posts a reply. Get a filter from a brand you like that fits your bike, and try different oils until you find one that agrees with your bike. Some people like Rotella. Some people say Rotella makes their bike run like crap, so they use Amsoil. Some say both give them trouble, so they go with the Honda stuff.
Just make sure, if you go synthetic, that it doesn't have friction modifiers or say "Energy Conserving" anywhere on the bottle or else you'll ruin your clutch.
Junior Member
Join Date: Apr 2019
Model: Sabre 1100
Year: 2005
Location: Iowa
Posts: 13
I have been running Lucas Semi-Synthetic in my bike since i got it. Haven't had any issues and all Lucas stuff seems to be pretty great! And i run a K&N filter which I have heard bad things about but so far no issues for me. Hope that helps!
Member
Join Date: Aug 2017
Model: VT1100C
Year: 1994
Location: Katy, Republic of Texas
Posts: 859
tons of info in the
Oilology thread
.
You can't go wrong with an OEM filter and Honda oil, but can be pricey.
Some will say use only true motorcycle oils.
Others will say you can use a diesel engine/ heavy duty engine oil (HEDO).
Only absolute is do not use any oil that has "Energy Conserving" in the API donut, those cause clutch slippage.
Some will say don't use X filter because it is garbage, use Y filter because it is better.
Then others say don't use Y filter because it is garbage, use X filter because it is better.
Do some research and come to your own conclusions.
my opinion is in the oilology thread
---
1994 VT1100C
Starfire 185/65/15
rear tire (Darkside)
Perilli MT66 Route 110/90/19
front tire
Progressive 430HD
Rear Shocks
Mustang Seat
National Cycle Windscreen

---
Last edited by blupupher; 04-15-2019 at

02:36 PM

.
Super Moderator
Join Date: Jan 2004
Model: 750 ACE Dlx
Year: 1998
Location: Sterling Heights, Michigan
Posts: 6,458
Go with Honda brand oil and an OEM oil filter..... they're goof-proof, even a monkey couldn't mess that up.

But, IMO what's more important than the brand of oil and filter to use; is to make sure you do your oil/filter changes according to the owners manual service schedule or sooner. And (((MOST IMPORTANT))) make sure whichever oil you use that it meets or exceeds the manufacturers recommendation or you clutch might start slip-slidin'-away.

As for me, I use Rotella T6 oil and anything but a Fram oil filter.
Happy oil changin'
Phil
---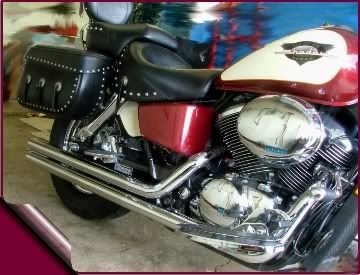 1998 VT-750 ACE Deluxe
Sterling Heights, Michigan


Senior Member
Join Date: Feb 2012
Location: Vancouver BC
Posts: 2,779
Quote:
...anything but a Fram oil filter...
Conversely, and to ensure debate, I use Fram filters exclusively and have an Accord with 300k km. and a GL1000 with 400,000 km. Neither have seen any shop time.
G.
Junior Member
Join Date: Apr 2019
Model: VT750C2B AC - California Shadow Phantom
Year: 2015
Location: Temecula, California
Posts: 27
I will agree with
pj1207
. Instead of stating a fact, I will offer what I do.
I use partzilla to order all my parts - Factory is best in my mind. They even have an option to purchase the filter & wrench (will still need 3/8" ratchet) for my '15. You obviously won't need to do this more then once.
For the oil, I tried going the JASO II 10w-30...but a quality synthetic is hard to track down locally. I switched to 10w-40 synthetic and change it every 5,000.
Member
Join Date: Oct 2018
Model: VT1100C
Year: 1999
Location: Bluffton, SC
Posts: 268
Member
Join Date: Jun 2018
Model: VT700C
Year: 1984
Location: Near lake Michigan
Posts: 342
All I have to say is, stay away from Fram oil filters they are garbage.
If you're not going with a Honda filter, get a Napa gold or Wix they are the best followed by Bosch and Purolator are good, Fram is junk, I used to use Fram till one failed in my truck, thankfully it was in my driveway when I noticed and shut it off before all the oil got pumped out on my driveway.
---
Eventually the light always fails you.
Member
Join Date: Aug 2017
Model: Shadow ACE
Year: 2001
Location: Kars, New Brunswick
Posts: 179
I am somewhat surprised at the "anti Fram" comments. For the last 20+ years of changing oils in my cars and trucks, I only ever used Fram filters and Valvoline oil. I have never had one fail. That being said in my bike it is all Honda GN4 oil and Honda or Fram filters.
---
Dress for the slide not the ride