Junior Member
Join Date: Jan 2012
Model: Honda Shadow Spirit 750
Year: 2003
Location: Oakland, California
Posts: 12
Clanking noise while running
---
Hi,
I have a 2003 Honda Shadow 750, and about a week ago, I started getting a clanking noise when I was accelerating in 1st gear coming from the bottom of the bike, basically between my feet. It sounds like someone is putting a ruler into a running fan and feels like it partially disengages from gear. At first I thought it might be clutch, but it started happening while just cruising along in any gear. My guess is Tranny, but not sure...
Many thanks for any ideas or comments.
Super Moderator
Join Date: Jan 2004
Model: 750 ACE Dlx
Year: 1998
Location: Sterling Heights, Michigan
Posts: 6,458
Does the engine make the noise when you're at a stand still if you rev the engine in neutral?
Also, have you inspected the drive chain as well as both the front (drive) sprocket and the rear (driven) sprocket? Could also be the rear wheel damper which helps absorb any of that herky/jerky feel from the chain drive? Without actually hearing the sound though it's hard to tell....
Good luck,
Phil
---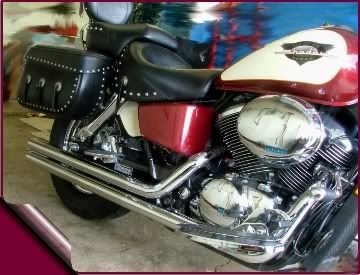 1998 VT-750 ACE Deluxe
Sterling Heights, Michigan


Junior Member
Join Date: Jan 2018
Model: 750 ace
Year: 2002
Location: Oregon
Posts: 5
Put your hand on the water pump and see if that's where the noise is coming from. I just posted about this same noise
Junior Member
Join Date: Jan 2012
Model: Honda Shadow Spirit 750
Year: 2003
Location: Oakland, California
Posts: 12
Thank you, I know it's hard without hearing it. No, it doesn't make any noise when it's not running. I will ck the water pump, but it really sounds like it's coming from between my feet...I'm fearing tranny...