Hi guys,
Got an issue here after refitting my carbs back on. Put fuel into the Aux tank (kept main tank off as I want to resync) and pump got fuel into carb.
So pressing Starter resulted (after a number of presses to get fuel through pipes) in some coughing. I heard a trickle and looked down and saw fuel coming out of the air joint pipe outflow tube onto floor, this cannot be good!
Looking for causes and solutions please. I'm confused as I am sure I put everything back together perfectly, but something's amiss.
Could it be:
I hadn't opened the throttle to allow fuel through into engine causing a backup of fuel to go out of the pipe?
Could it be I haven't oriented the sliders within the chamber correctly? (but I did allign the rubber gasket correctly and didn't dismantle the needle at all, it stayed attached to the slider unit, only the spring was loose).
Could it be fuel bowls over filling?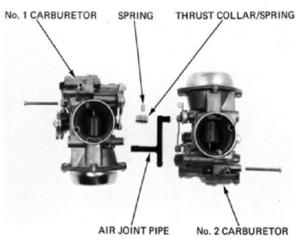 Any suggestions would be greatly appreciated!
Oh yeh, I ran out of battery juice so charging overnight.
Also, could it be I just didn't try long enough and eventually it would have worked?