Discussion Starter
•
#1
•
Last weekend I installed a Vance & Hines ProPipe HS on my '04 Sabre as well as a DynoJet jet kit (170 front, 175 rear and needle clips on 3rd position as recommended) and a K&N air filter. Also had the pleasure of meeting a fellow Sabre rider in my neck of the woods, "qartique" on these here forums, who stopped by to help wrap up the install of the ProPipe last weekend.
Next thing on the list was synching the carbs, and I'd read up on it here as well as read about the homemade manometer trick.....looked really good, so I scrounged up the parts when I got back in town from my weekday travels and whipped it up.
Long story short, bike runs GREAT now, no decel popping at all and purrs like a kitten.....well actually it growls like th'frikkin'
Sabre
-toothed tiger that it is!
So I just wanna give my BIG thanks to everybody and this site for all the tech tips I've read here, as well as for this forum putting me in touch with my new bud, who was also kind enough to loan me his service manual today for the carb synch. Qartique I owe ya one!
Here's a few pics of how it worked out for me if they're of interest.....there's a few of 'em and you might need to hit the "refresh" button if they don't show at first.....
If you look on the right side of the pic below you'll see my homemade Manometer hanging from the ladder which I drafted into service, this is made per the writeup at
http://www.powerchutes.com/manometer.asp
: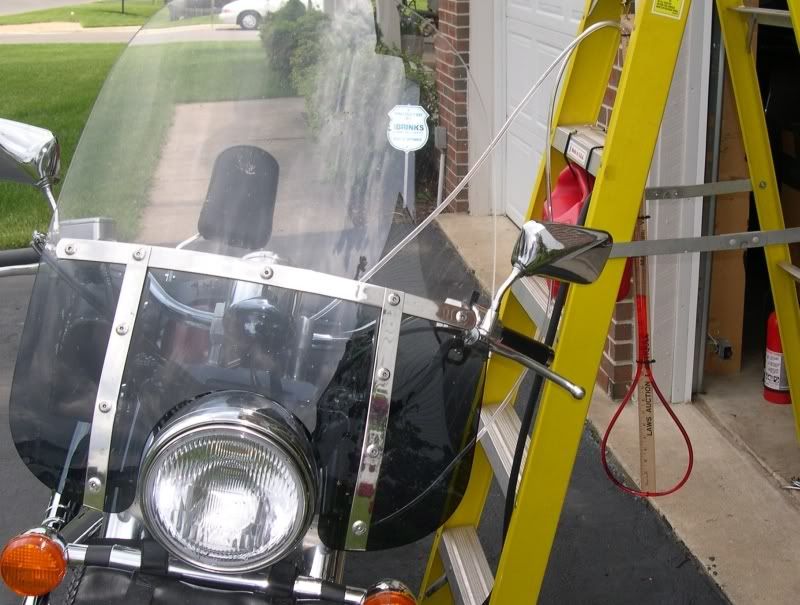 The heart of it is this pair of vacuum fittings made from 3/16 brake line and tapped with an M5-.80 thread, topped off with nuts and nylon washers per the instructions at MarkC's site,
http://users.zoominternet.net/~capronem/manometer vacuum fittings.htm
: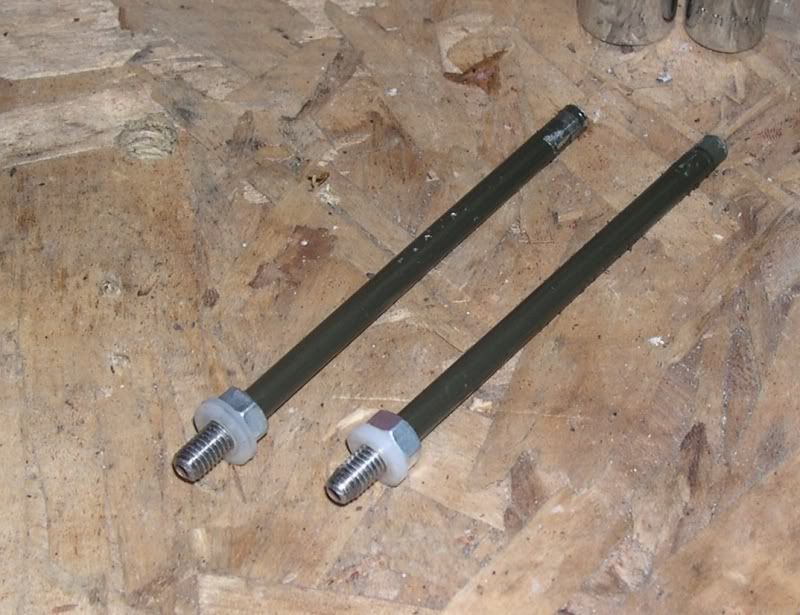 Although I have a garage I normally work in, I didn't much care for the idea of working with a running engine and an elevated, independant fuel supply hooked up with a hose and using graviity feed, nor did I really want to leave the tank connected per the service manual (doesn't sound like it leaves much room to work with)....basically because I'm kinda tall and large and clumsy and, well, "Stoopy", it's too much of an accident waiting to happen and the wife'd cut me off for a spell if I burned the house down over this. Plus it was a decent day outside....So that's why I worked on it just outside my garage in the driveway, and used the ladder. You might spot a fire extinguisher on the floor nearby, which just tells ya how much I really trust myself.... :lol:
For the fuel source I picked up this El Cheapo little gas container and just augered a nice big smooth hole in the removable cap (which gets replaced with a sealed nozzle for everyday use, so it's still useful for other stuff)....hooked up about 3 feet of fuel line and put hose clamps on both sides of the cap too, since the outside clamp (with a large twist nut) served as a second bungee cord attachment point for hanging, and the inside clamp would keep the hose from pulling out through the cap once it's hanging: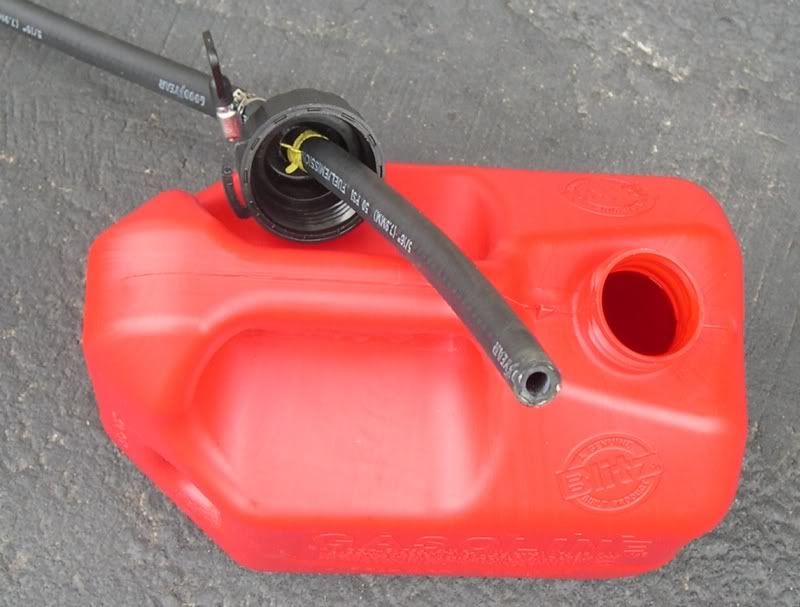 So with it all hooked uop and ready to rock and roll it looked like this (note 2 bungies on the fuel container):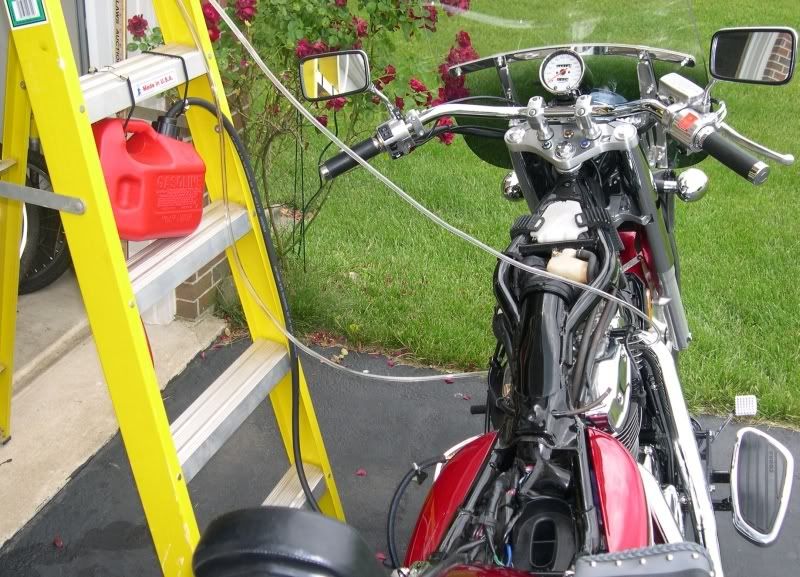 So with it all good to go, fired it up and dialed it in....carbs were indeed off, and I needed almost a half turn counter-clockwise to get them fairly even. This next pic below is interesting becuase at the time, the bike was idling nicely (with a bit of choke to compensate for the vacuum attachements) and it looked pretty much dead even - but the camera caught one side higher than the other, which hopefuly isn't off too far (opinions?) and might be just normal bumping back and forth as each cylinder fires....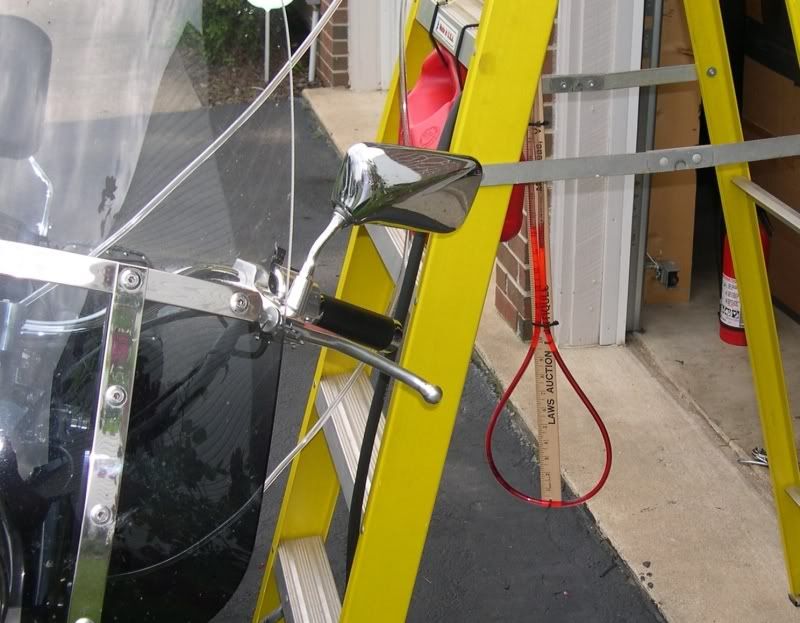 Now....as for lo-tech lo-bugjit tech tips, I have one of my own....I thought I had everything nailed in preperation for this, except for one thing, which was the adjustment tool. I've read of how Honda is very proud of this tool and it's out of my range for a specialty tool for occasional use. I also read about how you can just go full throttle (with the engine off of course) and the synch screw pivots up on the linkage so you can attack it from above with a regular long flat-blade screwdriver. But for adjusting it while running, which I wanted to do, I was kinda stumped...until standing at my workbench I looked up at my tool wall and saw my hacksaw hanging there. Sure enough, a regular cheapoe hacksaw blad is long enough, flexible yet stiff enough, to reach the synch screw from the right-front side coming on over the top of the front cylinder head (apologies if someone else did think of this and posted it before). Anyhow it works just fine, except for when the screw slit is perfectly straight up and down, the hacksaw blade is just a hair too wide to turn without a little binding, but it can be done.
I might just take this blade and chuck it in my vise, then file or grind the teeth of and make it narrower in the middle so that doesn't happen. Maybe attach a cool ducttape handle to the end....who knows....but although the picture doesn't show the details on how it fits the the screw slot so well (too dark back there for the camera flash I guess), it did the trick!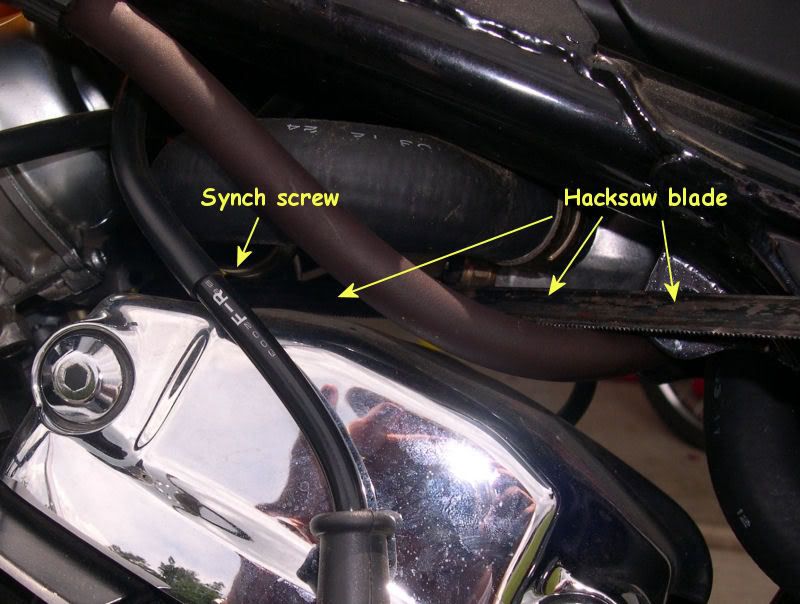 So I just wanted ta say THANKS for all the great info!!!