Ok I wanted to get a running post going on the progress of my 2004 Honda Shadow Aero project. Figured it would be cool to just keep one thread with what's been done, and what's going to be done. So let's start!
Here's the bike the day I brought her home. 2004 Honda Shadow Aero 750 with 7500 miles on it.
At the time I bought the Shadow I had been trying to sell my 1994 Acura Integra Show Car with the hopes of starting another project. As I researched the Shadow I soon realized that it would indeed be my next project. First thing I did was take the fenders and tank off to see what it would look like vinyl wrapped flat black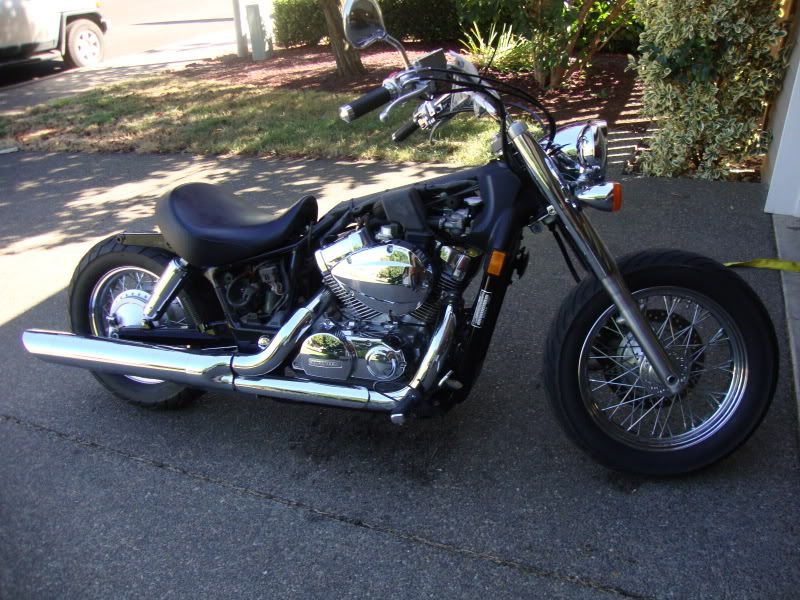 After I got it back it looked alright but a vinyl wrap on a motorcycle clearly doesn't work. The lines can be seen way to much and any little ding you hit the vinyl starts coming up. Looks good from 10 feet away but as you get close you can clearly see the flaws. Also vinyl flames and vinyl decals just don't do bikes justice.. (I got a wonderful deal on the wrap from a friend so I'm not too bummed it didn't turn out that good.)
So I knew that paint would be the route I want to go, but of course need money for that to happen.
So with that said I was able to trade the Integra for a 2000 Harley Fatboy. I was then able to sell the Fatboy to get a decent profit. So now I am meeting with the Painter on Monday (10-24-11) to go over the design and then drop it off for him to begin.
Plans over winter also include: New exhaust, drag bars, lowering kit, and a few chrome covers. The goal with this bike is to ride it and take it around to shows next year for fun. Also it's a fun little project for me and my dad to work on (He has an 07 Shadow Spirit). So here's how the bike sits as of today October 20, 2011.
I will continuously update this thread as more info comes about!
I also have to thank everyone on this site who has already helped me out A TON with my Shadow. I came into the cruiser world completely blind and this site has been awesome. So thanks for that!
Any questions comments or concerns feel free to post!