Discussion Starter
·
#1
·
I took the MSF last weekend, have been riding around the neighborhood practicing low speed maneuvers, emergency braking etc, no faster than 30 MPH. This morning I got up and got out on the road at first light when the traffic was minimal around here.
The ride was awesome! Light traffic, nice little breeze, not too hot yet. I went 22.1 miles, crossed over Perdido Bay into Lillian AL, sun coming up over the bay was gorgeous. Came back and took a big loop around our area of Pensacola. Final stop was at Walmart...lol. I bought a handlebar bag there as my cell phone and keys in my pocket started to bother me after a bit. I'll eventually get some saddlebags.
So what I learned/reinforced from the MSF class:
1. YOU GO WHERE YOU LOOK. Yes I was a believer before today, but I had to unintentionally test it. I was talking through what to look for when turning out onto the highway. No traffic for miles either way. What do I do as I start to turn onto the road? I look straight ahead into the grass and ditch on the other side of the road. I even asked myself mentally, why am I looking over there? Turned my head back left and made the rest of the left turn with no issues.
2. Reinforced using both brakes when slowing/stopping.
3. Learned that even with the clutch in all the way, if I'm downshifting to stop and get to 1st too soon, my bike protests a little, i.e. grinding gears. I tested waiting until I was very slow/stopped and there was no problem.
4. Waved at my first motorcyclist on the road going the other way, I'll admit this was pretty **** cool to me.
5. Practiced swerving around a dead possum. I saw it well ahead of me, no traffic around, just wanted to practice the technique.
6. On the bike, you can smell dead possums much more easily. lol
7. Learning how to lean at higher speeds with my bike. I got a little nervous on a couple of turns, thought I took them too fast (probably did), but I just hunkered down and leaned more inside and towards my handlebars, no scraped boards and easily made the turns.
8. Cancelled my turn signals quickly about 90% of the time. Caught myself once when I was turning into the neighborhood to come home, left my signal on for about 0.25 mile.
9. Don't hit the horn when cancelling turn signals lol.
10. The biggie for me was I noticed in the neighborhood I wasn't looking in my mirrors much. Maybe because it was low speed, I "knew" there wasn't anyone there etc. I thought this might be a problem at speed on the highway....turned out it wasn't a problem at all. Once I saw headlights/car in those mirrors I had absolutely no problem checking them to cover my butt!
Sorry for the long post, just excited to get the experience in and am looking forward to more riding!
First ride bike pics...taken at Walmart lol: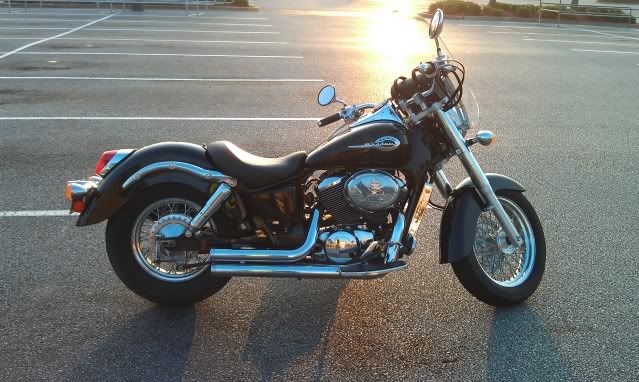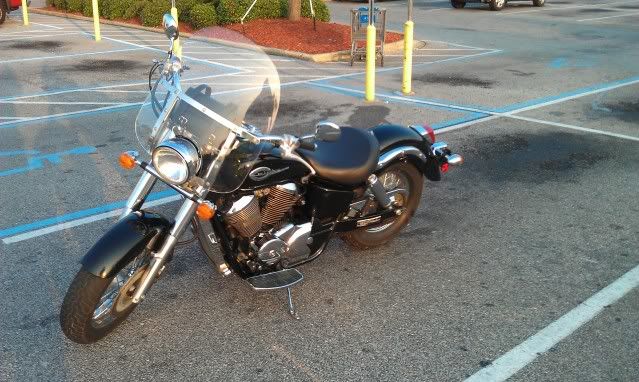 Me all geared up, except for my gloves: