Discussion Starter
·
#1
·
93 vt1100, cobra pipes, k&n filter, cobra jet kit, custom minimal baffles.
Ok, I'm having some issues here... I read somewhere on a Rebel forum about a guy having issues with his emission system sucking fuel from his tank into his evap can, then it getting sucked in his intake, making it rich and hard to start...well mine is doing that. I disabled the emission system to see if that would fix the problem. I'm ok with keeping the system on (I live in WI), but I need to troubleshoot it. Problem is, with it all off right now, I'm running rich. I pluged the little vacuum ports that run the valves (10 and 11). I also plugged the lines feeding into the intake (#5). The vent tee from the carbs is vented to atmosphere, as is the tank vent.
Now, if I'm following the air flows correctly, while the motor is running, the purge valve (behind the radiator) is open, allowing the intake (#5) to draw air from the evap can. Now, it looks like the air can be fresh air from the evap can (#2) or from the fuel tank (#1). If I plug these lines (#5) wouldn't I cut back bigtime on my air flow, thus making it rich? (which I have).
Now, I'm considering leaving #5 open to air, but I'm concerned it will draw in too much air, because maybe by the time the air passes through the restrcitions in the evap can and valve not much air is flowing....
Can someone please give me a hand with this? My bike started like crap before, but now starts fine but runs like
[email protected]
at any throttle positions past 1/2. Like I said before, I plan on keeping this system on, but need to see if it was causing my hot starting issues. Feel free to PM me if you don't feel comfortable posting.
Thanks!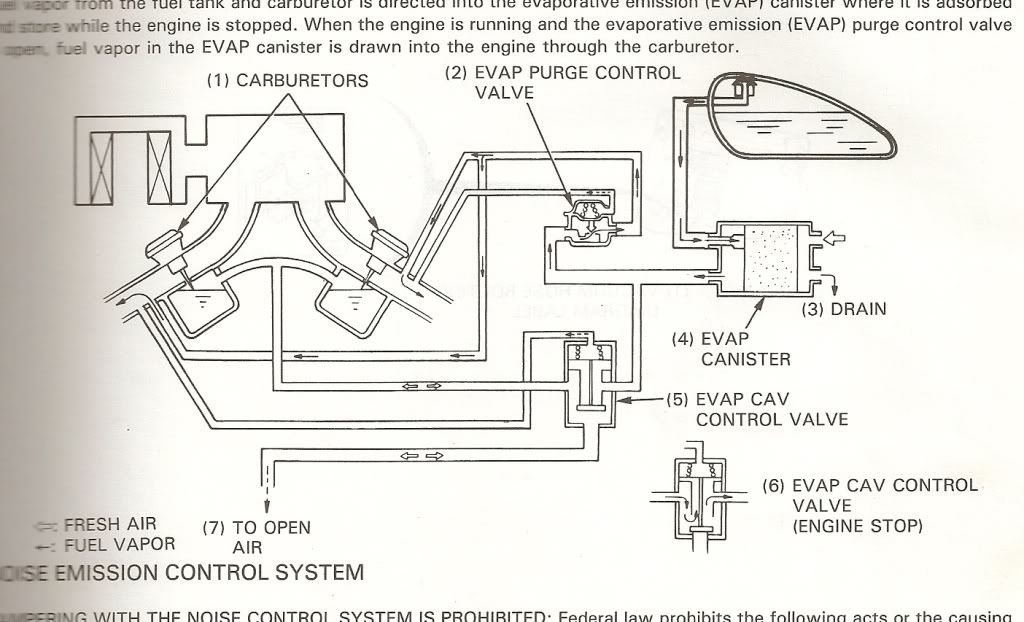 I have the 93 vt1100