Discussion Starter
·
#1
·
How I Spent The Weekend On My Motorcycle… March 10 & 11, 2007

Hi All, Just an update on how my riding is coming along for being a newbie. It was my second venture out on the bike. Someone volunteered to come out yesterday to take me the elementary school parking lot which was near my house. He showed up around 12-1pm in his pickup truck and took some water bottles as markers to practice turns, slow stops, starting, swerves and figure 8s. Being hesitant in riding along a highway, Route 7 which is a short distance from my house to the school, I told him to ride my bike to the location and I drove his truck. As we got to the school there was another motorcycle rider practicing his turns etc. Seems to be a popular place!!



On The Road Again...


Once at the location, I hopped on my bike and started to do some turns and figure 8's. Slow stopping and starting. He was very patient, being he didn't know me. Lol. Just kidding. He gave me a few pointers from what he could see that I might have forgotten from doing from my MSF course. Just a few minor adjustments. I still need practice on my turns etc. but with going out will get better as I ride.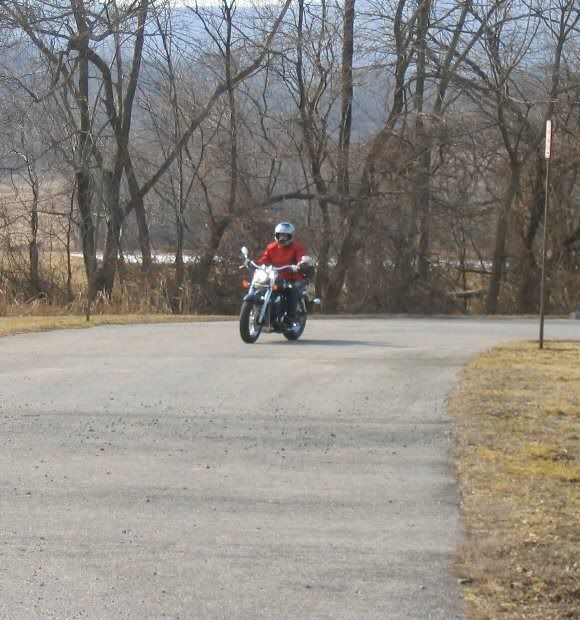 Here I Come Again...


After spending 2 or so hours in the parking lot, he said well are you ready to go hit the road back home, I first gave him a look of "Oh you got to be kidding" me on route 7 with cars, well okayyyyy!! Lol He said to me, How about going across the road as there was a development and ride down there and come back around, and I did. I decided to take the longgg way around the development and it made like a big U turn to come out the other end and so I made the left onto the main street heading back to the parking lot. When I arrived back he said to me, if you weren't back in 2 minutes I was going to hunt you down, but then I heard you coming back down and noticed you.

He then said, "Are you ready to go?" I said let's do it!! Well, I ventured out down the road and came to a stop sign, thinking, this is Route 7 and a bunch cars and I can do this, I made a left but only to remember I thought it was in first gear but in actual second. First Lesson always, downshift before you get to the Stop sign... I rode down Route 7 and came to Route 720, I stopped because there was an oncoming car and I had to make a left turn. Well I started out slow and well as I made the turn it got a little swerve due to the sand I think but I managed to keep the bike upright, then proceeded down to another right turn and I downshifted and made it to my gravel driveway which I drove up and parked my bike safely near the garage.




Heading Out On the Road From the Parking Lot.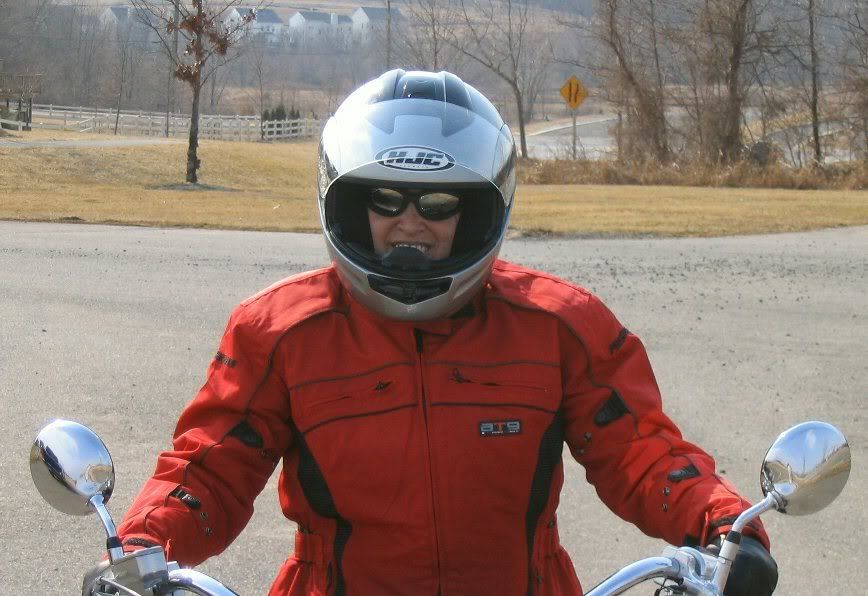 I Think I was Smiling In This Picture..lol



I Am Not Holding It Up, I Am Trying To Do One Of Those Biker Babe Poses... lol

After awhile, some HSN members came by. VARider showed up in his BMW (wow what a bike, heated seats and all) and gave me his support as he was on his way home from a ride. Soon after Dynobob showed up on his Honda Shadow ACE 750cc.

Bob and I set off down the road after giving me some pointers of group hand signals. I sat on his bike to get a measurement of a windshield since he had one and I am looking for one. We rode up and down the streets in my neighborhood. He gave me some pointers on stopping on a hill.



Bob And I after our ride.. (Thanks Dude!!)

I would just like to say thanks to those that have been here on Saturday to lend me the support and help me get on the road. I do hope we get the chance to do it again because now I really have the bug and I am always willing to keep on learning.




A Smile At The End Of The Day.. :lol:


Sunday, March 11, 2002

It was my third time out on the bike. I had another person show up who is a MSF instructor and someone else from the forum that just joined today noticed a post I had back in February regarding a ride. He contacted me in email and decided to ride out.

After the MSF instructor came to the house we ventured out, him and his bike and me and my bike once again to the elementary school parking lot. We got there and he cut up some tennis balls and used them as cones. Pretty good idea if ya ask me. We did some maneuvers and then asked if I was ready to hit the road.

We went back to my house and once again I stopped at that stop sign and remember from the previous day to make sure I downshifted to first gear... Yippee I got that right..!! Cars to the left and cars to the right. Making sure everything was clear I ventured out again and made it back home safely.

Come to find out his tire was low and I didn't have a air pump so we had to proceed to the nearest gas station maybe 1 mile. He got air in his tires and I got gas... He showed me where to fill it in the tank since that was my first time too...

We stopped by the local restaurant to have something to eat and had to park in a parking space... My parking space was uphill and he said that was good. After eating lunch, we decided to head out...

I rode the lead and he was behind. I took him to Newcut Road down Airmont Road and turned left onto Snickersville Turnpike. We proceeded on Snickersville Turnpike and made a right on Route 690 towards Purcellville and headed back on Route 7 again to go back the house.

It was another great productive day... And that's my journey for the weekend of being a Newbie on the Road.