Discussion Starter
·
#1
·
I just barely put my new handlebars on and the bike is just about done as far as how I wanted it. Every time I've headed out on it since the new bars I'm always receiving compliments on it, from riders and non riders alike. It was giving me a big head lol.
So what's the problem right? I get someone (a friend of a friend, someone I've never met though) who offers a trade (for his 1999 Magna) which I subsequently turned down. I love Magnas and have always wanted one, but his was a little beat up for me to want over my bike. Next day, he gets a hold of me through our mutual friend and gives me a cash offer of $2500, pending a full inspection done by a professional shop. :shock: :shock: Literally, I was speechless. I would never think that my bike would fetch that much, even in the heat of riding season. Fact is, you can easily find late 90's Shadow 1100's for less than $3k around here.
It makes the gears start to grind in my head, thinking about the $1200 +/- profit I could make (including all the money I've spent on accessories and parts). It makes me think of the bikes I could buy that I've really wanted. I like my Shadow, but it is not the perfect bike for me.
So we take the bike to his shop of choice and they check it out. Nothing major came up other than my final drive was slightly low on fluid (hadn't gotten around to changing it yet). He took me out to lunch and I explained everything to him. How I bought the bike and how much I bought it for. What it needed, what I've added, what things have gone wrong, etc. I explained the need for an upgraded voltage r/r if he wanted to use the fog lights. At this point I was still really iffy about letting my bike go, being that I've (as well as another friend of mine) put so much work into it and I was really proud of myself so I asked him to give me a day to think about it.
I lost it when I looked at the online classifieds for a bike that I would want to buy. A few bikes piqued my interest but one stood out, a 2001 Honda Magna with 17k miles, custom paint, and a few other accessories. I couldn't help thinking about owning one of my dream bikes. So as of yesterday afternoon, it's a done deal. Shadow is gone, and so far, loving my new bike! I know you guys probably think I'm crazy lol.
Pics of my new-to-me ride: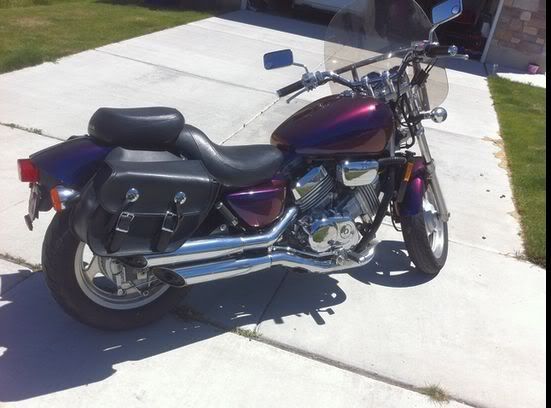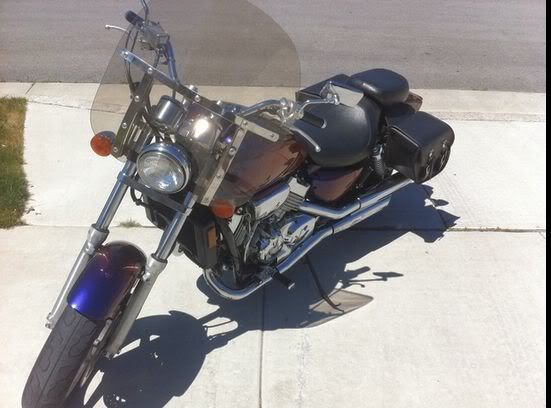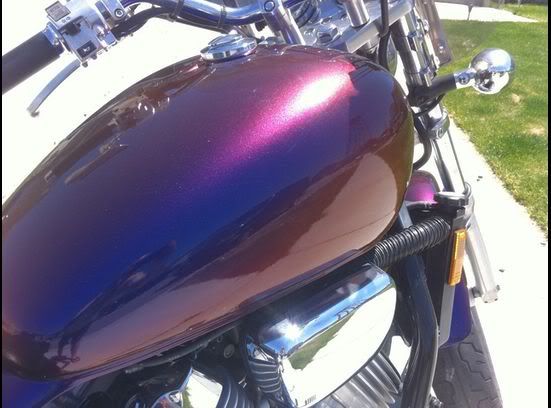 The paint changes colors from a purple, to blue, to a reddish color. It's in immaculate condition, except for one scrape on the engine casing and one scratch on the tank by the seat. Literally that is it. No rock dings, no small little dents. No rusty chrome. I bought it from the second owner, who's owned it since 2003. He was asking $2900, but he was willing to take $2500. It came with a couple of extra oil filters, a sissy bar, a luggage rack, and everything else you see in the pictures. The sweet V4 engine just sings at speed. I rode it home in the rain yesterday and still couldn't wipe the s**t-eating grin off my face. :mrgreen:
I hope no one hates me for selling out...