Discussion Starter
·
#1
·
well i figured id start a thread of my bike. From the day i got it to the way it sits now, and what will be done in the future. Plus everything that happened in-between. so here it goes any and all opinions are welcome good or bad. 8)
so i got my bike april 20, 2013 she had 11,346? or 11,556? call it 11,000 miles. this is my second bike ever. my first bike was a 1982 Yamaha XJ550 maxim.
MY FIRST BIKE
MY 2007 HONDA SHADOW AERO 750 THE DAY I GOT HER HOME
my first bike i didn't have long or get to ride it much most of the time it was broken or not running right but man was it a blast. every since my first mini bike and moped i was hooked. well i sold my first bike to help pay for my wedding. well i was dying inside without 2 wheels so i found this bike got approved and took her home. after about a week or 2 of having it i finally took my MSF class and got my endorsement to ride
and of corse like everyone here i was not happy with the bike i had to mod it so let the pockets get empty. so for me one of the first things was bags i ordered these cheap bags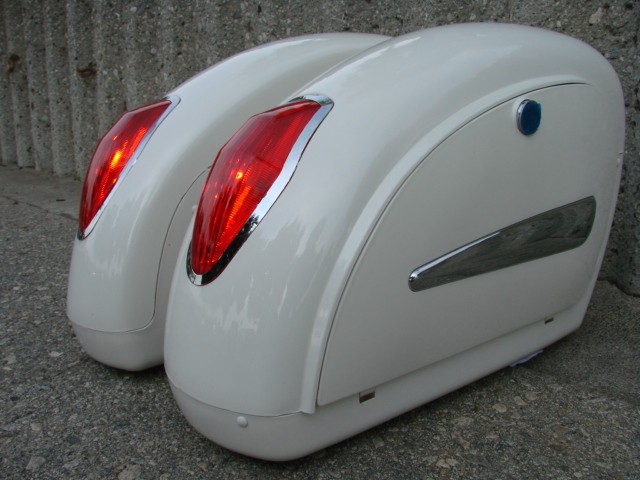 and as soon as they came in the mail i opened the box and closed the box. you get what you pay for and these were such poor quality that there was no way in hell they were going on my bike. so now i needed bags so i looked and looked and didn't want to move the turn signals so i found viking bags and ordered a set with the shock cut outs so i wouldn't have to move them. well that went well being i prefer the hard mount and not the throw over i had to move them no big deal. next i needed tunes and a fairing. i don't care for windshields a prefer a fairing. so i looked and at the time all i could afford was a Memphis Shades fairing. so off with the shield on with the fairing.
as soon as the bags fairing and tunes were on the sissy bar had to go the wife hated it. so i got me a trunk of ebay and man is it SWEET. so now after about a month of having it heres how she looked
well then i wanted to change some more things like the bags i wanted hard bags that could be painted so i tried a set form Hardbags.com and i didn't like them as they seemed to look funny on the bike so i resold them.
now it was time to ride. so ride i did i meet up with some great people on here canyon, hypostang, greenbarn, enforcer, mrs. enforcer, bootheatsbugs, talked to some great people on the phone when i had a 911 help call on here the phone calls poured in. sweet HSN!!!!! did a IBA run rode the dragon, laid down some sweet miles and was loving it.
well the more i rode the more i needed to change up my bike and work on it. so it was time for a new seat. as we all know i tried a Mustang seat and hated it. not for me so i had my seat re done by a local (2.5 hour ride) guy around me who redid mine for half the price of a mustang and its much better imho
next thing on the list was raisers i thought i needed them and being a 1 piece bar i only had 1 option scoot works 2 inch risers and WOW they are SWEET
now i think I'm done upgrading just need to do maintenance, it was time for a tune-up, valve adjustment, tires so i got it all done. local dealer did the valves and i did the tires . Michelin commander 2 all the way wow a difference such a great tire.
well now more mods after some more long rides my viking bags rant big enough and my tunes are getting old I'm sick of my iPod so i need a real radian and bigger bags. also wanted to try floorboards. so got mutazu RS hard bags and kuryakyn floorboards and all i can say is OH YEAH. so heres how she looked after all that and maybe about 4-5months of having her. oh yeah i put a cup holder on to somewhere in-between all that and a gps holder and hardwire chager also i have a SAE to USB plug for a second charger for phones and what not.