Discussion Starter
·
#1
·
Howdy folks, my turn signals that I ordered came in the mail today, and I was mocking them up to make sure they work. I got the bike without signals, as a previous owner had laid it down and broken them, so I'm trying to figure this one out.
Can anybody explain which wire goes where?
Each signal has 3 wires, as shown below. 1 red, 1 black w/white stripe, 1 black.
Now here are the connectors that I found hiding in the wiring, that seem to be related to the turn signals. 3 of these (1 orange, 1 green, and 1 light blue) have spots for 2 wires, the 4th (orange) has a single spot for a wire. The 4th was never hot, and I'm guessing it's a ground for something. All the wires had some voltage, and whenever I turned on the turn signal, 1 wire would go up a few volts.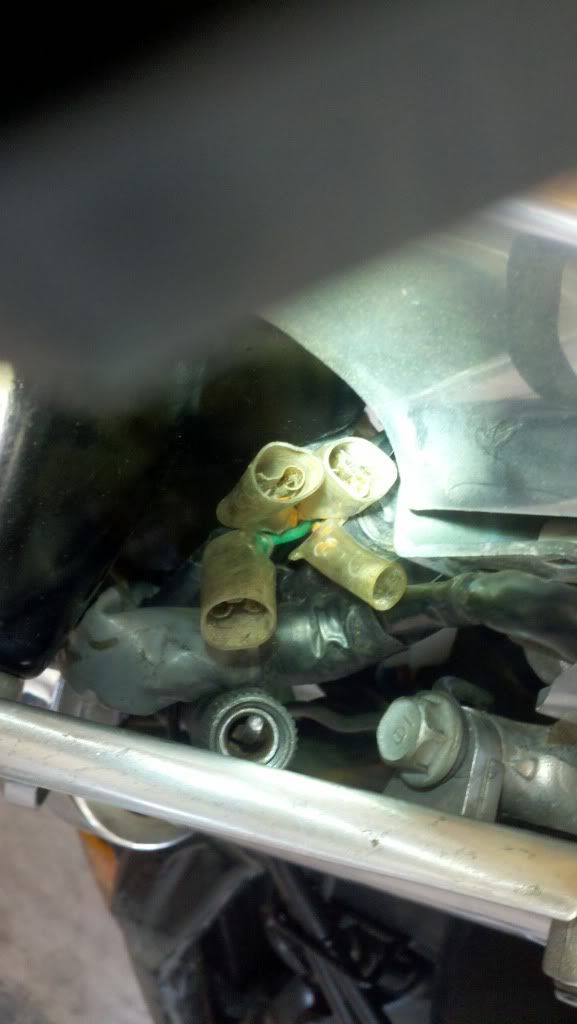 So which wire goes where? I tried hooking up the red wire from the signal to the wires that went up in voltage when I hit the turn signal, the black with white wires to the one that never changed voltage, and the black solid wires together into the socket that was always 0volts.
But I ended up with this situation, where the turn signals light up all the time, until I flip the signal switch then only 1 is on.
However, in this process something shorted out, I blew a fuse or 2, and now no signals work. Somehow, my whole dash started flashing whenever I hit the left turn signal. I found 2 blown fuses, are they both related to the turn signals?