Discussion Starter
·
#1
·
About a week ago, I succumbed to motorcycling madness and bought another bike. This time it was a 1986 Honda Shadow VT500C. It was bought for two reasons:
1. It was cheap (relatively speaking).
2. I've a mechanical jones. Don't do much in my spare time besides work on stuff - and this crusty old bike represented a nice challenge.
Low rez digital photos lie. This is a crusty bike, courtesy of Guam's triple threat of sun, salt and heat.
The weather is so severe here, it can reduce a motorcycle to rubble within ten years.
Somewhere underneath that rust and corroded cases is a motorcycle, and it will be my task over the next couple of weeks to find it and bring it forth.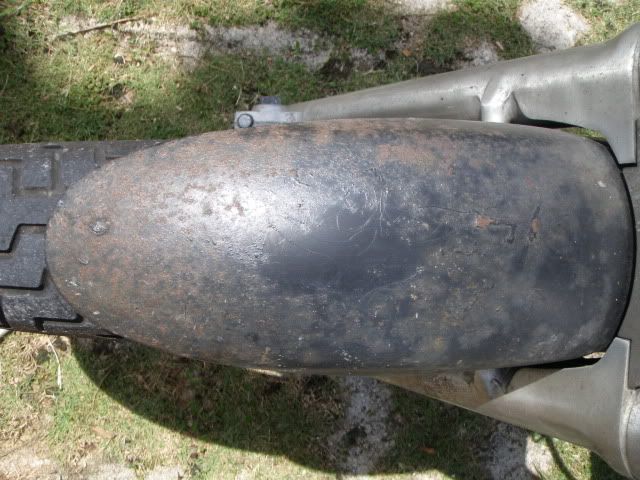 Ugh.
On the plus side - it ran. Actually, that's a bit of a bummer, as I like to get old iron lit off after extended storage - which usually isn't done properly, making it an interesting challenge. This bike survived on Guam for so long as it was parked in some sort of shade, and originally came from Oregon.
To make up for marginal operating condition, the bike was absolutely covered in mud dauber wasp's nests.
I've lost track of exactly how many - I think I found eleven so far.
I'm not a huge fan of mid 80's metric cruisers, as a matter of fact, this is the newest bike I own. My hobby involves getting old iron really cheap (as in free quite often) and freshening it to the point where it's presentable and fun to ride.
I'm thinking along the lines of a muscle bike style for this one, as aftermarket items are non-existent here, and most suppliers don't ship to the island. It should look "kind of" like this when done:
But perhaps slightly more aggressive.
This serves as the first post in a "build" thread where very few new parts will be used, and what few parts are used will be repurposed items to get to the 'look'.
Trust you'll enjoy the ride.